Dabur India Shares Hit New Record High. What's Fueling the Rally?
Jul 1, 2021
Dabur India shares hit a record high of Rs 592.3 after they surged nearly 4% on the BSE intra-day trade today.
It surpassed its previous high of Rs 582.7, touched on 16 June 2021.
The stock of the fast consumer goods company (FMCG) has outperformed the market in the past one month, by rallying nearly 9%, on hopes of improvement in operational performance.
In comparison, the BSE Sensex has added just 0.9% during the period.
On 15 April 2021, Dabur India, the personal products company, joined the elite club of companies with Rs 1 tn market capitalisation.
Why did shares of Dabur India hit an all-time today?
Dabur India's FMCG portfolio includes nine power brands - Dabur Chyawanprash, Dabur Honey, Dabur Honitus, Dabur PudinHara, and Dabur Lal Tail.
In the healthcare space it includes Dabur Amla and Dabur Red Paste, Vatika in the personal care space, and Real in the foods category.
The company has shown agility in the overall execution of its strategy over the last few quarters, which has helped it deliver growth ahead of the rest of the market.
Dabur is also expected to continue to gain market share across its domestic core portfolio through its focused power brands strategy, innovation, aggressive above the line spends (ATL), and improvement in its distribution reach.
Dabur India to set up its largest unit in Madhya Pradesh
Dabur India on 23 June announced that it will set up a new plant at Madhya Pradesh with an estimated total investment of Rs 5.5 bn.
The firm has already secured a 51-acre land parcel and has begun construction work for the initial phase, which is scheduled to be completed within the current financial year.
Apart from the recently launched production linked incentive (PLI) scheme for the food processing sector by the union government, Dabur has availed the state government's mega projects scheme to materialise its plan.
Dabur bets big on its healthcare segment, lines up aggressive push of ayurvedic products
Dabur India's healthcare products are set to witness strong performance over medium term, as customers focus on immunity booster and healthy lifestyle.
The Covid-19 pandemic has accelerated the preference, and hence the demand for Ayurveda and ayurvedic products in the past year.
Not surprisingly, most consumer companies, large and small, have also started launching more products under this vertical.
Dabur, which calls itself a science-based Ayurveda company has always had a presence in this segment.
With Covid-19 increasing the demand for this segment, Dabur said it saw an increased interest in its products in the past year.
Capitalising on this opportunity, the company is now launching a slew of products under its existing brands, with a special focus on its healthcare business segment.
According to Mohit Malhotra, CEO of Dabur, the company expects the healthcare pie to increase to 40%, sustaining at those levels for the next two years.
In five years, the company expects 50% of its revenues to come from healthcare.
Malhotra told investors during the quarter four results call that in a single year, the company added Rs 5 bn to its health supplement portfolio. This includes brands such Dabur Honey and Dabur Chyawanprash.
The company's growth momentum to continue in coming months aided by robust demand.
Dabur India's financial performance
Dabur India announced its January-March quarter results for the financial year 2020-21 on Friday, 7 May 2021, reporting a 34% rise in net profit on a consolidated basis to Rs 3.8 bn, compared to Rs 2.8 bn in the same quarter of the previous fiscal.
The company's revenue increased 25% to Rs 23.4 bn, compared to Rs 18.7 bn in the year ago period.
Its board of directors has recommended a final dividend of Rs 3 per equity share, having face value of Re 1 each, or 300%, for the financial year 2020-21.
The company's March quarter performance was partly affected by low stocking, while secondary sales growth was better.
However, despite the low stocking impact, sequential slowdown in healthcare was high.
Though June quarter of current financial year could boost healthcare growth again, concerns remain over a post-pandemic slowdown.
Management targets low single-digit growth in health supplements for the fiscal 2022.
Speaking of the FMCG sector, have a look at the chart below which shows the performance of BSE Sensex and BSE FMCG index since 2009.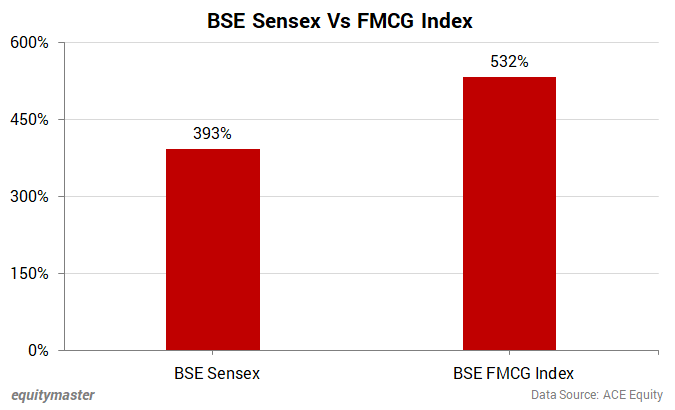 While the Sensex has offered 393% returns since 2009, the BSE FMCG index has gone up a staggering 532% returns over the same period.
Richa Agarwal, Senior Research Analyst at Equitymaster, and Editor of the smallcap service, Hidden Treasure, believes this outperformance could continue for many years.
She said that with a rising population and standards of living, Indian's consumption demand for FMCG products will skyrocket over the coming years.
How the stock markets reacted to Dabur India
Shares of Dabur India opened the day at Rs 570.3 on the BSE and Rs 572.4 on the NSE.
Its share price closed at Rs 590 (up 3.7%) on the BSE and Rs 589.8 (up 3.7%) on the NSE.
At its current price, it is trading at a P/E of 61.6.
The share touched its 52-week high of Rs 592.3 and 52-week low of Rs 458.2 on 1 July 2021 and 27 July 2020, respectively.
Over the last 30 days, the Dabur India share price is up 9.5%. Over the last one year, the company's share price is up 27.5%.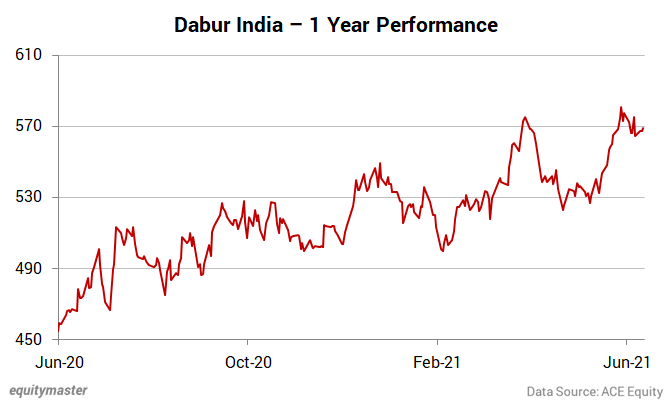 About Dabur India
Dabur India, is an Indian multinational consumer goods company, founded by S. K. Burman and headquartered in Ghaziabad, Uttar Pradesh.
It manufactures Ayurvedic medicine and natural consumer products. It is one of the largest fast-moving consumer goods (FMCG) companies in India.
They operate in key consumer products categories like hair care, oral care, health care, skin care, home care, and foods.
The company operates through three business units namely consumer care division (CCD), international business division (IBD), and consumer health division (CHD).
Dabur derives around 60% of its revenue from the consumer care business, 11% from the food business, and remaining from the international business unit.
For more details about the company, you can have a look at Dabur India factsheet and quarterly results on our website.
You can also compare Dabur India with its peers.
Dabur India vs Godrej Consumer
Dabur India vs Bajaj Consumer Care
To know what's moving the Indian stock markets today, check out the most recent share market updates here.
Disclaimer: This article is for information purposes only. It is not a stock recommendation and should not be treated as such. Learn more about our recommendation services here...