Why HDFC Bank Share Price is Falling
Jul 19, 2022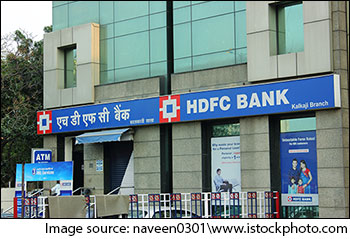 Editor's note: India's largest private sector bank HDFC Bank reported its quarterly earnings last week on Saturday.
Ever since the Q1 results were declared, shares of HDFC Bank are in a downward trend.
Even though most of the brokerage houses remain bullish on the bank, its shares have underperformed lately.
At the start of this month, we wrote about why HDFC Bank share price is falling and explained the probable reasons.
Read on to know more about these reasons which have led to HDFC Bank's recent decline.
Why HDFC Bank Share Price is Under Pressure
"If one thing goes wrong, everything else will, and at the same time." Peter Drucker - Father of modern management
This statement is a perfect description of the share markets in 2022. It has been the year of volatility.
Investors are deeply disappointed with the markets this year. No matter how big or small, how strong or weak, all stocks have been affected.
Even blue-chip company like HDFC Bank has been taken to the cleaners. Its share price is down 11% this year.
The share price surged in early April but after that, it started falling again. It closed at Rs 1,354.9 on Friday.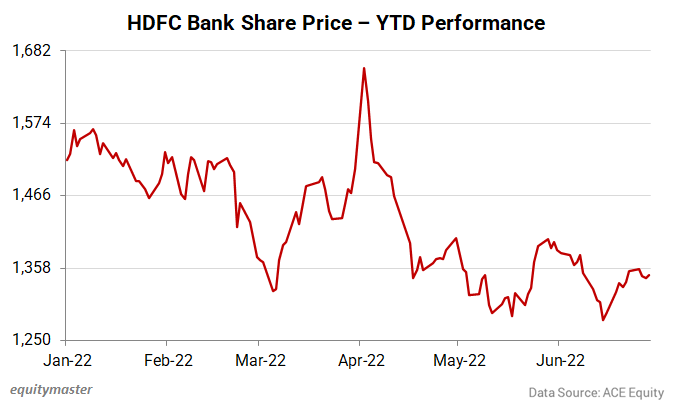 But why is the stock falling?
#1 The Merger
On 4 April 2022, HDFC Bank announced its big corporate move. They announced the merger of HDFC Ltd with HDFC Bank.
This merger will be the biggest in Indian corporate history. It will create a banking behemoth and will put big banking houses of India under pressure.
Following the news, the share price of HDFC bank surged. However, the mergers' benefits were not conveyed clearly.
The merger may bring with itself long-term benefits but in the short term, investors have not taken the news of the merger very well.
The merger has raised a lot of doubts. For e.g. will the merged entity be able to maintain statutory liquidity ratio (SLR) and cash reserve ratio (CRR)?
Investors also doubt if the company will be able to build the priority sector lending (PSL) portfolio...and at what cost.
Owing to all these uncertainties, investors are sceptical. Hence, the share price has been falling.
Update: According to a report, because of the sharp fall in FII shareholding in both HDFC Bank and HDFC this year, chances of the merged entity finding inclusion in the MSCI index look bleak.
#2 FII selling
Interest rates are rising in developed markets like the US. This makes the emerging markets less attractive for FIIs.
Hence FIIs are selling their holdings in emerging markets like India to return to the safety of dollars. FIIs have sold Rs 2.1 tn worth of equities in India so far in 2022.
They have also been selling the shares of HDFC Bank. In fact, FIIs have been divesting their stake in HDFC Bank since June 2021 quarter. FII's stake stood at 39.7% in the quarter ending March 2021.
The stake was reduced to 35.6% by the end of March 2022.
FIIs may have continued their sale even in June quarter. The extent of sale is yet to be determined.
Check out HDFC Bank's latest shareholding pattern.
#3 Quarterly earnings disappoint investors
Last week on Saturday, HDFC Bank posted its quarterly results where net profit rose 19% on the back of a 13% growth in revenues.
Check out the five key takeaways from HDFC Bank's Q1 results.
HDFC Bank's asset quality was affected due to higher slippages although recoveries were higher.
Multiple brokerage houses said that this quarter saw a modest growth as treasury losses and high opex growth affected numbers.
Why the fall looks like a temporary blip...
The merger is set to create a win-win for all parties - investors, customers, and the company - as a whole. So it should have a positive impact on the share price of HDFC Bank.
But all good things take time. HDFC Bank's falling share price is an example of that. The positive effect of the merger will be felt when the bank will be able to show the profitability of the merger.
Hence, when investors' doubts are answered, the share price will see an upward movement. Also, if the stock markets recover FIIs will also return to India. This will erase all the negatives for HDFC Bank.
Thus it looks like the fall in HDFC Bank's share price is a temporary blip.
About HDFC Bank
HDFC Bank is one of India's largest private sector banks. It was established in Mumbai in August 1994. Over the years, it has built a strong brand reputation and customer loyalty.
It has a network of 6,342 branches and 18,130 ATMs in 3,188 cities/towns.
HDFC Bank offers a diverse range of financial products and banking services to customers through a growing branch and ATM network as well as digital channels such as net banking, phone banking, and mobile banking.
It also offers a wide gamut of commercial and transactional banking services to organisations of all sizes.
To know more about the company, you can have a look at its factsheet and its quarterly results.
You can also compare HDFC Bank with its peers.
Happy Investing!
Disclaimer: This article is for information purposes only. It is not a stock recommendation and should not be treated as such. Learn more about our recommendation services here...