How Modi's Big Schemes Could Trigger Surges in Specific Stocks
Jul 2, 2022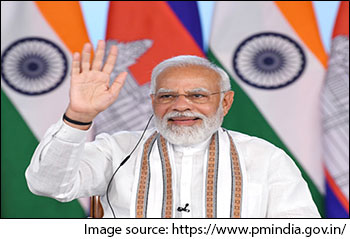 Narendra Modi was elected as the Prime Minister of India in 2014 with the promise of hope and change.
Ever since then, the Modi led government has made it a mission to steer 'New India' towards the path of development and progress.
Over the last eight years, there has been a flood of social welfare schemes, initiatives, and policies for the betterment of the country and its citizens.
Popular schemes like the Swachh Bharat Mission, Jan Dhan Yojana, PM Awas Yojana, among several others have transformed the lives of the poor and have helped raise their standard of living.
On the other hand, critics say that huge expenditure on welfare schemes by the Modi government has severely impacted public finances which are currently in a mess with fiscal deficit touching abnormally high levels.
While critics and crusaders debate over whether the Modi led governments flagship schemes have been successful or not, one thing is crystal clear. Certain sectors and stocks have benefited immensely from these schemes and will continue to do so in the coming years.
In this article, let us look at Modi's four big schemes that have not only transformed India but also provided a big boost to these sectors that could lead to a surge in specific stocks.
#1 Swachh Bharat Mission
The Prime Minister of India had launched the Swachh Bharat Mission (SBM) on 2 October 2014 with an aim for all villages, gram panchayats, districts, states and union territories in India to declare themselves open-defecation free (ODF) by 2 October 2019.
Since then, the government has built toilets in over 120 m households. In the 2022-23 budget, Rs 71.9 bn was allocated for the Swachh Bharat Mission in rural areas while a further Rs 1,416.8 bn has been earmarked to be spent during 2021-2026 for the scheme in urban areas.
Phase II of the Swachh Bharat mission was launched in October 2021, which envisions to make all cities garbage free, provide access to tapped water and focus on providing interventions for the safe management of solid and liquid waste in villages.
A 2020 study showed that SBM resulted in annual benefits to the tune of more than Rs 53,000 per household in rural India, including through reduced diarrhoea incidence and from sanitation access time savings.
The national hygiene drive spurred a jump in sales of concrete building materials, packaging, plastic products, ceramics, and sanitaryware sales.
Further, this huge scale up of latrines is also driving a market for toilet related products.
Top companies from the ceramics and sanitary ware sector to have benefited are Cera Sanitaryware Ltd, Kajaria Ceramics Ltd, and Somany Ceramics Ltd.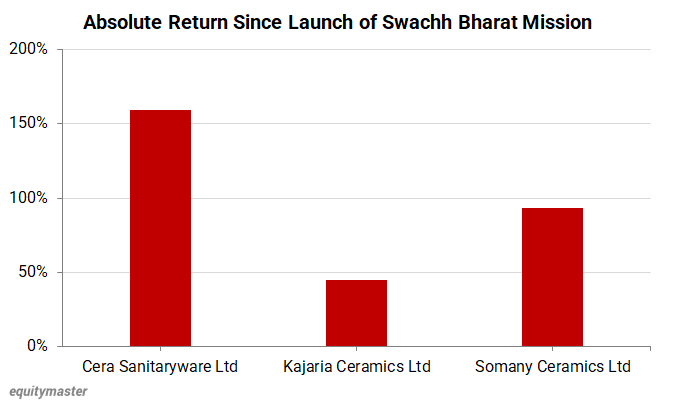 Among plastic products, companies like Nilkamal Ltd and Supreme Industries Ltd have seen a huge uptick in consumption of dustbins, water tanks, etc.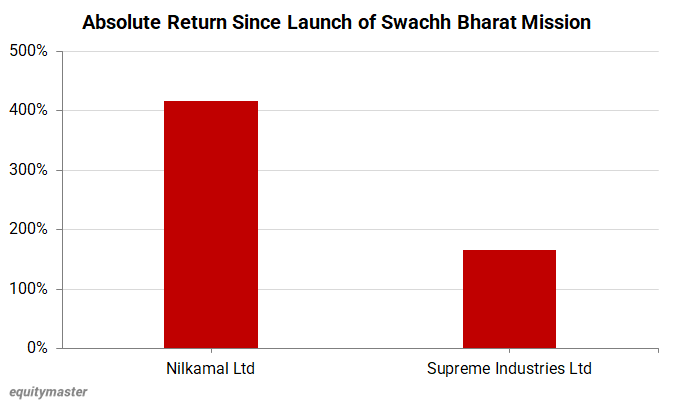 Indian Hume Pipe Co. Ltd, Finolex Industries Ltd, Astral Ltd, and Electrosteel Castings Ltd have been the major beneficiaries in the industrial plastic and pipes sector.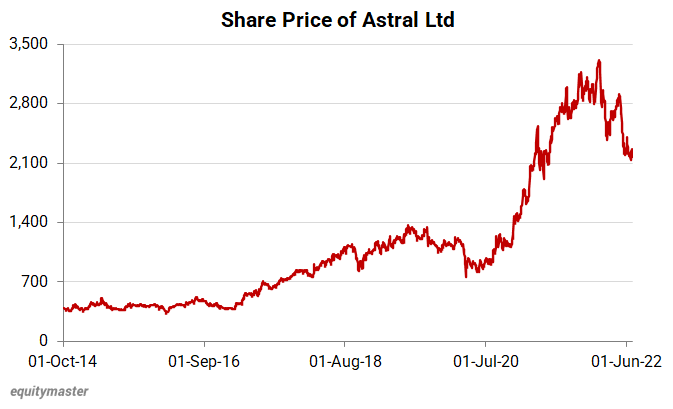 #2 Pradhan Mantri Awas Yojana (PMAY)
The Pradhan Mantri Awas Yojana or "Housing for All" was launched by Modi in June 2015 with an aim to ensure housing for all by 2022.
In continuation to the Government's efforts towards empowerment of women, PMAY has made a mandatory provision for the female head of the family to be the owner or co-owner of the house under this mission.
A huge outlay of Rs 480 bn was earmarked for completion of 8 m houses under the PMAY in the 2022 budget.
12.269 m houses have been sanctioned of which over 6.1 m houses have already been completed. The government has set aside a total investment of Rs 8.31 tn for the mission.
PMAY is a boon for the cement stocks and housing finance sectors. Construction activity has led to an increase in annual cement demand and mortgage financing in India should get a boost from the affordable homes scheme.
As cement demand is closely linked to the housing and infrastructure sector, the industry has been on a volume growth path.
Recently, the Adani Group acquired two of India's biggest cement companies, Ambuja Cements and ACC for as much as US$ 10.5 bn.
With presence in sectors like real estate, infrastructure, airports, ports, logistics and more, entering the cement business would be a perfect way for backward integration which will aid growth in Adani's infrastructure businesses.
In an interview with The Economic Times, this is what Gautam Adani, Chairman of Adani Group said...
"The creation of 100 smart cities, 200 new airports, Housing-for-All as part of the Pradhan Mantri Awas Yojana, large-scale concrete highways and the ministry mandate that stipulates minimum of 25% of concrete volume to be used in national highways, expressways and other centrally sponsored road projects, the rise of dedicated freight corridors - the list of possibilities that will drive cement consumption is endless".
Stocks of cement companies like Grasim Industries Ltd, ACC Ltd, Ambuja Cements Ltd, and Ultratech Cement Ltd have surged over the last few years.
As per analysts, cement demand is expected to grow over 8% in 2022.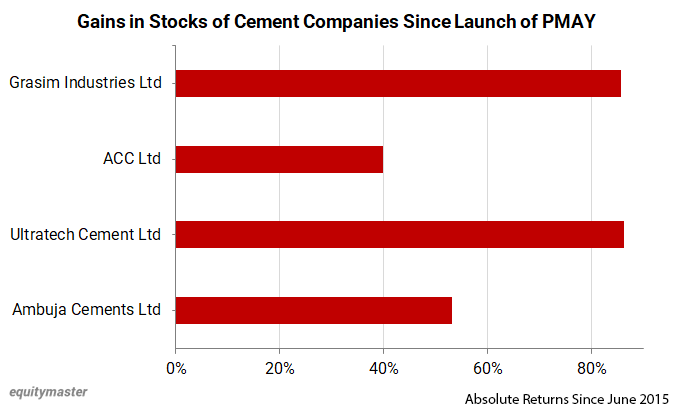 On the other hand, the rise in Housing for All-led construction activity along with rising income levels continues to boost mortgage demand in India.
India has a very low mortgage penetration rate of just 10% as compared to 56% in Singapore and 68% in US.
Hence, it implies that housing loans in India will have an exponential growth trajectory for decades to come.
In a recent note to shareholders, Deepak Parekh, the chairman of one of India's biggest housing finance companies, HDFC Ltd wrote that he expects India to double its home loans to around US$ 600 bn by 2027.
Here is a look at some of the leading companies catering to this sector: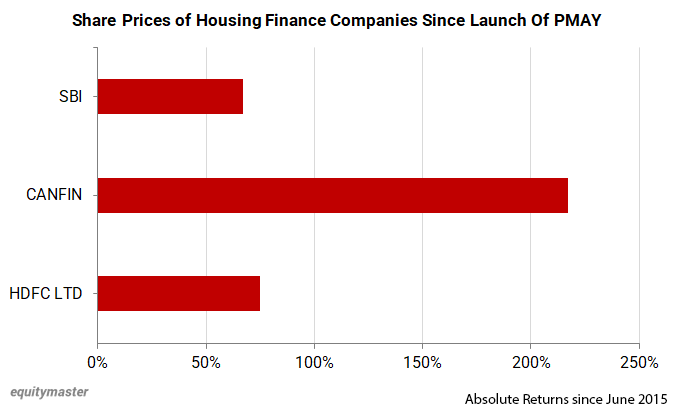 #3 Jal Jeevan Mission
Jal Jeevan Mission was launched on 15 August 2019 with a mission to provide safe and adequate drinking water through individual household tap connections by 2024 to all households in rural India.
The purpose of the mission is to assist, empower, and facilitate states and union territories for creation of water supply infrastructure so that every rural household has functional tap connections by 2024.
An allocation of Rs 600 bn has been made to cover 38 m households in 2022-23 under the Har Ghar, Nal Se Jal scheme.
This push has opened up new opportunities for everyone - from pipe and pump manufacturers to construction and cement companies.
Water Supply and treatment companies like Va Tech Wabag Ltd and ION Exchange India Ltd will be instrumental in the implementation of this mission as the demand for water will only increase.
DI and PVC Pipe manufacturers such as Tata Metaliks, Prince Pipes & Fittings, and Astral Ltd are expected to be major beneficiaries of the government's scheme.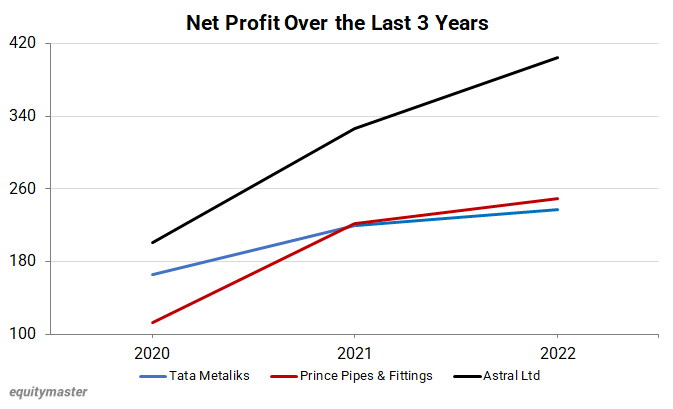 The scheme has added new orders for engineering & construction companies as well.
In September 2021, Larsen & Toubro Ltd bagged an over Rs 10 bn order from a state-utility organisation to implement rural water supply projects providing functional house tap connections under the Jal Jeevan Mission.
In April 2022, SPML Infra Ltd signed a contract agreement with PHED, Rajasthan, for a large water supply project under the Jal Jeevan Mission to provide clean drinking water to 2.5 m people residing in 1,256 villages. The project is valued at Rs 11.6 bn.
#4 National Monetisation Pipeline (NMP)
In September 2021, the government announced its ambitious National Monetisation Pipeline (NMP) scheme that aims to monetise assets worth Rs 6 tn between 2022 to 2025.
The plan is in line with Prime Minister's strategic divestment policy, under which the government will engage the private sector, transferring to them revenue rights but not ownership in the projects. It will use the funds for infrastructure creation across the country.
With the mammoth scale and scope of this scheme, it will cover a whole gamut of sectors.
Roads, railways, oil and gas pipelines, telecom, and power sectors will account for 83% of the total estimated value of the assets to be monetised. The remaining will come from sectors like aviation, mining, ports, warehouses, and stadiums.Construction infrastructure giant, Larsen & Toubro is expected to benefit from it as well as other players such as NCC Ltd, GMR Infrastructure Ltd, IRB Infrastructure Developers Ltd among others.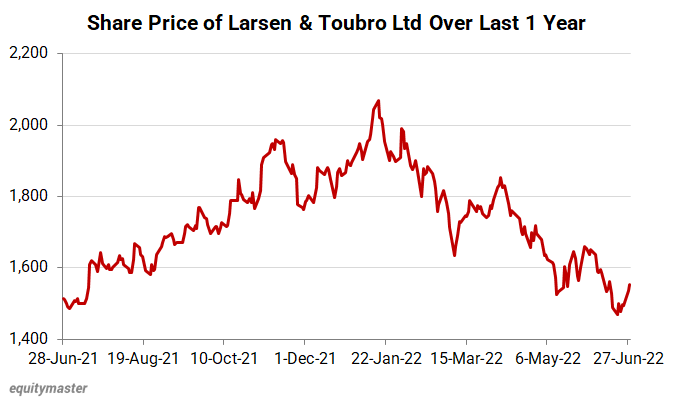 Analysts expect government-owned companies such as Power Grid, NTPC, NHPC, GAIL, ONGC, and HPCL to gain over the coming years.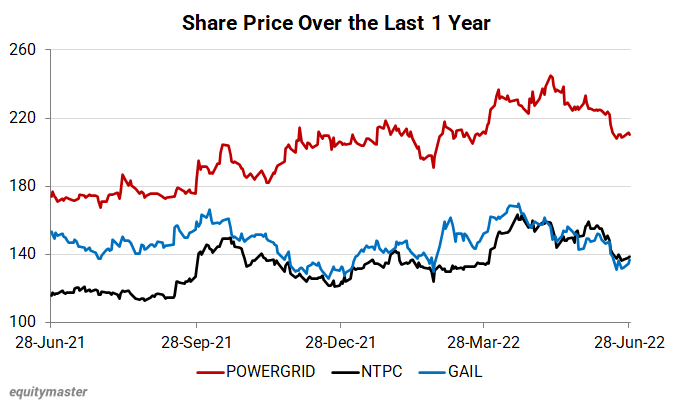 Gas distribution stocks like Linde India, Adani Total Gas, and Mahanagar Gas Ltd might also be worth adding to your watchlist.
As the scheme will also cover ports, investors could also track port and port services companies such as Adani Ports & SEZ Ltd and Gujarat Pipavav Port Ltd.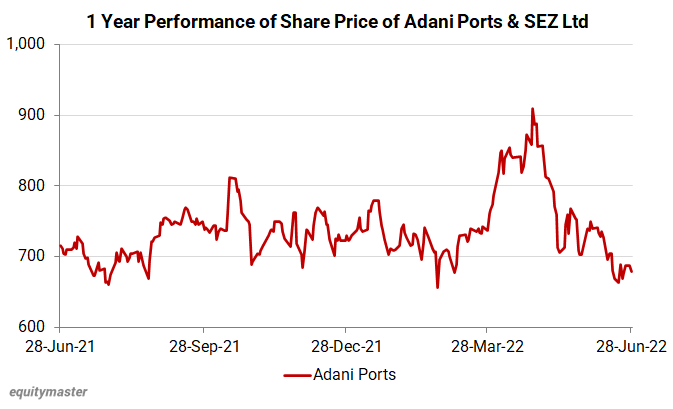 The NMP will complement the Rs 100 tn National Infrastructure pipeline announced in December 2019.
While the National Monetisation Pipeline framework looks very promising on paper, execution of the plan remains key to its success.
Modi Mantra: Reform, Perform, and Transform
You can love him or hate him, but you cannot ignore him. Narendra Modi is here to stay.
One may agree or disagree with his politics but there is no denying that Modi knows the art of connecting with the electorate.
Over the last 8 years, the Modi led government has been able to identify what the people need and create schemes for them.
With rollout of multiple schemes, the government has provided a much-needed boost to the economy and various sectors stand to gain from these initiatives.
Investors can use the top-down investment strategy to determine the strength of these particular sectors that stand to gain the most from Modi's schemes and then pick the strongest stocks within those sectors to maximise returns.
Even if the markets are weak, investors can choose such sectors as well as stocks within those sectors, that could buck the trend.
Happy Investing!
Disclaimer: This article is for information purposes only. It is not a stock recommendation and should not be treated as such. Learn more about our recommendation services here...
Yazad Pavri
Cool Dad, Biker Boy, Terrible Dancer, Financial writer
I am a Batman fan who also does some financial writing in that order. Traded in my first stock in my pre-teen years, got an IIM tag if that matters, spent 15 years running my own NBFC and now here I am... Writing is my passion. Also, other than writing, I'm completely unemployable!