This Stock is Up 350% in a Year. Worth a Look?
Jul 3, 2021
Lately, sentiment is in favour of IT stocks.
Barring a few IT companies, all have reported healthy quarterly earnings in financial year ending March 2021.
Over the past year, the IT index's re-rating (16 times to 23 times) and performance has been supported by the increase in consensus earnings estimate of 20% and 30% for tier-1 and mid-tier companies.
Brokerage houses are bullish on IT stocks opining reasons as strong demand environment, improving visibility, sustained margins, and improving free cash flow.
Consecutive quarters of record hiring also indicates strong optimism in demand.
Among IT stocks, one stock has outperformed its peers and has more than tripled its value in the past year.
The financials
The Pune-headquartered company in April, reported a profit of Rs 1.4 bn for the quarter ended 31 March 2021, which was up 64% when compared to the previous year.
Its revenues increased by 20% to Rs 11.1 bn. In dollar terms, revenues were up 20% at US$152.8 m.
Not only has Persistent Systems reported stellar March quarter results, it has also shown consistent revenue growth and margin expansion throughout the year.
--- Advertisement ---
Indian Startup's Electric Flying Car Your Window of Opportunity

An Indian startup based in Chennai is expected to launch its autonomous hybrid electric flying car very soon.

Yes, the electric vehicle segment is charting an exponential growth journey from our very own backyard.

And we have unearthed a hidden way to tap into the massive EV wave for you for unbelievable returns.

We'll be revealing all details in an exclusive special online event coming Monday.

Sign up for the event with the link below.

Yes, Register Me for FREE
------------------------------
While announcing results, the company had said it was seeing healthy demand across its key verticals which it expected would continue in the next year.
In January - March quarter, the company had an order book to the tune of US$246.5 m.
For the full financial year, Persistent Systems reported a profit after tax of Rs 3.4 bn, up 32.4%.
The board of directors recommended a final dividend of Rs 6 per share. Earlier, the company had declared an interim dividend of Rs 14 per share.
The company has a consistent track record of paying dividend over the past few years.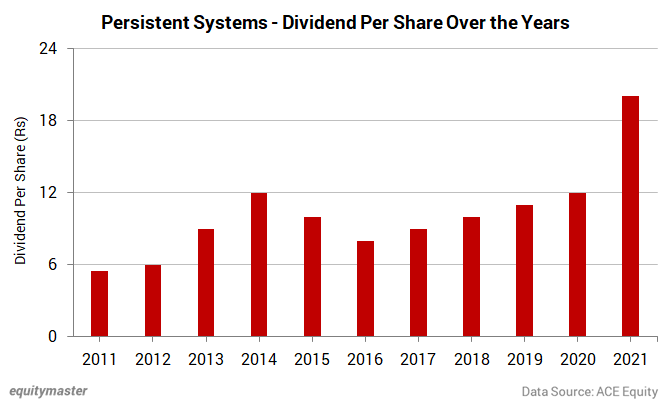 Partnership with IBM
Last month, the company announced that it is expanding further the collaboration with International Business Machines Corp. (IBM).
Over the last 20 years, the collaboration between Persistent and IBM has grown from a project in security to working with more than 400 shared customers and 50 IBM brands.
Persistent Systems will help fuel digital transformation for customers across the enterprise, while continuing to invest in IBM technology that helps its customers adopt hybrid cloud architectures with Red Hat OpenShift, industry-specific clouds and advanced security practices.
Company looking for acquisitions in Europe
Persistent Systems is eyeing acquisitions in Europe as it looks at slight derisking of the primarily USA-reliant top-line.
The company plans to be a US$1 bn company over the next three to four years with acquisitions in Europe being a cornerstone of that strategy.
EV Stocks: A Hidden Way to Tap into the Massive 15x EV Opportunity
This is to have a geography-wise revenue mix with nearly 15-18% of the top line coming from Europe.
As of now, the company derives 80% of its revenues from the USA.
As per reports, the company has already initiated discussions.
Why the stock could rally some more
IT stocks are likely to remain the top picks of investors, on account of rise in digital spending and better revenue growth expectations.
With Covid-19 still overhang, IT clients are expected to invest heavily in digital and cloud transformation.
This, in turn, will lead to higher revenue growth for IT companies.
What's more positive for Indian IT companies is Accenture's guidance.
Recently, Accenture improved its capital valuations in its guidance.
Accenture raising of revenue growth forecast to 10-11% for fiscal 2021 bodes well for domestic IT companies, which many analysts said can surprise in the forthcoming earnings season.
Accenture reported a 21% growth in revenues at US$13.3 bn for the quarter ended 31 May, beating its own guidance of US$12.6 bn-US$12.9 bn in revenues.
--- Advertisement ---
iPhone Maker Targets EV Sector - What's in it for You?

The electric vehicles gold rush is REAL...

Just recently, Foxconn, who build Apple's products including iPhone, shocked the world by introducing 3 electric vehicle prototypes.

Yes, the massive opportunity in the EV sector is undeniable.

We have uncovered a hidden way to tap into the EV opportunity the right way so you could potentially stand to see life-changing gains in the long run.

And we're going to reveal all details about the EV opportunity in an online special event coming Monday.

Register for it asap using the link below.

YES, Book Me a FREE Spot
------------------------------
Equitymaster's view on investing in the IT sector right now
We reached out to Richa Agarwal, senior research analyst and editor of the smallcap stock recommendation service, Hidden Treasure, for her view on the IT sector.
Here's what she has to say about investing in companies in the IT sector right now -
Post pandemic, amid liquidity in the global markets and broad-based growth momentum, the IT sector and the stocks listed in it have had a dream run.

While picking stocks in the industry, one should be mindful of relative growth and valuation of companies in the sector.
How Persistent Systems has performed over the past year
Persistent System share price has outperformed its peers by a huge margin.
Source: Equitymaster
As can be seen from the table above, it has outperformed its peers on all counts.
Over the past one year, shares of the company have surged over 350%.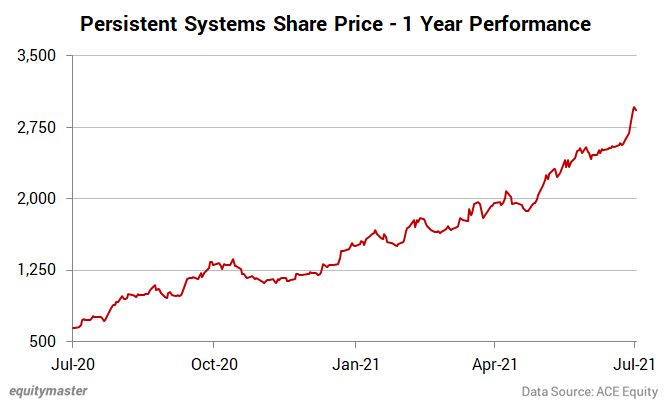 The company has a 52-week high quote of Rs 3,016 toucher earlier this month on 1 July.
At the current price of Rs 2,928, the company commands a marketcap of Rs 223.8 bn.
As of 31 March 2021, mutual funds held 26.15% stake in the company with HDFC mutual fund, Kotak mutual fund and PPFAS mutual fund the top three holders.
Meanwhile, foreign portfolio investors (FPIs) held 19.26% stake.
About Persistent Systems
Incorporated in 1990, Persistent Systems is founded by Dr Anand Deshpande and Mr S. P. Deshpande. Currently, it is one of the leading outsourced product development (OPD) companies in the world.
The company designs, develops and maintains software systems and solutions, create new applications and enhances the functionality of its customers' existing software products. PSL delivers services across all stages of the product life-cycle.
The company provides software solutions organized in three segments which include cloud life cycle management, internet of things (IoT), unified endpoint management, endpoint detection and response, and big data analytics.
The firm also offers product engineering services, platform-based cloud solutions, and internet protocol-based products. Most of the firm's revenue gets derived from the technology services segment.
To know more about the company, check out Persistent Systems company fact sheet and Persistent Systems quarterly results.
For a sector overview, read our IT sector report.
You can also compare Persistent Systems with its peers.
Persistent Systems vs HCL Technologies
Persistent Systems vs L&T Infotech
To know what's moving the Indian stock markets today, check out the most recent share market updates here.
Disclaimer: This article is for information purposes only. It is not a stock recommendation and should not be treated as such. Learn more about our recommendation services here...