Why Did Route Mobile Shares Zoom 20% Yesterday?
Jul 3, 2021
Shares of Route Mobile surged 20% to Rs 2,125.8 on the BSE after the company announced the signing of definitive agreements to acquire the artificial intelligence driven email communication platform Sendclean from Sarv Webs Private Limited (Sarv).
The stock had hit a 52-week high of Rs 1,979 on 17 February 2021.
Route Mobile has acquired (through a slump sale) the core intellectual property (IP) for Sarv's business email technology platform (transactional and promotional email), the team of professionals that built and supports the platform, and customer contracts, subject to the closing conditions.
The upfront purchase consideration of Rs 262.5 m shall be paid upon closing of the acquisition, in cash.
A deferred consideration of Rs 40 m shall be paid, on the first anniversary of the closing of the acquisition, in cash, the company said.
Integrating Sarv's email communication technology with Route Mobile's customer experience platform (CxPaaS) as a service platform will deliver unified and unparalleled cloud-based digital communication solutions to global enterprise clients, Route Mobile said in a press release.
--- Advertisement ---
[Alert] Sell These 3 Stocks Immediately

These 3 stocks are ticking time bombs in your portfolio.

It is very likely that you could be owning these 3 overvalued...

fundamentally weak... ready to crash stocks... in your portfolio today.

Because many stock brokers have painted rosy pictures of these stocks. But the reality is starkly different.

If the market crashes, then these stocks could wipe out your wealth.

You should get rid of these stocks as soon as possible.

We are going to reveal details of these 3 landmines at our upcoming special event at 5 pm on September 24.

You can click here to sign-up. It's free
------------------------------
The acquisition uniquely positions Route Mobile to offer a completely customisable email interaction platform, in addition to application-to-person (A2P) SMS, over the top (OTT) messaging, voice, and enhanced business messaging solutions for enterprises to strengthen their customer relationships across multiple touchpoints.
Additionally, enterprises can gain actionable insights through intelligent automation and build simplified communication strategies for their customers at every stage of the service cycle, the company said.
The closing of the transaction is subject to customary condition precedents and regulatory approvals, as applicable, and is expected to close within the next 30 days.
Route Mobile recognised as top tier 1 A2P SMS provider
In the last month, Route Mobile said that it has been recognised as the top tier one provider in the annual ROCCO A2P SMS messaging vendor benchmarking report 2021 in MNO Edition as well as in the Enterprise Edition.
This recognition marks Route Mobile's fifth appearance as a globally recognised top tier vendor in ROCCO's SMS messaging vendor benchmarking report 2021.
Operators and enterprises globally rate the vendors' performance in a range of categories like reliability, customer service, technical expertise, domain expertise, value for money to describe a few.
Company's technology partnership with Truecaller
Recently, the company announced a technology partnership with Truecaller, the caller ID and telephone search engine.
This agreement allows Route Mobile to provide enhanced business identification services to enterprises for building a trustworthy business communication ecosystem.
REVEALED: 3 "Super Smallcaps" You Didn't Know About
With the Truecaller verified business caller ID and configuration capabilities Route Mobile can empower enterprises to increase their customer outreach and servicing efforts and improve response rates.
This feature also aids brand recognition by providing an effective way for businesses to personalise the alert with logos and contextual information about their business, allowing their users to get context before they decide to act on the call.
Using the Truecaller verified business caller ID, an enterprise can drive higher customer satisfaction and call efficiency.
Key financial highlights of the company in March quarter
The company reported profit after tax (PAT) at Rs 355 m in the fourth quarter of 2021, as against Rs 148 m in the fourth quarter of previous fiscal. This was a rise of whopping 140% year on year (YoY).
Revenue from operations stood at Rs 3.6 bn against Rs 2.7 bn in the March quarter, a jump of 36% YoY.
Earnings before interest, taxes, depreciation, and amortisation (EBITDA) doubled to Rs 515 m compared to Rs 251 m in the same quarter a year ago.
Profit before tax stands at Rs 425 m against Rs 175 m in the fourth quarter.
An overview on Route Mobile's business
Since its inception, Route Mobile has been enhancing mobile communications through technology upgrades and product innovations, meeting the needs of a diverse clientele across geographies.
Digital transformation and automation, consumer's smartphone adoption and emergence of application programming interface (API) based digital communication architecture, could bring more opportunity for Route Mobile going forward.
--- Advertisement ---
INSIDER SECRET: An Astonishingly Easy Way to Pile Up Potentially 40-60% Gains in Just 1 Year

India's most well-connected trader with over 35 years of experience just confessed...

"This Lucrative Market Segment Could Leapfrog Over Nifty in The Next 12-16 Months"

... thanks to a massive and irreversible mega-trend fueling its growth!

In fact, he and his partner have already identified 2 spectacular stocks from this segment... which are ready to rake in potentially 40-60% gains in just 1 year... and make you big, fat profits!

The best part of them all...

Their Details Are Packed in This Special Report (Discover How to Claim it for Free)
------------------------------
How the stock markets reacted to Route Mobile
Yesterday, shares of Route Mobile opened the day at Rs 1,785.2 on the BSE and Rs 1,786.7 on the NSE.
Its share price closed at Rs 2,112.2 (up 19.2%) on the BSE and Rs 2,102.2 (up 18.8%) on the NSE.
The share touched its 52-week high of Rs 2,125.8 on 2 July 2021.
Over the last 30 days, the Route Mobile share price is up 26.5%.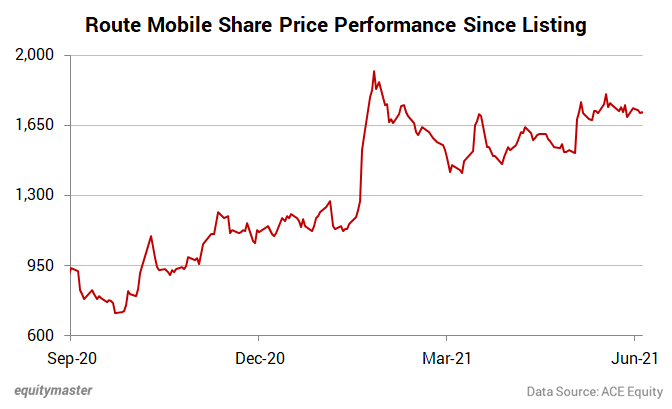 About Route Mobile
Route Mobile (earlier known as Routesms Solutions) is a cloud communications platform as a service (CPaaS) company based in India.
The company is headquartered in Mumbai and has presence in more than 15 locations across Asia-Pacific, Middle East, Africa, Europe, and North America.
In 2019, the company was named among the fastest growing companies in technology and telecom sector and was 2nd top fastest-growing Indian company in the United Kingdom.
They cater to enterprises, OTT players, and MNO and the company's portfolio comprises solutions in messaging, voice, email, SMS filtering, analytics, and monetisation.
It delivers an entire communication product stack, based on a CPaaS principals, infusing conversational artificial intelligence (AI) across a broad range of industries including social media companies, banks and financial institutions, e-commerce entities, and travel aggregators.
For more details about the company, you can have a look at Route Mobile factsheet and quarterly results on our website.
You can also compare Route Mobile with its peers.
To know what's moving the Indian stock markets today, check out the most recent share market updates here.
Disclaimer: This article is for information purposes only. It is not a stock recommendation and should not be treated as such. Learn more about our recommendation services here...