Stocks with Consistently Rising Promoter Holding? Here's a Watchlist for You to Track...
Jul 3, 2023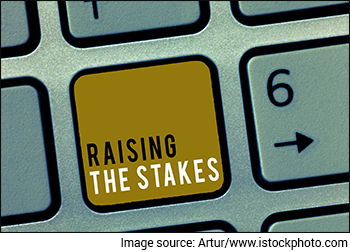 Promoter buying usually indicates that markets have priced in a lot worse in the stock than what is warranted.
Of all the stakeholders, it's the promoters who know the most about their businesses and future potential.
If they are willing to part with their personal money to buy stocks from open market, there is good possibility that they believe the stock is undervalued and will potentially rise in the future.
Keeping that in mind, let's take a look at five stocks that have seen consistent promoter buying.
These companies are filtered using Equitymaster's Indian stock screener and have witnessed promoter buying in more than four consecutive quarters.
#1 KDDL
First on the list is KDDL, a company that manufactures watch components like dials, hands, and precision engineering goods under the brand name, Eigen.
It's a leading global supplier of watch dials, serving many well-known brands all over the world.
In the past 4 quarters, promoters of the company have consistently bought shares in the open market. Have a look at the image below...
KDDL Shareholding Pattern

They now own majority stake with over 50% shares belonging to Indian and foreign promoters.
The company announced a buyback in January this year representing 1.7% of the total equity at Rs 1,200 per share.
For full year FY23, the company's net profit more than doubled to Rs 770 million (m) as compared to Rs 370 m last year.
Going forward, the company's capex at its dials factory in Punjab may drive the next leg of growth. This expansion is expected to increase the capacity by 0.5 m pieces per annum, especially to cater for exports to the medium-high watch segment of Swiss Watches.
The capex will be done by the end of FY24.
The company is also setting up a new plant for manufacturing top quality steel bracelets for watches around Bangalore. The plant will initially have a capacity of 100,000 steel bracelets per annum.
To know more, check out KDDL's financial factsheet and its latest quarterly results.
#2 UY Fincorp (Golden Goenka)
Next on the list is UY Fincorp, erstwhile known as Golden Goenka.
The Kolkata based company is involved in the NBFC space. It primarily focuses on providing inter corporate loans, personal loans, and investments and trading in securities.
Promoters of the company have increased their stake for more than 6 quarters now. Have a look at the image below...
UY Fincorp Shareholding Pattern

Within a year, promoters have increased their stake by more than 5%. FIIs and domestic institutional investors, meanwhile, have largely stayed away from the stock.
For the year ended March 2023, the company more than doubled its net profit to Rs 775 m as compared to Rs 321 m last year.
The company has also reduced debt in the year gone by and is almost debt free now.
To know more, check out UY Fincorp financial factsheet and its latest quarterly results.
#3 Confidence Petroleum
Next on the list is Confidence Petroleum.
The company is engaged in manufacturing of LPG cylinders and is also a supplier of auto LPG in India with its network of bottling plants and auto LPG dispensing stations across India.
It also supplies packed LPG cylinders and is engaged in LPG bottling catering to industrial and commercial customers.
Promoters of the company have remained so bullish that they've added shares from the open market for eight consecutive quarters now.
Confidence Petroleum Shareholding Pattern

On the other hand, FIIs have been divesting their stake in the company for almost the same period.
While promoter holding has increased substantially, so has the promoter pledging. At present, promoters have pledged 32% of their holdings.
The company's chairman and MD Nitin Khara has clarified and informed exchanges that it will release the complete pledge soon and the pledging was done for urgent fund requirements.
Over the past three years, the promoters have infused funds from internal as well as external fund raising. This has resulted in healthy profitability along with lower debt.
It recently undertook a big capex expansion project for CNG manufacturing projects.
Despite a sharp spike in revenue, the company only managed to post marginal growth in its bottomline in FY23 as higher input cost weighed on its margins.
To know more, check out Confidence Petroleum's financial factsheet and its latest quarterly results.
#4 NCL Industries
Fourth on this list is NCL Industries.
The company is principally engaged in the business of manufacturing and selling cement, ready mix concrete, cement bonded particle boards, and doors. It also operates two small hydro power projects.
Promoter holding in the company has steadily increased from 43% to 47% at present. Promoters have actively bought shares for the past eight quarters.
NCL Industries Shareholding Pattern

FIIs have been on and off buying shares in the company while Indian mutual funds have stayed away from the cement company.
Ace investor Dolly Khanna had parted ways with the stock in the March 2023 quarter.
A month ago, NCL Industries executed a share purchase agreement with the promoter group of Vishwamber Cements (VCL) for acquisition of 100% shareholding in the company.
With this acquisition, the company intends to merge VCL with itself and convert the limestone mines into captive mines for the consumption of limestone.
For the year ended March 2023, the company reported nearly 50% drop in its bottomline while operating margins slipped to 9% from 14% a year ago.
NCL Industries has reduced debt in the year gone by. It's now looking to capitalise on its established market position in South India after the ongoing capacity addition.
To know more, check out NCL Industries' financial factsheet and its latest quarterly results.
#5 Maharashtra Seamless
Last on this list is Maharashtra Seamless.
It's the flagship company of the well-diversified DP Jindal Group. The company is engaged in the manufacturing of seamless and ERW steel pipes & tubes. It has diversified the business portfolio in renewable power generation too.
Promoter holding in the company has steadily increased from 63% to 68% at present. Promoters have actively bought shares for the past eight quarters.

Along with promoters, FIIs have also added to their stake while Indian mutual funds have been on an off with their buying activity in the stock.
Maharashtra Seamless has a 55% market share in the segment of seamless pipes with manufacturing facilities at Nagothane & Mangaon in Maharashtra and Narketpally in Telangana.
The outlook of the seamless segment is bright. The global seamless pipes market is expected to witness strong growth in demand for OCTG pipes, driven by a resurgence in exploration & production activity in the oil & gas sector and greater emphasis on horizontal and directional drilling operations.
Another key driver for the seamless pipes market growth is the growing demand from the sugar and chemical industries where the usage of boilers and other chemical processes is frequent.
Various initiatives taken by the government of India to boost the oil and gas sector are a blessing in disguise for the company.
The government of India has also announced specific policies for pipe manufacturers. The seamless & ERW pipes sector is getting a major boost from Make in India and Aatmanirbhar Bharat policy.
The company recently won a big order from ONGC to supply seamless tubing pipes and accessories worth Rs 2.6 billion (bn).
It recently also made a voluntary prepayment of an outstanding long-term loan worth Rs 2.3 bn. Given its high order book and strong liquidity position, it made the whole prepayment from its internal accruals and is now a debt free company.
The market has factored in all these positives well as shares of Maharashtra Seamless continue to remain upbeat.
To know more, check out the financial factsheet and the latest quarterly results of Maharashtra Seamless.
Snapshot of companies where promoter holding has increased consistently
Here's a quick view of the above companies based on their financials.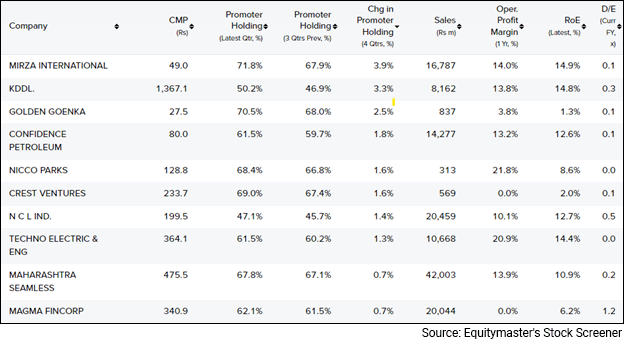 Please note that these parameters can be changed according to your selection criteria.
This will help you identify and eliminate stocks not meeting your requirements and emphasise those stocks well inside the metrics.
Happy Investing!
Investment in securities market are subject to market risks. Read all the related documents carefully before investing
Want to Grow Your Wealth With Safe Stocks?
If you want a simple, safe, and hassle-free approach to long term wealth building...
Without having to worry about negative news or every little downswing in the market...
And without having to worry whether your investments will actually "deliver"...
You must read our note on Blue Chip Stocks now.
Details of our SEBI Research Analyst registration are mentioned on our website - www.equitymaster.com
Disclaimer: This article is for information purposes only. It is not a stock recommendation and should not be treated as such. Learn more about our recommendation services here...
Yash Vora is a financial writer with the Microcap Millionaires team at Equitymaster. He has followed the stock markets right from his early college days. So, Yash has a keen eye for the big market movers. His clear and crisp writeups offer sharp insights on market moving stocks, fund flows, economic data and IPOs. When not looking at stocks, Yash loves a game of table tennis or chess.