The Markets Give You What You Ask For. Are You Asking Enough?
Jul 4, 2019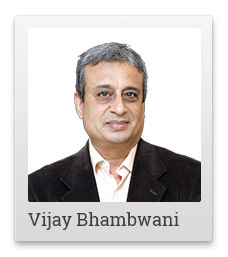 As a student, I had heard a story.
A school master used to buy a lottery ticket on the 1st of every month. He hoped his financial troubles would disappear by divine intervention.
He never won anything.
When his wife would complain, he would silence her with this answer - One day I will win the jackpot and have a house bigger than the Birlas.
His family eventually asked him how he would do this.
He replied - I will invest the winnings in a Bank FD that will place me in a comfortable position. After a few years, I will be able to buy a house almost as big as the Birlas. I will also double my efforts at giving tuitions to children at home. That should help me earn a full Rs 250-300/month more than the Birlas. It will also be enough to be able to buy a kothi (palatial house).
---

Advertisement

---

Our Most Successful Summit EVER

We are glad to inform you that this time we break all our past records.

10,064 people watched Richa Agarwal's One Stock Crorepati Summit LIVE.

At the Summit, Richa talked about some stocks that have made a select group of people Crorepatis. They invested in just one stock and ended up becoming Crorepatis in the long run.

At the Summit, Richa also revealed her formula to identify such potential RARE stocks.

Plus, she also released her special report, 'One Stock Crorepati: How to Get Rich With This Little-Known Indian Stock'.

But what does surprise us is that you missed it.

Anyway, you are in luck…

We've arranged for you to watch the recording of the MEGA Summit right now…

Not only that…you can claim all the benefits you have missed.

But you must hurry…because this recording can be pulled back at any moment.

Watch now…
------------------------------
You don't need to be told that he died the same old poor guy.
His game plan itself hinged on a probability that was mathematically stacked against him.
He was a small thinker. This is a disease that afflicts many of us in South and South-East Asia.
So why do we think small? It's because wealth is a relatively a new luxury for a major portion of the population in Asia.
Have you seen old Hindi films up to the early 1990? The setting for the plot was always in humble surroundings, poverty was glorified, that God loves the poor, and wealth was vilified. This was to pacify most Indians who struggled with day-to-day living.
T Harv Eker's book 'Secrets of the Millionaire Mind' has explained this concept beautifully - you get what you ask for. From society, your boss, your spouse, and your kids too. You get what you ask for.
Does this impact us as traders? Yes, significantly! Here's how...
Say, you are a professional trader in a metro city with the family of four. You will need approximately Rs 100,000 per month to run your home and hearth comfortably. As a full-time trader, the markets give you 20 working days a month to fulfill that mission. Broken down simply, you need to make Rs 5,000 per trading session.
Now we all know it's impossible to achieve this like clockwork. There will be days when there will be no trades, or losing trades, and maybe winning trades but lower than Rs 5,000 in value. So nothing goes as per plan.
Welcome to a day trader's life!
Then there's the psychological aspect of trading. On a day you don't trade, you will need to make Rs 10,000 on the next day just to meet your target. On a day when you lose Rs 5,000, you will need to make Rs 15,000 the next day, just to remain on track to meet your monthly goal.
This will put enormous emotional pressure on you. Very few people can handle this kind of pressure successfully.
So what happens? Invariably, we end up trading in a touch and go manner. Simply put, we tend to ask less from the markets.
If you manage to achieve a profit of Rs 5,000 intraday, you tend to ease off and stop trading before the 'market takes it away' from you. This leads to a situation where you continue to hold losing trades even after your stop losses are hit but you run scared when you make even the smallest trading profits.
We remain satisfied with our small profits...but this not how big money is made.
Over the long run, your survival expenses tend to eat into your trading capital. The leash you are on, gets shorter with every loss and every month's survival expense. One fine day, you realise your ability to trade is terminally hampered.
It's all in the head. Traders are what I call 'brain warriors'. We hunt and kill with our thoughts.
Professional traders know when the going is good, they must ask more from Mr. Market. A bit of extra profit is always a good thing. You never know what tomorrow will bring. If you have the cushion of additional profits, your ability to suffer losses without losing your cool will increase.
I have had the pleasure and privilege of interacting with many successful traders and I have observed them at work. They know when to abstain. Why trade for the heck of it and lose your capital? They know when to stop and when to step on the gas.
They invariably pass off trades where profits are likely to be only chump change. Mental energy is a form of capital too, so why burnout for tiny profits? They know most of the trades will leave them decent enough profits or perhaps some small losses.
The whale (a huge profit in trader's language) is rare, but when it does present itself you must it really, really hit hard.
In Cricket, a world-class batsman knows he can get singles and twos easier than fours and sixes. So he tries to garner as many singles and twos as he can. But when given a favourable ball, he swings his bat with all his might to send the ball soaring for a six.
So grab such opportunities aggressively with both hands, dear reader. Imbibe this one quality...the sooner the better.
Don't follow the footsteps of the masterji who planned to get richer than the Birlas by giving extra tuitions at home. If you think small, you will stay small.
Ask more from Mr. market. Are you asking enough from him today?
Have a profitable day.
Warm regards,

Vijay L Bhambwani
Editor and Research Analyst, Weekly Cash Alerts
Vijay L Bhambwani, is the editor of Weekly Cash Alerts and Fast Income Alerts. He is a professional trader, author, trading mentor, and lifelong student of the markets. He has been an active trader since 1986. Financial markets are his life and passion. Everything else in his life revolves around his main objective - trading. Vijay believes that no matter how much a trader has lost in the market, it is possible with hard work and smart work to get it all back over time. Understanding the method behind the madness of the markets interests him more than the profits. He specialises in predictive style of technical analysis, in the commodity, currency, and equity markets. That is the foundation stone of his style of trading - Neuro Behavioural Technical Analysis. Vijay trains other professional traders. He is empaneled with the BSE & NSE as a visiting faculty for various finance market courses. He created the early course content for the Diploma in Commodity Markets (DICM), certified by the Forward Markets Commission. He was a training mentor at the MCX between 2005-2009. He is the first author to have his book - A Traders Guide to Indian Commodity Markets published by CNBC Publishing 18, in 2009 - approved and sponsored by the NCDEX. Vijay has done over 8,000 TV shows in the last 17 years and has written over 4,000 columns/articles in the print and electronic media. He is one of the first columnists to write a weekly column in the English language print media after the commissioning of the MCX, via his columns in the DNA Money, Business Standard and others. Vijay lives with his family in the posh Breach Candy area in Mumbai.