Tata Steel Gains as June Quarter Output and Sales Jump Over 40% YoY
Jul 5, 2021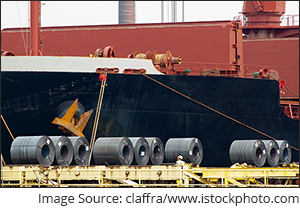 Shares of Tata Steel gained almost 2% today after the company declared its production and delivery volumes data for the June 2021 quarter.
Tata Steel India's crude steel production was up 55% year on year (YoY) at 4.6 m tonnes in the June 2021 quarter compared to 3 m tonnes in the same period last year.
The company's India deliveries also rose by 42% YoY to 4.2 m tonnes.
However, crude steel production declined 2.6% sequentially due to the supply of over 47,800 tons of liquid medical oxygen to hospitals amid the second Covid-19 wave.
Tata Steel June 2021 Quarter - Production and Delivery Volumes

The company's steel deliveries also declined 11% sequentially due to partial lockdowns announced by some states and temporary shutdowns in few steel-consuming sectors.
To offset the impact, exports were increased to 16% of the total sales vs 11% in the March 2021 quarter.
Tata Steel Europe's steel production grew by 27% YoY to 2.7 m tons while steel deliveries increased by 19% YoY.
On the other hand, Tata Steel Southeast Asia's steel production grew by 49% YoY while steel deliveries increased by 50% YoY.
Key segment highlights of domestic deliveries
The deliveries of the company's Automotive & Special Products segment increased by 7x YoY during the June 2021 quarter.
Branded Products & Retail segment deliveries were higher by 112% YoY whereas Industrial Products & Projects segment deliveries increased by 2x on a YoY basis.
The company's B2C (business to consumer) brand Tata Tiscon has become the 1st Rebar brand in India to receive GreenPro certification.
Tata Steel continues to focus on improving its offerings to the domestic market. Sales of value-added products to key segments like Pre-Engineered buildings, O&G, Agricultural implements grew 175% YoY.
Tata Steel Aashiyana, an e-commerce platform for individual home builders, grew revenues by 7x YoY to Rs 2.6 bn.
Tata Steel transfers stake in other businesses to subsidiary companies
Tata Steel also announced the transfer of its 26% stake in Himalaya Steel Mill Services (HSMS) to Tata Steel Utilities and Infrastructure Services (TSUISL) for an undisclosed amount.
TSUISL is a wholly-owned subsidiary of Tata Steel, the company said in a statement.
It has also transferred its 100% stake held in Tata Steel Advanced Materials (TSAML) to another subsidiary company Tata Steel Downstream Products (TSDPL).
Tata Steel did not disclose any financial details related to the share transfer.
How the stock markets reacted to the news
Shares of Tata Steel opened higher at Rs 1150 on BSE and Rs 1146 on the NSE today and gained more than 1%.
The stock has zoomed over 240% in the 12 months.
The scrip touched its 52-week high of Rs 1246.8 on 12 May 2021. It had touched its 52-week low of Rs 328.2 on 3 July 2020.
At its current price, it is trading at a P/E ratio of 10.1.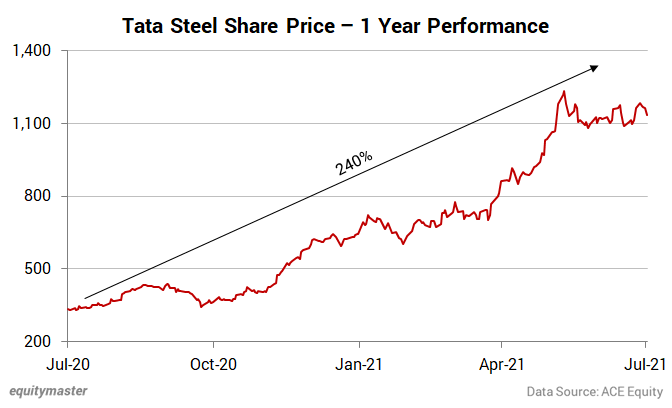 About Tata Steel
Tata Steel is Asia's first integrated private steel company.
The company has a presence across the entire value chain of steel manufacturing from mining and processing iron ore to producing and distributing finished products.
It offers a broad range of steel products including a portfolio of high value-added downstream products such as hot rolled, coated steel, rebars, and wires, etc.
Currently, India accounts for 51% of revenues, followed by Europe excluding UK (26%), UK (9%), Asia excl. India (7%) and other regions (7%).
Over 50% of the company's sales are in the value-added product categories which help it fetch higher realisations and support its profitability.
The company has a wide international footprint. It has operations spread across 26 countries and a commercial presence in 50 countries.
For more details about the company, you can have a look at Tata Steel's factsheet and Tata Steel's quarterly results on our website.
You can also compare Tata Steel with its peers.
To know what's moving the Indian stock markets today, check out the most recent share market updates here.
Disclaimer: This article is for information purposes only. It is not a stock recommendation and should not be treated as such. Learn more about our recommendation services here...