Multibagger Stock Zooms 20% Post Bonus Issue
Jul 5, 2022
EKI Energy Services, one of the leading companies in the carbon credit industry in India, rallied 20% today.
Yesterday, the company issued bonus shares in the ratio of 3:1.
The company had set 5 July 2022 as the record date for the same and the stock went to trade ex-bonus yesterday onwards.
The issue of bonus shares helped increase the liquidity of the stock. It also helped decrease its stock price to make if affordable for investors.
As a result of the stock split, it appears investors loaded up on the shares big time and what followed was a 20% rally today.
Corporate action events like bonus issues and stock splits often bring material changes to a company through changes in the capital structure.
In case of bonus, they might seem to be good thing, but they actually give investors nothing they didn't already have.
In substance, it's just a way of breaking up the same company into a higher number of shares and distributing these additional shares pro-rata to shareholders.
A word about the company
EKI Energy Services is a premier carbon credit developer and supplier across the globe.
It offers services in climate change advisory, carbon credits trading, business excellence advisory, and electrical safety audits.
However, its main business is to facilitate the trading of carbon credits.
What is a carbon credit?
A carbon credit is a certificate that signifies that one tonne of carbon dioxide emission has been reduced from the atmosphere.
The company listed on the bourses at Rs 147 a share in April 2021 with the intention to raise a little over Rs 180 m through an initial public offering (IPO).
What followed was unimaginable as the stock went on to touch multiple highs days after days.
Since listing between April 2021 and December 2021, the stock went on to rally a massive 4,700%!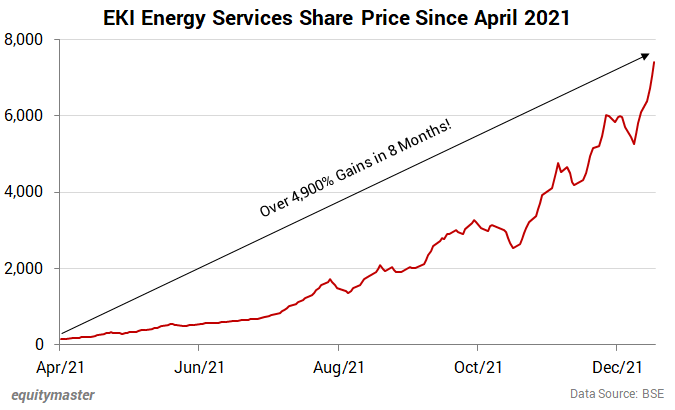 The gains came down starting January 2022 as multiple factors weighed down on the stock markets which lead to a massive selloff.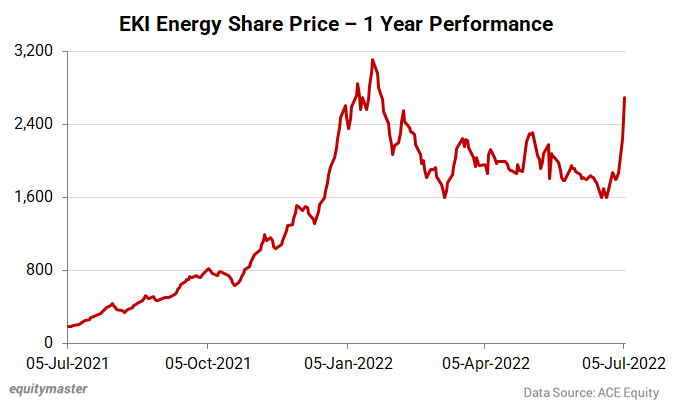 A look at financials
EKI Energy Services' ever-increasing share price has been supported by the company's robust financials.
In the financial year 2022, the company's revenue grew by a whopping 842% year on year (YoY) to Rs 18 bn while net profit grew 1,950% YoY to Rs 3.8 bn.
Financial Snapshot
| Particulars | 2018 | 2019 | 2020 | 2021 | 2022 |
| --- | --- | --- | --- | --- | --- |
| Total Revenue (Rs m) | 70 | 199 | 660 | 1,910 | 18,001 |
| Revenue Growth (%) | | 184% | 232% | 189% | 842% |
| Net Profit (in Rs m) | 3 | 7 | 45 | 187 | 3,833 |
| Profit Growth (%) | | 133% | 543% | 316% | 1950% |
| Net Profit Margin (in %) | 4% | 4% | 7% | 10% | 21% |
Data Source: Ace Equity
The future of India's carbon market...
India's carbon market is one of the fastest growing markets in the world and has already generated millions of carbon credits.
Carbon is also now being traded on the MCX (Multi Commodity Exchange). The platform is the first exchange in Asia to trade carbon credits.
As India goes on a seismic shift where traditional energy sources get replaced by green energy like solar, wind, and green hydrogen, there's massive scope.
Billionaires such as Ambani and Adani have already announced plans for investments in renewable energy to ensure India moves closer towards its net-zero target.
Stay tuned for more updates from this space.
Disclaimer: This article is for information purposes only. It is not a stock recommendation and should not be treated as such. Learn more about our recommendation services here...
Yash Vora is a financial writer with the Microcap Millionaires team at Equitymaster. He has followed the stock markets right from his early college days. So, Yash has a keen eye for the big market movers. His clear and crisp writeups offer sharp insights on market moving stocks, fund flows, economic data and IPOs. When not looking at stocks, Yash loves a game of table tennis or chess.