IDFC to Merge with IDFC First Bank. What Does it Mean for Investors?
Jul 5, 2023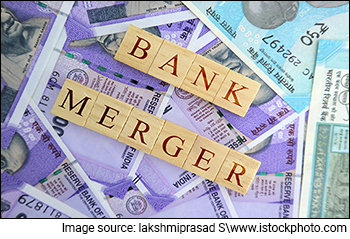 Earlier this month, on 1 July 2023, India Inc's biggest merger came into effect when mortgage major HDFC merged itself with HDFC Bank in an all-stock deal valued at US$ 40 billion (bn).
The merger resulted in the formation of the world's fourth largest bank with a valuation of US$ 200 bn after JP Morgan Chase, ICBC of China, and Bank of America.
Now, on the heels of this merger, comes another one. That of IDFC and IDFC First Bank.
On 3 July 2023, IDFC First Bank announced the merger of its parent IDFC Ltd with itself in an all-stock transaction, marking another major deal in the Indian banking space days after the amalgamation of the HDFC twins. This will be a reverse merger.
Infrastructure Development Finance Company or IDFC began its journey nearly three decades ago as an institution funding long term infrastructure projects in the country.
However, financial problems in the energy sector took a toll on its asset quality. When asset quality issues began to brew, IDFC won a banking license in August 2014.
Then in 2015, it demerged the banking business and launched IDFC Bank when on-tap licensing began, following which loans and liabilities of IDFC were transferred to the bank.
Post the demerger, IDFC became a holding company housing the non-financing businesses of asset management, private equity funding, institutional broking, and Infrastructure Debt Fund (IDF).
In December 2018, IDFC Bank took over Capital First, a consumer and MSME-focused non-bank since 2012 and was renamed as IDFC First Bank. Now both entities have decided to become one.
So, what does this mean for investors? And who will win the merger?
Let's find out...
Why have the companies decided to merge?
IDFC Chairman, Anil Singhvi said the merger is the last phase of IDFC's corporate restructuring and will help create a financial services provider that offers seamless delivery of services to customers.
It will ensure compliance with RBI rules, requiring the non-operative financial holding company's shareholding. This is the bank's promoter, to be a minimum of 40% of the paid-up voting equity capital, locked in for five years from the commencement of the bank's business.
It will also augment operational efficiency for the merged entity and create synergies for the company's shareholders.
The deal, valued at Rs 127.02 per share, represents a 24% premium to IDFC's previous closing price. The swap ratio comes up to 155:100, which means that investors will get 155 shares of IDFC First Bank for every 100 shares held in IDFC.
The merger scheme is subject to all requisite approvals from the Reserve Bank, Sebi, Competition Commission, National Company Law Tribunal, the stock exchanges, and shareholders of both entities.
It's expected to be completed in the current financial year, subject to unforeseen circumstances.
In March 2023, IDFC Ltd and IDFC Financial Holding Company Ltd had appointed Axis Capital Ltd to determine the fairness of the share exchange ratio for the merger.
The companies have now completed all stages of corporate simplifications, with the amalgamation with IDFC First Bank being the next step.
What does this mean for investors?
The IDFC-IDFC bank merger will result in the consolidation of IDFC FHCL, IDFC Limited, and IDFC First Bank.
Further, the amalgamation will simplify the corporate and organisational structure of the 3 firms by consolidating them into a single company.
IDFC ltd recently sold its AMC business, leaving the bank as its primary asset. This transaction has emphasised the fact that IDFC ltd financial strength heavily relies on the performance of IDFC First Bank.
Now, IDFC First Bank is well placed to consistently grow in a profitable manner. All the stakeholders will benefit from such growth at the bank, leading to an opportunity for value creation in the long run.
IDFC First Bank has witnessed significant growth in its deposit franchise in the last four years. Deposits have seen a 4-year compound annual growth rate (CAGR) of 36%. By 31 March 2023, the bank's deposit franchise reached Rs. 1.36 tn.
The bank has also improved its current account and savings account (CASA) ratio from 8.6% at the time of its merger with Capital First in December 2018 to 49.8% by March 2023.
Its loan book stands strong at Rs 1.6 tn with a balance sheet of Rs 2.4 tn as of March 2023. Its gross net performing assets (NPAs) stood at 2.51% and net NPA at 0.86%.
The merger is expected to be balance sheet neutral and not result in a reduction in the paid-up share capital of in the paid-up share capital of the bank. On becoming effective, IDFC First Bank will issue shares to the shareholders of IDFC Ltd as on the determined record date.
The deal will also eliminate promoter holding and the merged entity will be fully owned by institutional and public shareholders.
Meanwhile, IDFC is sitting on Rs 6 bn of cash which will come into IDFC First Bank post-merger.
The management has said that the company will raise capital worth Rs 20 bn by FY24. Capital adequacy will rise further from current levels of 17.4%.
How did markets react to the news
As the risk-reward ratio is favourable for the parent, IDFC Ltd surged 2% on 4 July 2023 while IDFC First Bank fell 4%.
The deal, valued at Rs 127.02 per share, represents a 24% premium to IDFC's previous closing price.
However, over the last year, shares of IDFC First Bank shares have rallied over 130% while they have gained 30% in 2023. Meanwhile, shares of IDFC have gained 110% over the last year and 32% in 2023.
IDFC First Bank is one of the top contenders for inclusion in the MSCI August 2023 Standard Index. However, the stock needs to touch Rs 85 per share by the third week of July for that to happen.
As the merger progresses, the spread between the two stocks as per the ratio is expected to contract.
Tanushree Banerjee on the IDFC - IDFC Bank merger
We reached out to Tanushree Banerjee, Co-Head of Research at Equitymaster and editor of the safe stock recommendation, StockSelect for her perspective on the stock.
Here's what she said...
Unlike the HDFC - HDFC Bank merger, the IDFC - IDFC Bank merger could possibility bring in more costs and write-offs for the banking entity than synergies of scale.

In the case of IDFC, the asset liability mismatch between longer term infrastructure assets and shorter term borrowing has been a dampener.

So, while there are near term uncertainties and downside risks, investors could consider the very long term prospects of the merged entity.
Conclusion
Mergers and acquisitions are a way for companies to combine their individual strengths.
When companies merge, the newly formed company gains a larger market share and gets ahead in the competition. It can also lead to economies of scale.
However, a merger can also result in a monopoly and an increase the prices products and services. Besides, it may result in a clash in cultures and affect the performance of the employees.
While the financials of both companies have improved, one can only wait and watch how the merger pans out. How it affects the stock prices of both companies also remains to be seen.
Disclaimer: This article is for information purposes only. It is not a stock recommendation and should not be treated as such. Learn more about our recommendation services here...
Ayesha Shetty is a financial writer with the StockSelect team at Equitymaster. An engineer by qualification, she uses her analytical skills to decode the latest developments in financial markets. This reflects in her well-researched and insightful articles. When she is not busy separating financial fact from fiction, she can be found reading about new trends in technology and international politics.