Cement Stocks on a Roll: JK Lakshmi Cement & Ambuja Cement Scale New High
Jul 6, 2021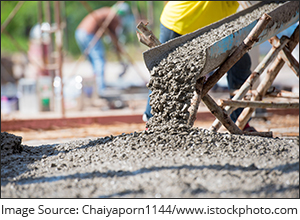 Shares of cement companies rose up to 10% today even as the sector continued to battle with input cost pressures.
Ambuja Cement and JK Lakshmi Cement hit their respective record highs.
Reasons behind the rally
Despite June being a seasonally weak quarter, cement prices stood firm across most regions in India.
Average cement prices on a pan-India basis rose around 6% sequentially during quarter ended June 2021.
An uptrend in cement prices bodes well for the profitability of the cement sector.
Lately, the cost of key input materials have increased sharply, pointing to pressure on margins.
Average domestic pet coke prices are up 11% sequentially and 85% on a year-on-year (YoY) basis.
Imported coal prices are also up 16% sequentially and 60% YoY.
Apart from high prices, volume growth also aided sentiment.
Reports suggested that industry volumes likely increased in June 2021 and recovered to April 2021 levels, owing to the easing of restrictions and pent-up demand.
Volumes likely grew less than 20% sequentially in the north, east and south regions and in low double digits in the west and central regions.
A challenging but good year for Indian cement sector
The financial year 2021 was a challenging year, but cement companies reported a decent performance for the quarter ended March 2021.
A recent analysis by a rating agency showed that net profit of 10 major listed cement companies rose by 29.6% on an average in 2021.
This was due to a step up in infrastructure and construction activities in India.
The recovery in the second half drove a strong improvement in the cement companies' profitability.
Mainly, the price hikes in the later part of the fiscal supported the profitability.
Cement companies took consecutive price increases in March, April, and May.
Volumes were up 15% sequentially and improved more than 25% YoY, while EBITDA / tonne was up 3% compared to the previous quarter.
However, one must note that the second Covid-19 wave still remains a key risk.
Equitymaster's Technical View on the Cement Sector
We reached out to Brijesh Bhatia, Research Analyst at Equitymaster, and editor of the premium monthly recommendation service Fast Profits Report, for his technical view on the cement sector.
Here's what he has to say...
The financial market was hit in March 2020 by lockdown and by March 2021, they are up by 100% from the lows.

Cement sector outperformed and most of the cement stocks are up by 100% from the lows.

The demand in cement is largely lead by government spending on infrastructure and real estate.

The commercial office been vacant with work-from-home culture and new housing projects been stalled, can still the cement sector rally from current levels?

We created an Equal Weighted Cement Index (EWCI) chart using cements stocks with market cap over 10,000 crores and compared it with Nifty Realty Index.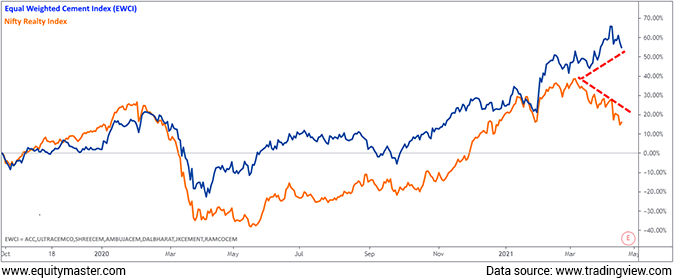 Since the lows in March 2020, EWCI and realty index rallied in a same manner.

But since March 2021, we are witnessing divergence between the two sectors (marked red) where cement stocks are trading near high and realty stocks are underperforming against cement stocks.

To check the future outperformance of cement stocks, we compared EWCI with Nifty.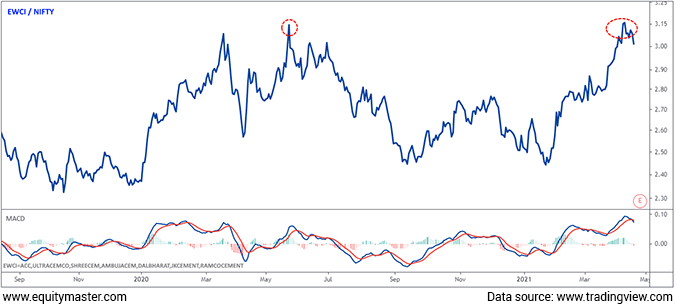 The ratio chart of EWCI Index vs Nifty above is indicating profit bookings can be on cards for cement stocks and it has reversed from the similar highs made in June 2020.

The negative crossover of averages on Moving Average Convergence Divergence (MACD) supports an underperformance of EWCI over Nifty.
Cement stocks performance
Most of the cement stocks ended on a positive note today, gaining in the range of 3-10%.
JK Lakshmi Cement share price gained the most, rising as much as 10% to a new high of Rs 674.
The Ramco Cements and India Cements ended up in the range of 4-5%.
Big companies including ACC, Ambuja Cement and UltraTech Cement also rose 3%.
Note that most cement stocks have more than doubled in the year gone by. Some have even tripled.
Have a look at the table below to see cement stocks' performance over the past year.
Top Gainers
| Company | % change over a year |
| --- | --- |
| Keerthi Industries | 343 |
| Shiva Cement | 288 |
| HIL | 285 |
| Udaipur Cement | 238 |
| Sagar Cements | 229 |
| Prism Johnson | 199 |
| Dalmia Bharat | 187 |
| JK Lakshmi Cement | 147 |
| JK Cement | 117 |
| Birla Corporation | 105 |
| Ambuja Cement | 82 |
| UltraTech Cement | 78 |
| The Ramco Cements | 66 |
| India Cements | 59 |
| ACC | 53 |
Source: Equitymaster
India is the second-largest producer of cement in the world, with an overall production capacity of 500 m tonnes per annum (MTPA).
This contributes to roughly 30% of the emissions accruing from the country's manufacturing sector.
It remains to be seen how the second wave and lockdown restrictions by several states, affect the cement sector.
To get a complete overview about the sector, read our cement sector report.
You can also compare cement stocks on our website.
Ambuja Cement vs JK Lakshmi Cement
To know what's moving the Indian stock markets today, check out the most recent share market updates here.
Disclaimer: This article is for information purposes only. It is not a stock recommendation and should not be treated as such. Learn more about our recommendation services here...