NMDC's Rs 36 bn OFS Puts Stock in Focus
Jul 6, 2021
Shares of NMDC are in focus today after the government announced to sell about 7.5% stake in the company through an offer for sale (OFS).
This move will help the centre in mopping up over Rs 36.2 bn in divestment receipts.
Floor price set at 6% discount
The state-owned miner has set the floor price at Rs 165 per equity share, a 6% discount to Monday's closing price.
Initially, the centre will divest 4% stake or 117.2 m shares in the iron ore producer.
An additional 3.5% stake or 102.2 m shares will be sold through a green-shoe option.
Currently, the government owns 68.3% stake in the mining company.
With this divestment, the government will end up reducing its stake to 60.8% in NMDC.
The OFS opened for institutional investors today. They will also get an option to carry forward their unallocated bids to the next day for allocation from the unsubscribed portion for retail investors.
The issue will open for retail investors on 7 July.
Ambitious target of 1.75 trillion
Note that proceeds from this OFS will take the government one step forward towards the target of Rs 1.75 trillion, set for the financial year 2022.
Of Rs 1.75 trillion, Rs 1 trillion is expected to come from selling the government's stake in public sector banks (PSBs) and financial institutions and Rs 750 bn as CPSE disinvestment receipts.
NMDC's OFS will be the first stake sale in a state-run firm in the current financial year as most of the proposed big-ticket transactions such as BPCL privatisation have been delayed to the second wave of Covid-19.
By selling a portion of SUUTI (Specified Undertaking of Unit Trust of India) stake in private lender Axis Bank, the government has mobilized Rs 39.9 bn of its disinvestment target.
The disinvestment plan also includes sale of assets like BPCL, Air India, Shipping Corporation of India, Container Corporation, IDBI Bank, BEML, Pawan Hans and Neelachal Ispat Nigam.
The IPO of LIC will also be a major stake sale.
With infections receding, the sale process is expected to restart from September-October, according to media reports.
However, global brokerage Nomura recently said due to the high valuation of the Indian stock market, the divestment target may not be achieved.
The centre had failed to meet its disinvestment target in the last financial year.
Company to raise Rs 50 bn
NMDC is also in talks with banks and financial institutions to raise around Rs 50 bn debt to partially fund its under-construction Rs 213 bn Nagarnar Steel Plant (NSP).
This plant is likely to be operational by October this year, NMDC's Chairman and Managing Director Sumit Deb said.
Work for setting up the plant had started back in 2011 and was initially supposed to be commissioned by 2016.
NMDC has already spent a total of Rs 185.6 bn on the plant.
NMDC's stellar results
For the quarter ended March 2021, NMDC's net profit was up over 800% year on year (YoY) at Rs 28.4 bn.
Its consolidated revenues were up 114.8% at Rs 68.5 bn.
The company gained from the spike in demand from the iron and steel industry, which is the largest consumer of iron ore.
Rising prices globally also supported the public sector undertaking (PSU).
For the full year ended March 2021, profits were sharply higher by 75.7% at Rs 62.8 bn.
How the markets reacted to NMDC's OFS news
NMDC share price fell over 2% in early trade today after the company said that the government is planning to offload stake through an OFS.
This is in addition to the 4% fall recorded yesterday.
Currently, NMDC shares are trading down by 1.4%.
NMDC shares have a 52-week high quote of Rs 213.15 touched on 12 May 2021 and a 52-week low quote of Rs 75.60 touched in September last year.
Over the past one year, shares of the company have rallied as much as 105% as can be seen from the chart below.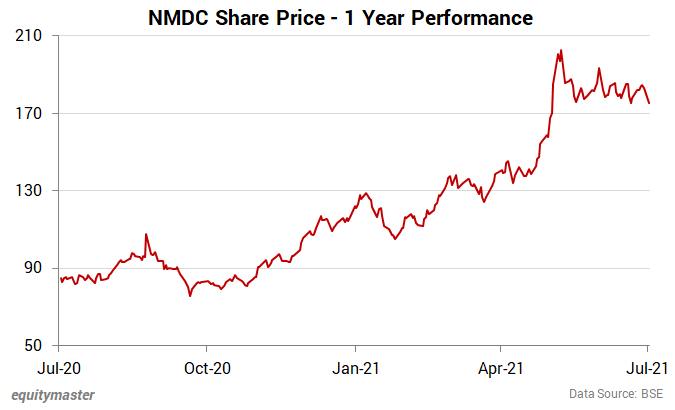 At the current price of Rs 174, the company commands a marketcap of Rs 511.1 bn.
About NMDC
NMDC is the largest iron ore mining company in India. The company was incorporated in 1958 and is currently under the administrative control of the Ministry of Steel.
NMDC is involved in the exploration of a wide range of minerals including iron ore, copper, rock phosphate, lime stone, dolomite, gypsum, bentonite, magnesite, diamond, tin, tungsten, graphite, beach sands, etc.
At present, it produces more than 30 m tonnes (MT) of iron ore from Bailadila deposit (Chhattisgarh) and Kumarswamy Iron Ore Mines (Karnataka).
To know more about the company, check out NMDC company fact sheet and NMDC quarterly results.
You can also compare NMDC with its peers on our website.
To know what's moving the Indian stock markets today, check out the most recent share market updates here.
Disclaimer: This article is for information purposes only. It is not a stock recommendation and should not be treated as such. Learn more about our recommendation services here...