HDFC Bank Gains After Reporting 14% Rise in Loan Book
Jul 6, 2021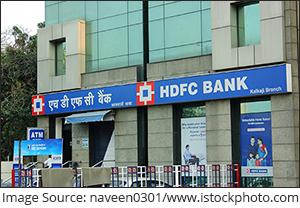 Shares of HDFC Bank rose as much as 3% to hit an intraday high of Rs 1,540.4 after the bank said that its loan book during the June 2021 quarter rose 14.4% year on year (YoY) to Rs 11.5 tn.
The size of the bank's loan book was Rs 10 tn in the same period last year.
On a sequential basis, HDFC Bank's loan book advanced 1.3%.
Among loan categories, retail loans grew by around 9% YoY but were lower by around 1% sequentially.
Commercial and rural banking loans also grew by around 25% YoY.
During the quarter ended June, the bank purchased loans worth Rs 54.9 bn through the direct assignment route under the home loan arrangement with HDFC. It had made similar purchases of Rs 75 bn in the March quarter.
--- Advertisement ---
Do this Before You Invest in EV Stocks

Recently, we revealed this 15x opportunity in electric vehicles.

We're talking about more than 30% annual growth for the next 10 years.

This could be your rare chance to turn your small stake into potentially massive gains in the long run.

We've already identified 3 specific stocks for you.

As per our multi-year research, you only need these 3 stocks to ride the massive 15x opportunity in electric vehicles.

You can get full details here...
------------------------------
Private sector lender witnessed substantial rise in its deposits
The bank's deposits saw a growth of around 13.2% YoY at Rs 13.5 tn during the June 2021 quarter compared to over Rs 11.9 tn in the June 2020 quarter.
Retail deposits grew by around 16.5% YoY and around 3.5% quarter on quarter (QoQ) while wholesale deposits remained stable compared to the first quarter of 2020, and were lower by around 10% sequentially.
Meanwhile, the current account saving account (CASA) deposits grew by 28.2% YoY and aggregated to approximately Rs 6.1 tn in the first quarter of 2021.
The bank's CASA ratio stood at around 45% in the June quarter, compared to 40.1% in the same period last year.
Lower Impact of Covid-19 on HDFC Bank
The second Covid-19 wave seems to have had a lower impact on HDFC bank during the June quarter as the bank reported a 14% year on year (YoY) growth in loan book.
The first quarter also saw the bank increase its loan market share marginally to 10.6% of the total lending business compared to 10.3% in the March 2021 quarter.
--- Advertisement ---
You Need to See This Today

Would you like to know about 3 stocks having the potential to return as much as 1,000% or more over the long term?

If yes, then check out this page right away.

There's only a small window of opportunity to get in before it's too late. If you miss it, then it could be the greatest financial mistake of your life.

Just click here to get full details immediately.
------------------------------
HDFC Bank hopes to return with a 'bang' and regain lost market share
In the last week, HDFC Bank said it expects to regain the lost market share and make a strong comeback once the regulator lifts the embargo on issuing new credit cards.
Parag Rao head of consumer finance, digital banking, and information technology said,
Within three-four months of the ban getting lifted, one should expect incremental market share back to the pre-ban levels.
The bank has been in constant discussion with RBI ever since the ban was imposed, and has upgraded its systems as per the indications from the regulator, Rao said.
He added that it had now presented a plan that focuses on the immediate, short-term, mid-term and long-term to the central bank.
Equitymaster's view on HDFC Bank
We reached out to Tanushree Banerjee, Co-Head of Research and banking sector analyst at Equitymaster, for her view on the private lender's performance.
Here's what she has to say about HDFC Bank -
HDFC Bank's performance in terms of profit growth and sustenance of credit quality in the year 2021 was credible.

However, delayed resolution of technical issues i HDFC Bank hopes to return with a 'bang' and regain lost market sharen IT platforms and lifting of embargo on new credit card issuances could impact HDFC Bank's credit growth in the coming quarters.
RSVP NOW: An Exclusive Invitation to Join Tanushree Banerjee's Telegram Group
How the stock markets reacted to HDFC Bank
Shares of HDFC Bank opened the day at Rs 1,495 on the BSE and Rs 1,495.5 on the NSE.
Its share price closed at Rs 1,534.4 (up 2.6%) on the BSE and Rs 1,534.7 (up 2.6%) on the NSE.
At its current price, it is trading at a P/E of 33.5.
The share touched its 52-week high of Rs 1,650 and 52-week low of Rs 994 on 24 February 2021 and 3 August 2020, respectively.
Over the last 30 days, the HDFC Bank share price is down 1.8%. Over the last one year, the company's share price is up 33.2%.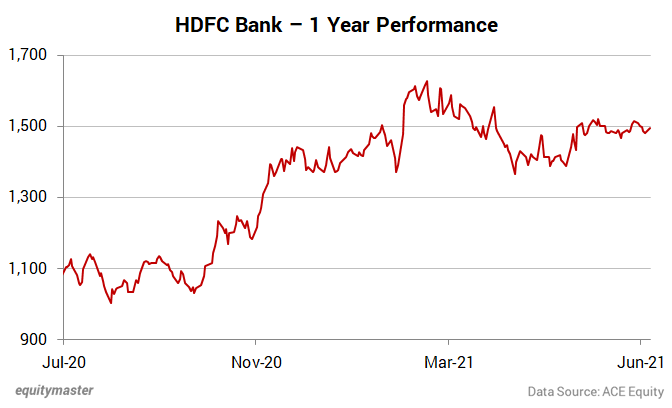 About HDFC Bank
HDFC Bank remains the gold standard in the banking industry when it comes to its solid execution capabilities and pristine loan book.
Headquartered in Mumbai, HDFC Bank is a new generation private sector bank providing a wide range of banking services covering commercial and investment banking on the wholesale side and transactional/branch banking on the retail side.
HDFC Bank also has one overseas wholesale banking branch in Bahrain, a branch in Hong Kong and two representative offices in UAE and Kenya. The Bank has two subsidiary companies, namely HDFC Securities and HDB Financial Services.
The lender has a banking network of 5,608 branches and 16,087 ATM's in 2,902 cities/towns.
For more details about the company, you can have a look at HDFC Bank's factsheet and HDFC Bank's quarterly results on our website.
You can also compare HDFC Bank with its peers on our website:
To know what's moving the Indian stock markets today, check out the most recent share market updates here.
Disclaimer: This article is for information purposes only. It is not a stock recommendation and should not be treated as such. Learn more about our recommendation services here...