Why Bharat Electronics Share Price is Rising
Jul 6, 2023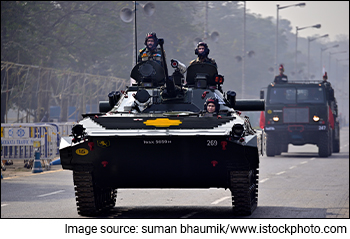 Defence stocks have been on a roll off late.
The sector has emerged as one of the top choices for investors, thanks to the impressive performance of defence stocks.
And for good reason.
Due to the Indian government's ambitious indigenous manufacturing policies, many defence stocks have turned multibaggers.
From expanding the FDI limit under the automatic route to increasing the defence capital procurement budget earmarked for the domestic industry to 75%, the Union government has introduced many reformatory changes. These will reduce reliance on imports in the medium to long term.
India is also entering into major defence agreements such as the BrahMos missile deal with the Philippines and the US$ 250 million (m) arms deal with Armenia. These will further push locally manufactured products on the global stage.
The country is on the cusp of a defence revolution, providing cutting-edge solutions to match global demand.
Riding this wave, is the stock of Bharat Electronics. The company's shares are up by 5% in the last month and more than 25% in the six months. The stock is also a multibagger having risen more than 2.3x in the last five years.
Let's find out why the company's shares are rising.
Order book drives momentum
Bharat Electronics on 1 July 2023 said it has received defence and non-defence orders worth Rs 21.9 bn.
The orders are for supplying long-range guidance kits with warheads, airborne jammers, battlefield short range surveillance radars upgrades, missile guidance radars, shallow watercraft sonars and spares, among others.
The defence major had received Rs 59 bn worth orders from the Navy earlier this month. With this, BEL has in all received orders worth Rs 80.9 bn so far in this financial year. For the financial year 2023, the company's order inflow came in at Rs 207 bn (up 17.2% YoY).
Bigger orders in the pipeline include Akash Missile System, ground support equipment, long-term fuse requirements, ship-building programs, and Varuna-Shakti program for electronic warfare for ships.
The company hopes to maintain a three times order book on revenue front. The largest order will be for LRSAM for frontline ships, with a range of around Rs 30 bn.
It also plans to spend around Rs 7-8 bn in capex this year to upgrade existing facilities and build new ones.
BEL expects to commission an advanced electro-optics factory in Andhra by the end of the year and is working on an EW factory in Ibrahimpatnam.
Healthy financials to support growth
For the financial year 2023, Bharat Electronics reported a 15.4% YoY increase in revenue.
Due to the increase in revenue, the company's operating profit rose 22.3% YoY. Operating profit margins, however, rose only 1.3% YoY due to rising raw material and employee expenses.
Overall, it registered a growth of 24.9% YoY in net profit on the back of higher other income. Net profit margins came in marginally higher at 16.6%.
Export revenue for FY23 was US$ 48 m or Rs 3.9 bn. The company is working on the potential of exporting Akash to other friendly countries.
India's defence exports have reached unprecedented levels, skyrocketing from Rs 6.9 bn in FY14 to an estimated Rs 160 bn in FY23, representing a remarkable twenty-three-fold increase.
The Ministry of Information and Broadcasting highlighted this surge as a testament to India's significant progress in the global defence manufacturing industry.
Bharat Electronics has been one of the main contributors to this progress.
Over the past nine years, the government has implemented numerous policy initiatives and introduced reforms to stimulate defence exports.
Notably, the expenditure on defence procurement from foreign sources has reduced from 46% of the overall expenditure in 2018-19 to 36.7% as of December 2022, reflecting a strategic shift towards self-reliance and indigenous manufacturing capabilities.
Bharat Electronics financials also reflect the same. The company's net profit has grown at a CAGR of 16% in the last five years.
This has translated into high return ratios. Its return on equity stands at 22.8% while its return on capital employed stands at 30.8%.
The company also has no debt on its books.
How Bharat Electronics shares have performed recently
Bharat Electronics' shares have risen by more than 5% in the last month. Over the past six months, the company's shares are up by more than 25%.
The stock price is also up by 61% in the last year.
Bharat Electronics touched its 52-week high of Rs 127.4 on 16 June 2023 while it touched a 52-week low of Rs 74.7 on 6 July 2022.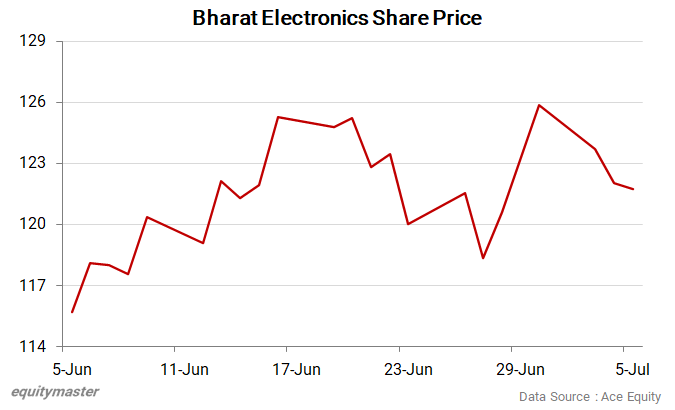 About Bharat Electronics
Bharat Electronics is a Navratna defence PSU. The company is the dominant supplier of radar, communication, and electronic warfare equipment to the Indian armed forces.
It has a diversified product line, including non-defence products, software, and electronic manufacturing services.
It also exports its products to several countries, including Botswana, Indonesia, Sri Lanka, Russia, the US, and South Africa.
To know more about the company, check out Bharat Electronics fact sheet and quarterly results.
Disclaimer: This article is for information purposes only. It is not a stock recommendation and should not be treated as such. Learn more about our recommendation services here...
Ayesha Shetty is a financial writer with the StockSelect team at Equitymaster. An engineer by qualification, she uses her analytical skills to decode the latest developments in financial markets. This reflects in her well-researched and insightful articles. When she is not busy separating financial fact from fiction, she can be found reading about new trends in technology and international politics.