TCS Announces Interim Dividend. 5 Takeaways from TCS Q1 Results
Jul 8, 2022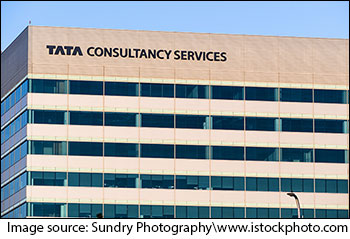 India's largest IT services company in terms of revenue Tata Consultancy Services (TCS) reported its first quarter results post market hours today.
In its Q4 results, TCS had reported a record high attrition of 17.4%. So, investors were keen to know what the IT giant had to report in its Q1 results for financial year 2022-23.
Earlier, the Tata group company had stated that attrition rate moderated and was expected to peak in the June quarter.
TCS is the largest recruiter among IT companies.
When TCS reported results for the March 2022 quarter, several brokerages anticipated margins to decline led by supply-side pressures and decline in utilisation due to ramp-up in fresher hiring.
Both, Infosys and TCS reported elevated attrition rates last quarter and it was a clear indicator that margins could come under pressure in this quarter as manpower expenses rise.
In fact, majority of IT stocks fell due to the high attrition rate. Attrition was a big concern and a main reason why TCS share price was falling.
Well, what happened this quarter?
Here are five takeaways from TCS' quarterly results.
Net profit witnessed a marginal growth of 5.2% year-on-year (YoY) growth on a consolidated basis to Rs 94.8 bn. Profit was Rs 90.1 bn in the same quarter last year.
Revenues grew by 16.2% YoY to Rs 527.6 bn compared to Rs 454.1 bn in the year-ago quarter.
TCS' order book stood at US$8.2 bn. The company said it added nine new clients to the 100 million-plus band YoY while 19 clients were added to the US$50 m-plus band.
Manpower addition stood at 14,136 for the June quarter, taking the total workforce strength to 6,06,331.

IT services attrition was 19.7% on the last twelve months basis.
As usual, the company was back to rewarding shareholders with dividends. TCS announced an interim dividend of Rs 8 per share.
Here's a snapshot of key highlights from the company's filing on BSE.
Key Highlights of TCS June 2022 Quarter Results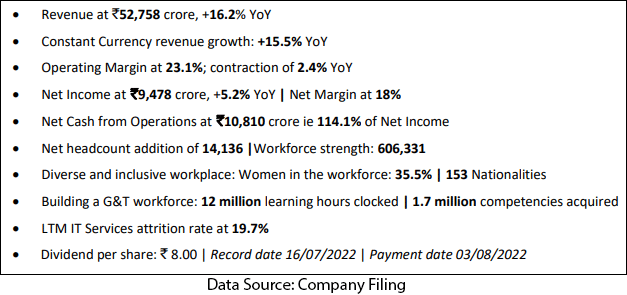 How TCS has performed recently
TCS share price opened the day on a flat note today at Rs 3,297 against its previous close of Rs 3,287.
As the session progressed, it fell to a low of Rs 3,250 and finally settled the day 0.7% lower at Rs 3,265.
TCS has a 52-week high quote of Rs 4,045 touched on 18 January 2022 while it has a 52-week low quote of Rs 3,023 touched on 17 June last month.
On a YTD basis, TCS share price is down 12%.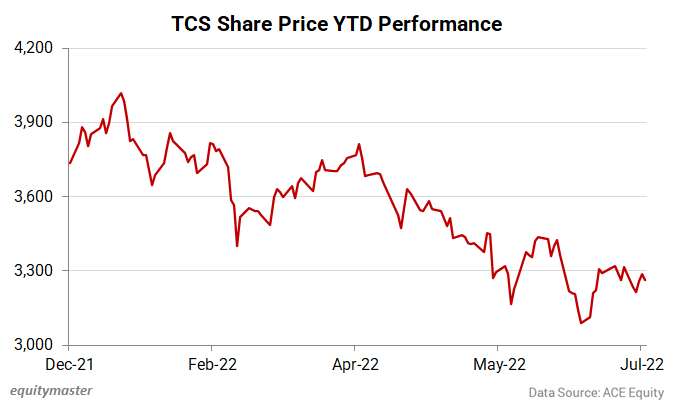 Note that all IT stocks took a fall in 2022 and TCS was no exception to that.
However, TCS still continues to be one of the favourite stocks of investors because of the performance it has delivered since its listing.
Take a look at the chart below to see why TCS still makes it to investors' portfolio.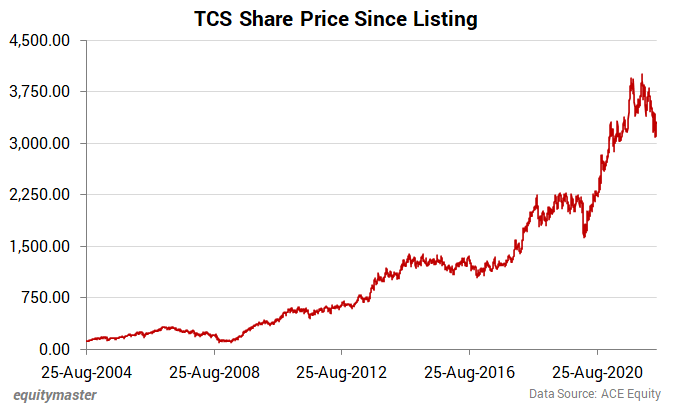 About TCS
Tata Consultancy Services (TCS) is the largest information technology (IT) services, consulting, and business solutions company in India.
It was the first company on the Bombay Stock Exchange (BSE) to reach US$ 100 bn market cap in 2018.
To know more about TCS, check out TCS's financial factsheet and its latest quarterly results.
Also check out the 2021-22 annual report analysis of TCS.
You can also compare TCS with its peers.
Disclaimer: This article is for information purposes only. It is not a stock recommendation and should not be treated as such. Learn more about our recommendation services here...