Forget Tesla. Here Are 3 Indian Companies Betting Big on EVs
Jul 9, 2021
It has been established that electric vehicles (EVs) have a big future and how they will become an integral part of our lives.
At present, the EV space is dominated by Elon Musk's electric vehicle and battery maker Tesla.
The top 10 most popular electric vehicle models sold in the US over the past three years had total combined unit sales of 568,000 of which approximately 430,000 were Tesla vehicles.
An impressive 74% of total US EV sales over the past three years.
Tesla's Dominance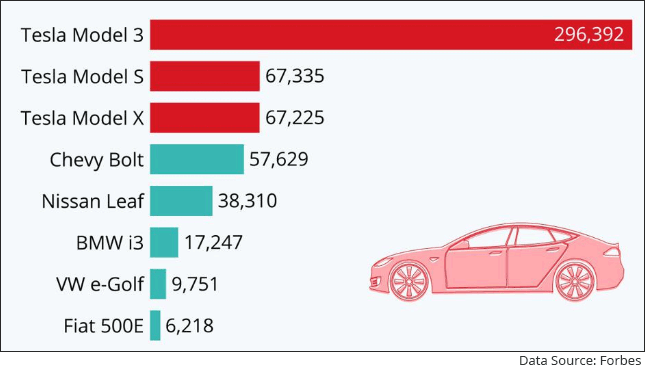 Recently, Tesla reported sales numbers which showed it delivered 201,250 cars for the second quarter of 2021, setting a new record.
Indian companies in the EV space can't compete at Tesla's level as the EV revolution is still in its initial phase.
However, it must be noted that few Indian automakers have invested in the EV space.
As Indian automakers launch affordable vehicles, EVs are likely become an integral part of our lives in the coming years.
In this article, we look at three Indian companies betting big on EVs.
#1 Tata Motors
Leading automaker Tata Motors, which has the largest share of India's electric car market, is aggressively betting on electric vehicles.
The company plans to push its presence in EVs and launch 10 new battery-EVs by 2025 across segments in India.
The company will also invest in lithium-ion cell manufacturing in India and Europe to establish a proper supply chain for its zero-emission vehicles in the coming decade.
Since its launch last year, Tata Motors has sold over 4,000 units of Nexon EV units.
At Nexon's launch, the company's first EV, the company had announced that seven Tata group companies would work together to build a complete ecosystem for EVs.
Given that Tata Motors has an ambitious product launch plan in the coming years, should one invest in the company now?
Co-head of Research at Equitymaster, Rahul Shah did a detailed analysis on this topic, in his latest Microcap Millionaires Special Report.
Here's what he said:
As far as I am concerned, I don't think one should plunge headlong into a company's stock just because it has great plans for the future.

One should be able to do at least a broad calculation on what this implies for the company's revenues as well as bottomline before arriving at any conclusion.
You can read the entire report here: Tata Motors Goes Big on EVs. Time to Buy the Stock? (requires subscription).
#2 Mahindra & Mahindra (M&M)
M&M's EV business is divided into two verticals - last mile mobility and EV tech centre.
The company is betting big on the tectonic shift in the automotive market, and is seeking to add an electric powertrain to its entire SUV portfolio in the next five years.
India's utility vehicles leader also plans to create two skateboards for the latest EV output in North America.
However, it must be noted that despite a first-mover advantage after the acquisition of Reva Electric, M&M has lost out to Tata Motors in the SUV EV space.
Under the new CEO Anish Shah, the company has set out a road map to revive the Mahindra group, by focusing more on EVs and digital startups.
The company will invest Rs 30 bn in EVs in the near term and launch electric variants of its SUVs.
For the year ended March 2021, M&M sold (along with its subsidiary Mahindra Electric Mobility) 5,418 EVs as against 14,602 in the previous year.
Recently this week, M&M partnered with clean energy solutions provider Magenta to deploy its Treo Zor electric cargo vehicles in Bengaluru for last-mile delivery of both essential and non-essential goods.
M&M's other prominent partnerships include with Amazon India, which partnered with Mahindra Electric to help fulfil its commitment towards electric mobility.
Amazon India has committed that its fleet of delivery vehicles will include 10,000 EVs by 2025 in India.
#3 Hero MotoCorp
Hero MotoCorp, formerly Hero Honda, is the largest two-wheeler manufacturer in India and the world.
The company has a toe-hold in the domestic electric vehicle (EV) segment with a roughly 34.6% stake in EV start up Ather Energy.
Earlier this year, Hero MotoCorp partnered with Taiwan's Gogoro. Hero MotoCorp and Taiwan's Gogoro will establish a joint venture to bring Gogoro's battery swapping platform to India.
The two will also collaborate on EV development to bring Hero-branded, powered by Gogoro Network vehicles to the market.
Large original equipment manufacturers (OEMs) in the two-wheeler space such as Hero MotoCorp are likely to benefit from the EV adoption.
A recent ICRA report stated that penetration of EVs in the two-wheeler segment could increase to 10% or more of the total volumes by fiscal 2025 on account of reducing price gap with combustion engine vehicles and increase in government subsidies.
Hero MotoCorp faces competition from Ola, Hero Electric, and Ampere among other notable players.
Ola Electric Mobility Pvt, which plans to spend US$30 m building the world's biggest electric scooter "mega-factory" outside Bangalore.
How can you ride the EV trend?
India's electric vehicle revolution is just getting started. As this economic boom kicks into high gear, it will create many beneficiaries.
You too can profit from this megatrend in the stock market.
Equitymaster's Co-Head of Research, Tanushree Banerjee, has been watching the EV space closely and has identified the key to profit from this revolution.
To know more, you can check out her article in one of the recent editions of Profit Hunter: The Key to Profit from India's EV Revolution.
If you would like to invest in the EV space, Richa Agarwal, editor of the smallcap recommendation service, Hidden Treasure, recently recommended a proxy play on India's EV revolution.
Subscribers can read the report here.
If you are not a subscriber, here's where you can sign up.
To know what's moving the Indian stock markets today, check out the most recent share market updates here.
Should You Invest in Smallcaps Now?

Before you make that decision, here's something you should know...

Richa Agarwal, our top small cap analyst, has just published her report on smallcaps.

It's called Top 3 Stocks for 2023.

If you want to grab a copy of this report, all you need to do is join Richa's upcoming mega event.

It's Free.

Full Details Here

Disclaimer: This article is for information purposes only. It is not a stock recommendation and should not be treated as such. Learn more about our recommendation services here...