Why Did Shares of Bharat Dynamics Surge Today?
Jul 9, 2021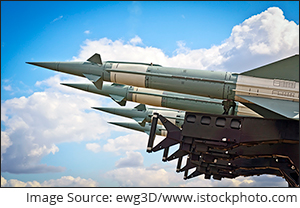 Bharat Dynamics (BDL) shares rallied 4% on the BSE today after the company signed a contract worth about Rs 5 bn with Ministry of Defence for manufacture and supply of Akash missiles to the Indian Air Force (IAF).
According to a press release, the contract was signed by air commodore Ajay Singhal, guided weapons maintenance on behalf of Indian Air Force and commodore T N Kaul, executive director (marketing) on behalf of Bharat Dynamics at New Delhi today.
Commodore Siddharth Mishra, CMD of BDL, stated that the company is supplying Akash missiles to the Indian Army and Indian Air Force.
With the announcement from the union cabinet regarding clearance of Akash weapon system for export, the company is exploring offering Akash for export to foreign countries.
BDL has already received export leads from some countries expressing interest in procuring the missile.
The company has a well-established infrastructure and expertise to execute these orders and meet the customer delivery schedule.
--- Advertisement ---
India's Revival

On the evening of September 24, Tanushree will show you how you could take advantage of a once-in-a-generation event to build wealth beyond your wildest dreams

Get Details Now
------------------------------
Bharat Dynamics considered as prime production agency for IGMDP
The company is the prime production agency for projects under India's integrated guided missile development program (IGMDP).
Akash is one of the missiles under IGMDP being manufactured by BDL, both for Indian Army and Indian Air Force.
The company also manufactures anti-tank guided missiles, air to air missiles, air to surface weapons, launchers, test equipment, underwater weapons, and counter measure systems.
That apart, BDL is also aiming to expand its footprints in the international market by offering air to air missiles, anti-tank guided missiles, underwater weapons, and counter measure systems in addition to Akash missiles to friendly countries.
Company's order book till date
With the present contract signed for supply of Akash to Indian Air Force, the company's order book position stands at about Rs 86.8 bn.
The company has bagged new orders worth about Rs 28 bn (including taxes) during the financial year 2020-21. This includes anti-tank guided missiles order worth about Rs 18.2 bn and surface to air missiles order worth about Rs 7.9 bn.
--- Advertisement ---
REVEALED: 2 Real Estate Stocks That Could Rise

Potentially 40-60% in Just 1 Year...




Here's How to Get Their Details for Free
------------------------------
Key financial highlights
Bharat Dynamics reported a consolidated net profit of Rs 2.6 bn for the fourth quarter ended March 2021.
The company posted a consolidated net profit of Rs 3.1 bn in the same quarter of the previous fiscal.
Total income in the fourth quarter stood at Rs 11.6 bn, down 20.5% compared to Rs 14.6 bn in the year-ago period.
For the full year, the company's consolidated net profit stood at Rs 2.6 bn, down 51.8%. It was at Rs 5.3 bn in the last year.
Speaking of the defence sector, have a look at the chart below which shows the top 5 military spending countries in the world as of 2019.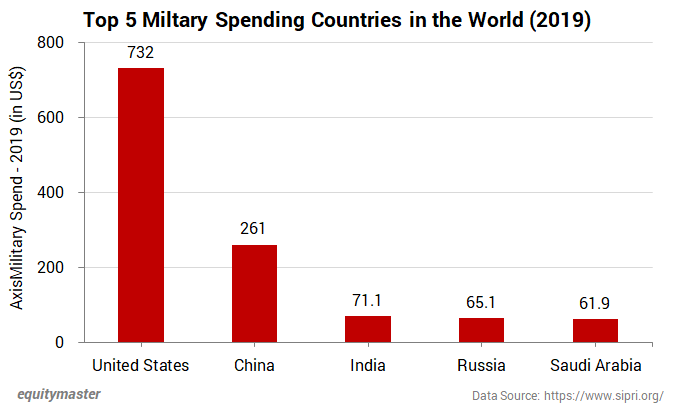 According to a SIPRI (Stockholm International Peace Research Institute) report, India was the third largest military spending country in the world in 2019.
Here's what we wrote about it in one of the editions of Profit Hunter.
If you look at the chart closely, you will realise it is likely to remain among the top spenders in the coming years.

It's because of the second largest spender shown in the chart, China.

With rising tensions between the two countries, the incentive is strong for India to keep up with China.

It all makes sense for the government to focus on this sector in a big way in the near future.

The government's 'Atmanirbhar' push will get a massive boost through local defence manufacturing. This will create profitable opportunities in defence stocks for astute investors.
Co-head of Research at Equitymaster, Tanushree Banerjee keeps a close watch on stocks in the defence space. As per Tanushree, defence will be a big wealth-creating opportunity.
Back in June 2020, she recorded a video about India's best defence stocks.
You can watch the video here: The Upside in India's Best Bulletproof Defence Stocks.
REVEALED: 3 "Super Smallcaps" You Didn't Know About
How the stock markets reacted to Bharat Dynamics
Shares of Bharat Dynamics opened the day at Rs 385.1 on the BSE and Rs 385 on the NSE.
Its share price closed at Rs 381.1 (up 2.3%) on the BSE and Rs 381.7 (up 2.5%) on the NSE.
At its current price, it is trading at a P/E of 27.2.
The share touched its 52-week high of Rs 481.3 and 52-week low of Rs 280.7 on 14 August 2020 and 22 September 2020, respectively.
Over the last 30 days, the Bharat Dynamics share price is up 3.8%. Over the last one year, the company's share price is up 8.7%.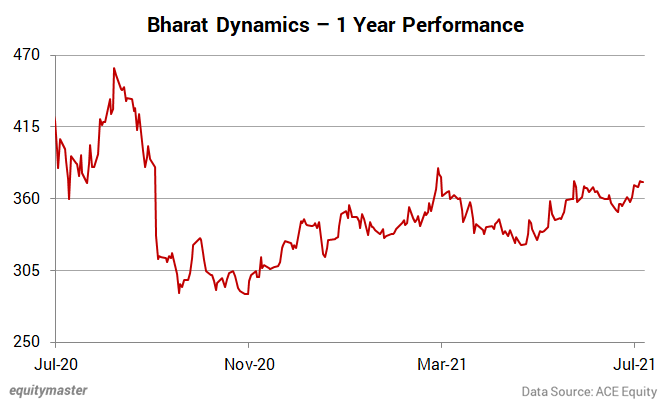 About Bharat Dynamics
Bharat Dynamics is one of India's manufacturers of ammunitions and missile systems.
It was founded in 1970 in Hyderabad, Telangana, India.
The company was established in the year 1970 to be a manufacturing base for guided weapon systems.
Starting with a pool of engineers drawn from Indian ordnance factories, DRDO and aerospace industries, Bharat Dynamics began by producing a first generation anti-tank guided missile - the French SS11B1.
This product was a culmination of a license agreement the government of India entered into with Aerospatiale.
It has three manufacturing units, located at Kanchanbagh, Hyderabad, Telangana; Bhanur, Medak district, Telangana and Visakhapatnam, Andhra Pradesh.
Two new units are planned at Ibrahimpatnam, Ranga Reddy district, Telangana and Amravati, Maharashtra.
For more details about the company, you can have a look at Bharat Dynamics factsheet and quarterly results on our website.
To know what's moving the Indian stock markets today, check out the most recent share market updates here.
Disclaimer: This article is for information purposes only. It is not a stock recommendation and should not be treated as such. Learn more about our recommendation services here...