Damani Exits Smallcap Defence Stock. What Investors Need to Know.
Jul 11, 2023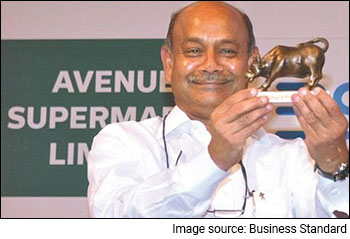 Indian share markets have witnessed a bullish phase for more than three months now, with benchmarks Sensex and Nifty trading at record highs.
This impressive performance is largely attributed to the increased inflow of foreign institutional investors (FIIs) into the Indian market. As a result, more and more people are drawn to participate in this lucrative market. The fear of missing out (FOMO) is really kicking in!
However, investing in a market that is surging with such intensity can be challenging and complex, especially for retail investors who may lack the necessary knowledge and expertise.
That is why the new investors often attempt to mimic the portfolios of successful investors or market veterans.
One such tracked market veteran is Radhakrishna Damani. He is considered to be one of the Big Bulls in the Indian stock markets.
In today's article, we'll take a look at Damani's recent activity in a smallcap defence stock.
A word about Radhakishan Damani
Radhakishan Damani is a Mumbai-based entrepreneur, businessman, and billionaire investor who founded India's mega-retail chain D-Mart.
Damani is considered to be one of the Big Bulls in the Indian stock market. He manages his portfolio through his investment firms, Bright Star Investments and Derive Trading & Resorts.
Over the years, the veteran investor has invested in cement, technology, and retail sectors.
He is considered India's retail king after the March 2017 IPO of his supermarket chain, Avenue Supermarts.
Which defence stock did Radhakishan Damani sell and why?
In the March 2023 quarter, Radhakishan Damani held 1% stake in Astra Microwave Products, with 896,387 shares.
The company recently filed its shareholding pattern for June 2023 and Damani's name was missing from the shareholders' list. Companies have to report details of shareholders who own more than 1% stake in a company. It is difficult to ascertain whether he completely exited the company or just sold some shares.
Initially, Damani bought 896,387 shares in June 2020. Since then, his shareholding in Astra Microwave has remained intact.
While we do not know the exact reasons why the investing guru decided to sell stake, there are some explanations.
#1 Profit booking
The defence stock has witnessed a remarkable surge of 47.4% in the past three months. This, on top of 21.9% gains registered in calendar year 2022.
This upward trajectory can be attributed to several significant factors. Firstly, the company secured a substantial order worth Rs 329.7 million (m) from the India Meteorological Department (IMD) for the supply of C-Band Dual Polarized SSPA-based Doppler Weather Radars.
Moreover, in January 2023, the Ministry of Defence approved a procurement proposal for Helina anti-tank guided missiles valued at Rs 42.8 billion. This deal was divided between Bharat Dynamics and Data Patterns, further boosting the company's prospects.
Additionally, the successful collaboration with the DRDO resulted in the development of the Drishti Counter Drone Radar, launched in February 2023, further contributing to the positive momentum.
Also, in the past three years, the stock has turned out to be a true multibagger, giving returns of more than 190%.
Considering the steep rally in recent weeks, it appears that Radhakrishna Damani opted to book partial profits in the company.
#2 Promoter holding constantly on the decline
Another reason why Damani decided to sell stake could be the continuous selling by company promoters.
Over the past five quarters, the promoters have consistently reduced their stakes in the company. Promoter holding stood at 8.5% in the June 2022 quarter. It now stands at 6.5%.
Look at the table below.
| Quarter ending | 22-Jun | Sep-22 | Dec-22 | Mar-23 | Jun-23 |
| --- | --- | --- | --- | --- | --- |
| Stake (%) | 8.5 | 8.3 | 8.2 | 7.2 | 6.5 |
Source: Equitymaster
Promoters selling their shares can undermine faith in a company sometimes as their actions reflect their perception of the company's prospects.
This disrupts the alignment of interests between promoters and shareholders, raising doubts about long-term commitment.
How shares of Astra Microwave have performed recently
Astra Microwave rose around 75% in the past one year. Over a month, the share price has gone up by 2%. So far in 2023, Astra Microwave shares have gained 27.4%.
Astra Microwave touched its 52-week high price of Rs 389.5 on 22 June 2023. Its 52-week low was Rs 205.1 touched on 11 July 2022.
The company is currently trading at a PE (price to earnings) multiple of 44.3x.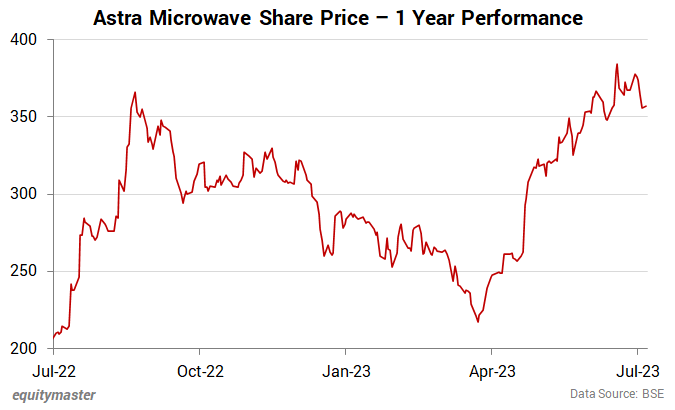 About Astra Microwave
Astra Microwave Products Limited (AMPL) is one of the leading designers and manufacturers of high-quality RF & Microwave Modules and Sub-systems in India.
The company is engaged in cutting-edge solutions in the development and manufacture of sub-systems for Radio Frequency and microwave systems used in defence, space, meteorology, and telecommunication.
The company was founded in 1991 by a team of distinguished scientists with experience in RF/Microwave/Digital electronics and management of projects with high technology content.
AMPL has four world-class manufacturing facilities located in Hyderabad, Telangana; Bangalore, Karnataka; Gurugram, Haryana; and Chennai, Tamil Nadu.
The company has a strong track record of innovation and has developed a number of proprietary technologies. It is also a major exporter of its products, and its customers include leading companies in the defense, space, and telecommunications industries.
For more details, see the Astra Micro company fact sheet and quarterly results.
To know what's moving the Indian stock markets today, check out the most recent share market updates here.
Investment in securities market are subject to market risks. Read all the related documents carefully before investing
Want to Grow Your Wealth With Safe Stocks?
If you want a simple, safe, and hassle-free approach to long term wealth building...
Without having to worry about negative news or every little downswing in the market...
And without having to worry whether your investments will actually "deliver"...
You must read our note on Blue Chip Stocks now.
Details of our SEBI Research Analyst registration are mentioned on our website - www.equitymaster.com
Disclaimer: This article is for information purposes only. It is not a stock recommendation and should not be treated as such. Learn more about our recommendation services?here...
FAQs
Which are the best value investing stocks in India right now?
As per Equitymaster's Stock Screener, here is a list of the best value investing stocks in India right now...
These companies have been ranked as per their PE (Price to Earnings) ratio and PB (Price to Book Value) ratio. The lower the ratios, the more undervalued the stock is.
They also have low debt and high return on equity.
Note that, there are various other parameters you should take into account before investing in any company such as promoter holding etc. Sustained research must not be compromised despite the positive odds.
Can value investing make you rich?
Yes. However, note that value investing is not a get-rich-quick scheme, it's a buy-and-hold strategy.
Once you manage to find a fundamentally strong company that is priced lower than its actual value, you must buy and hold for a long term.
This will help you ride out the volatility in stock prices and avoid the pitfalls that come with trying to time the market.
How does Warren Buffet value stocks?