Ujjivan Financial Services Shares Locked in 20% Upper Circuit. Here's Why
Jul 12, 2021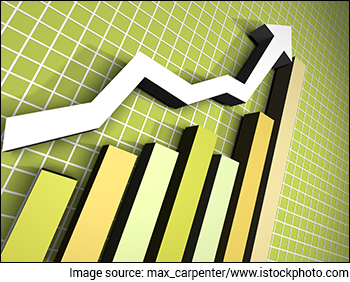 Shares of Ujjivan Financial Services rallied up to 20% on the BSE in the intra-day trade today.
This after the Reserve Bank of India (RBI) allowed small finance banks (SFBs) and respective holding companies to apply for the amalgamation scheme.
According to SFB licensing guidelines, a promoter of small finance bank can exit or cease to be a promoter after the mandatory initial lock-in period of five years. This depends on the RBI's regulatory and supervisory comfort and regulations at that time.
Ujjivan is set to complete five years of business operations.
Though the SFBs are required to dilute promoter shareholding to less than 40% within five years, this scheme of amalgamation will give an exit route to the promoters and collapse the holding company structure.
Ujjivan Finance currently owns 83% stake in underlying SFB. Thus, Ujjivan is required to dilute its stake in underlying bank by 31 January 2022.
Ujjivan small finance bank will merge with holding company
Ujjivan Small Finance Bank said it would initiate steps for the amalgamation of the holding company Ujjivan Financial Services with the bank.
--- Advertisement ---
No crash, correction, or pandemic can STOP This...

At last, it's happening...

Right here in India...three hidden mega-trends are converging for the first time ever to trigger an economic boom of unparalleled proportions.

A boom so powerful - no crash, no correction, and no pandemic can STOP India from becoming the next economic superpower...

And those who take advantage of this mega shift could potentially generate massive wealth for themselves and their families in the long run.

We are talking about potential 1,000% gains...and perhaps even more over the long term.

But trust me, people who pass this opportunity will regret their decision in the years and decades to come...

So, if you want to save yourself from potential downsides of this mega shift...

...and instead, leverage on it for potential windfall gains...

Join us on 24th September at my special event...

Put your email in the box below and get your free ticket right away.
------------------------------
The decision to merge the holding company with itself comes after the RBI's approval.
In a statement, the bank said,
We are pleased to inform you that RBI vide its letter dated 9 July 2021 has informed the said association (of small finance banks of India) that it has decided to permit small finance banks and respective holding companies to apply for the amalgamation of holding company with small finance bank, in terms of provisions of master direction on amalgamation of private sector banks, directions, 2016 dated 21 April 2016, three months prior to completing five years from the date of commencement of business of small finance bank.
Equitas also set to merge holding company with small finance bank
Equitas Holding, the promoter of Equitas Small Finance Bank, on Saturday said the RBI has allowed it to file for a scheme of amalgamation of the promoter entity with the bank.
Currently, both Equitas Holding and Equitas Small Finance Bank are listed on the stock exchanges. Equitas Holdings holds an 82% stake in the bank.
In case of Equitas Small Finance Bank, subsidiary for which the company is the promoter, the said initial promoter lock-in for the company expires on 4 September 2021.
Hence, the bank had requested RBI if a scheme of amalgamation of the company with the bank, resulting in exit of the promoter, can be submitted to RBI for approval, prior to the expiry of the said five years, to take effect after the initial promoter lock-in expires.
--- Advertisement ---
INSIDER SECRET: An Astonishingly Easy Way to Pile Up Potentially 40-60% Gains in Just 1 Year

India's most well-connected trader with over 35 years of experience just confessed...

"This Lucrative Market Segment Could Leapfrog Over Nifty in The Next 12-16 Months"

... thanks to a massive and irreversible mega-trend fueling its growth!

In fact, he and his partner have already identified 2 spectacular stocks from this segment... which are ready to rake in potentially 40-60% gains in just 1 year... and make you big, fat profits!

The best part of them all...

Their Details Are Packed in This Special Report (Discover How to Claim it for Free)
------------------------------
What merger with holding companies mean for investors
The investors of holding company will get the shares of listed SFB through a share swap ratio and the holding companies will thus cease to exist. In this process, the approval of RBI, market regulator and national company law tribunal (NCLT) is required.
Currently, holding companies of Equitas and Ujjivan Bank are trading at 35%/43% discount to their fair value.
For Equitas Holdings, the trading discount since listing has been the range of 24%-54% while for Ujjivan Financial Services, the holding discount has been in the range of 33%-57%.
Thus, the amalgamation scheme would help unlock significant value for the shareholders of the respective holding companies as the holding company discount narrows.
However, the fair value for the investors would depend on the swap ratio which would be key to monitor.
How the stock markets reacted to Ujjivan Financial Services
Shares of Ujjivan Financial Services opened the day at Rs 244.9 on the BSE and Rs 244.8 on the NSE.
REVEALED: 3 "Super Smallcaps" You Didn't Know About
Its share price closed at Rs 244.9 (up 20%) on the BSE and Rs 244.8 (up 20%) on the NSE.
The share touched its 52-week high of Rs 310.9 and 52-week low of Rs 184.8 on 8 January 2021 and 22 April 2021, respectively.
Over the last 30 days, the Ujjivan Financial Services share price is up 13.9%. Over the last one year, the company's share price is down 4.2%.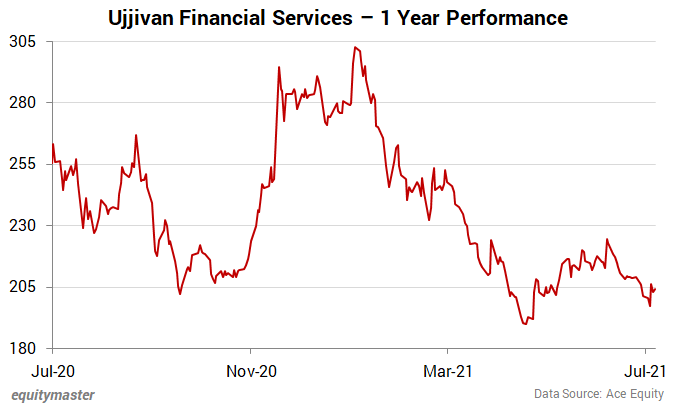 About Ujjivan Financial Services
Ujjivan Financial Services (UFSL) is a limited company domiciled in India and incorporated under the provisions of the companies act 1956.
The company was registered as NBFC-MFI under non-banking financial company micro finance institutions (NBFC-MFIs) directions on 5 September 2013.
It received approval from Reserve Bank of India (RBI) to set up a small finance bank.
Pursuant to the same the company executed an agreement to transfer its business undertaking to its wholly owned subsidiary Ujjivan Small Finance Bank.
Ujjivan Financial Services was one of the largest microfinance institutions in the country before it transferred its business undertaking to Ujjivan Small Finance Bank.
Ujjivan's business is primarily based on the joint liability group lending model for providing collateral free small ticket-size loans to economically active poor women.
For more details about the company, you can have a look at Ujjivan Financial Services factsheet and quarterly results on our website.
You can also compare Ujjivan Financial Services with its peers.
Ujjivan Financial Services vs Bajaj Finance
Ujjivan Financial Services vs Shriram Transport
Ujjivan Financial Services vs Muthoot Finance
To know what's moving the Indian stock markets today, check out the most recent share market updates here.
Disclaimer: This article is for information purposes only. It is not a stock recommendation and should not be treated as such. Learn more about our recommendation services here...