BSE Realty Index Hits 10 Year High. What's Driving the Rally?
Jul 12, 2021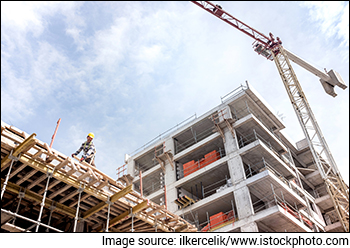 Shares of realty companies surged today, with the BSE Realty Index hitting a 10-year high.
Construction activities have picked up pace with states easing lockdown curbs amid a steady fall in covid cases.
The realty index hit an intra-day high of 3,040.8 points, its highest since February 2010.
Over the last two months, the index has risen 27% compared to an 8% gain in the benchmark Sensex.
Among stocks, DLF, Godrej Properties, Oberoi Realty, Phoenix Mills, Prestige Estate, Indiabulls Real Estate, Sobha, Sunteck Realty have advanced 10-47% during the period.
A few factors that helped the realty sector to hit 10-year high
The real estate sector, which was already under pressure, was also affected as construction activity came to a complete halt due to the lockdown.
But the sector bounced back once restrictions was lifted, growing at 10.7% in the second half of 2020- 21, compared to a 29.1% decline in the first half of the year.
--- Advertisement ---
[Alert] Sell These 3 Stocks Immediately

These 3 stocks are ticking time bombs in your portfolio.

It is very likely that you could be owning these 3 overvalued...

fundamentally weak... ready to crash stocks... in your portfolio today.

Because many stock brokers have painted rosy pictures of these stocks. But the reality is starkly different.

If the market crashes, then these stocks could wipe out your wealth.

You should get rid of these stocks as soon as possible.

We are going to reveal details of these 3 landmines at our upcoming special event at 5 pm on September 24.

You can click here to sign-up. It's free
------------------------------
While the uncertainty around the Covid crisis continues, economic prospects for India are better than these were a year ago.
Also, some companies like Oberoi Realty, Brigade, Godrej Property have reported better-than-expected pre-sales numbers in 2nd half of 2021 on the back of pent-up demand in the sector.
However, according to market experts, the quarter one of current year will not be as good as the last quarter due to the state-wise lockdown, but the long-term story of the real-estate market has been maintained.
After the lockdown, analysts say, property registrations saw a sharp recovery in June.
Record low interest rates, good schemes, discounts, are among the key drivers boosting outlook for the sector even as stamp duty cuts have been rolled back.
Real estate has seen a down cycle of more than five years following the implementation of Real Estate Regulatory Authority (RERA), demonetisation, credit issues, and then pandemic.
As a result, small players took a hit, losing market share. Along with this, customer preference for ready-to-move in properties and brand loyalty favour listed real-estate players.
It is expected that the real estate sector will outperform, and this may be a start of a new upcycle in the real-estate sector after consolidation in the last 10 years.
Global firms take on the sector going ahead
According to a CLSA report, top developers aim to double their sales over the next three to four years, benefiting from strong demand, affordability, and industry consolidation.
Most of them have been targeting strong cash flow generation and looking to reduce debt.
They also aim to ramp up new project acquisitions. Rising vacancies mar the near-term outlook in the office segment but it remains positive for the long term.
REVEALED: 3 "Super Smallcaps" You Didn't Know About
As per a global real estate consultancy firm report, June saw a 327% year on year (YoY) surge in registrations. With this, the sector hopes to end the year on a good number while attaining stability.
Also, the increase in women home buyers to 4.7% in June from 1.8% in May showcases the success of stamp duty reduction for women. Additionally, June also witnessed 42% new registrations.
Going forward, the sector expects significant traction from young home buyers and change in buying patterns, keeping in mind market dynamics.
Equitymaster's technical view on realty index
We reached out to Brijesh Bhatia, Research Analyst at Equitymaster, and editor of the premium monthly recommendation service Fast Profits Report, for his technical view on the realty sector.
Here's what he has to say...
First the Metals, then Cements and now the Realty is breaking out of multi-years bearish trend indicating the frequent sector rotations in this bull markets.

With the lower interest rates on loans and revised ticket size in REIT's investment, the liquidity is likely to flow into this sector.

Realty index has broken out of the decade old range of 140-350 to build the skyscraper on charts, the price rally.

On short-term chart (Daily), the index has broken out of cup and handle pattern which confirms the bullish breakout.

We expect the breakout to play well and expect the fast and furious rally like metals and cements.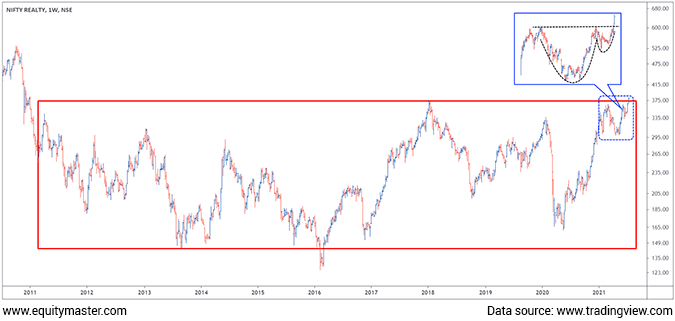 Realty index is underperforming against Nifty since 2008 and Nifty trading at all-time high, possess a risk for realty index.

The bullish structure might negate if the index moves back below 300 and trades in the decade range.
--- Advertisement ---
INSIDER SECRET: An Astonishingly Easy Way to Pile Up Potentially 40-60% Gains in Just 1 Year

India's most well-connected trader with over 35 years of experience just confessed...

"This Lucrative Market Segment Could Leapfrog Over Nifty in The Next 12-16 Months"

... thanks to a massive and irreversible mega-trend fueling its growth!

In fact, he and his partner have already identified 2 spectacular stocks from this segment... which are ready to rake in potentially 40-60% gains in just 1 year... and make you big, fat profits!

The best part of them all...

Their Details Are Packed in This Special Report (Discover How to Claim it for Free)
------------------------------
How realty stocks are performing today
Among individual stocks, Indiabulls Real Estate surged 16.6% to Rs 140.3, also its 52-week high on the BSE, on the back of a three-fold jump in trading volumes.
Macrotech Developers hit a new high of Rs 814.9, up 6% on the BSE in the intra-day trade today.
Meanwhile, Mahindra Lifespace Developers rallied 11% to Rs 684, followed by Suntech Realty, up 5% at Rs 349.8.
Godrej Properties, Oberoi Realty, and Prestige Estate Projects ended the day up 2.6%, 3% and 2.4%, respectively.
Here's a list of realty stocks and their performance...
Source: Equitymaster
For more detailed updates, check the latest Real Estate / Construction sector results.
You can also compare realty stocks on our website.
Godrej Properties vs Indiabulls Real Estate
Oberoi Realty vs Prestige Estates
Sunteck Realty vs Macrotech Developers
To know what's moving the Indian stock markets today, check out the most recent share market updates here.
Disclaimer: This article is for information purposes only. It is not a stock recommendation and should not be treated as such. Learn more about our recommendation services here...