Tata Metaliks Share Price Jumps 8% After Turning Profitable
Jul 14, 2021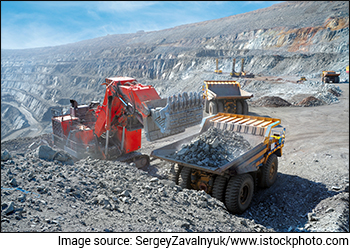 Backed by higher sales and price realisation, Tata Metaliks, a subsidiary of Tata Steel, on Tuesday reported a net profit of Rs 947.2 m for the first quarter ended June 2021.
This was against a loss of Rs 123.6 m posted in the same period last year.
The company recorded revenue from operations of Rs 6 bn and profit before tax (PBT) of Rs 1.4 bn for the quarter ending June 2021.
Total income during April-June quarter increased to Rs 6.1 bn from Rs 2.1 bn in the year-ago period.
Expenses were at Rs 4.7 bn during the first quarter of the financial year 2022, up from Rs 2.3 bn a year ago.
Segment wise revenue
Tata Metaliks manufactures pig iron and ductile iron pipes.
The company's revenue from pig iron segment grew 276% to Rs 5.2 bn in the first quarter of June from Rs 1.4 bn in the same period last year.
Revenue from the ductile iron pipe segment climbed 86.8% to Rs 2.3 bn in June 2022 quarter against Rs 1.2 bn a year ago.
Demand for pig iron got impacted adversely in quarter one due to Covid second wave as major foundry clusters operated at 30-40% capacity.
However, the company achieved the highest ever quarterly deliveries on the back of a jump in exports.
Record sales volumes coupled with strong price realisation, along with stable blast furnace operations, raw materials cost optimisation, and higher coal injection have helped the company achieve its best ever quarterly profits.
Commenting on the results, Sandeep Kumar, managing director of Tata Metaliks said,
The company has delivered strong results primarily due to record sales and booming prices of pig iron.

DI pipe business got impacted mainly due to Covid-induced restrictions by state governments.

However, demand for DI pipes continues to remain robust on the back of significantly increased allocation in this year's Union budget for water infrastructure.
Covid-19 impact on the business
Tata Metaliks' production and sales were impacted during the quarter due to government imposed lockdown to contain the spread of second wave of Covid-19.
The company's operations have gradually come to pre-Covid level after ease in restrictions.
The company continues to be vigilant due to reintroduction of restrictions in some states due to resurgence of Covid-19 cases.
Update on merger of Tata Metaliks and Indian Steel & Wire Products with Tata Steel Long Product
On 13 November 2020, the boards approved the merger of Tata Metaliks and Indian Steel & Wire Products (ISWP) into Tata Steel Long Products.
According to a leading financial daily, a slight delay in merger is going on because the required approvals are needed from different agencies, like government agencies, stocks exchange and market regulator, and it is taking some time.
After approval from the stocks exchanges and the watchdog, the process will head to national company law tribunal (NCLT), which is dealing with several cases.
The managing director of Tata Metaliks, Sandeep Kumar, said,
We have some apprehension too that it will be delayed a bit, but we are trying to complete it as soon as possible.

It is hard to provide any timeline because it is not sure that what time it will take in these agencies and the impact corona will have.

But I believe that it will take at least six more months.
Speaking of metal sector, Brijesh Bhatia, Senior Research Analyst at Equitymaster, had called it the sector of the year at the start of 2021.
Brijesh is yet bullish on the sector. He believes metal stocks are all set to kick off the next leg of their rally.
Watch this video for more.
How the stock markets reacted to Tata Metaliks
Shares of Tata Metaliks opened the day at Rs 1,231 on the BSE and Rs 1,230 on the NSE.
Its share price closed at Rs 1,240 (up 3.2%) on the BSE and Rs 1,243.9 (up 3.5%) on the NSE.
At its current price, it is trading at a P/E of 18.
The share touched its 52-week high of Rs 1,373.7 and 52-week low of Rs 471.1 on 3 May 2021 and 16 July 2020, respectively.
Over the last 30 days, the Tata Metaliks share price is up 8%. Over the last one year, the company's share price is up 146.6%.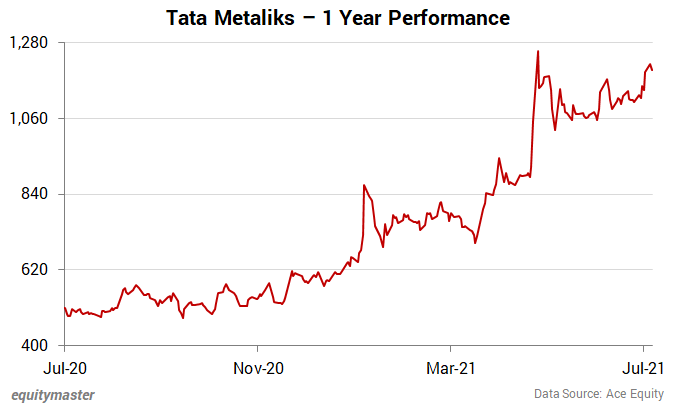 About Tata Metaliks
Tata Metaliks promoted by Tata Iron and Steel company and assisted by West Bengal Industrial Development Corporation, was set up together with Tata Korf Engineering Services as the technology consultant and KTS, Brazil, as the technology supplier.
The company was incorporated on 10 October 1990 as Tata Korf Metal West Bengal and the name was changed to Tata Metaliks on 16 January 1992.
It's engaged in manufacturing and sale of foundry grade pig iron and ductile iron pipes.
Its manufacturing plant, located at Kharagpur in the state of West Bengal and Redi in Maharashtra consists of five mini blast furnaces and related facilities including captive power plants.
The company commenced production in 1994 with an installed capacity of 90,000 tonnes of hot metal per annum.
Since, then the company with the help of regular technological upgradation, increased its installed capacity with the same mini blast furnace (MBF).
For more details about the company, you can have a look at Tata Metaliks factsheet and quarterly results on our website.
You can also compare Tata Metaliks with its peers.
Tata Metaliks vs Jindal Steel & Power
Tata Metaliks vs Tata Steel Long Products
Tata Metaliks vs Lloyds Metals
To know what's moving the Indian stock markets today, check out the most recent share market updates here.
Disclaimer: This article is for information purposes only. It is not a stock recommendation and should not be treated as such. Learn more about our recommendation services here...