This Multibagger Stock Hits 52-Week High after Acquiring Stake in an EV Start-up
Jul 14, 2022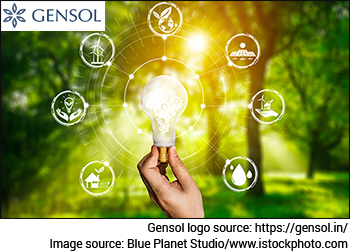 700%.
This is precisely the gains this stock has seen in the past one year.
Crazy, isn't it?
Even when the stock markets turned volatile in 2022 and markets started falling, it didn't stop this multibagger stock.
If you're wondering whether this is a penny stock, you couldn't be more wrong!
The multibagger stock that we're talking about is Gensol Engineering.
In the past five days, Gensol Engineering's share price has gone up 12%. It reached its 52-week high price of Rs 659.9 today.
In the past one year, it is up 7x! What causing this rally?
Read on to find out...
Reason for the recent spike
Grapevine is believed to be the fastest form of communication. Owing to this mode, Gensol Engineering's share price shot up in the past five days.
Recently, a piece of news was circulated in the market. According to the news, Gensol Engineering will invest in a USA-based electric vehicle (EV) unit.
Hence, sensing the tremendous growth prospects of the company, the market reacted positively to the rumour, and the share price started rising.
However, the rumour turned out to be true and wasn't a rumour at all. On Friday last week, Gensol Engineering signed a term sheet to invest a major stake in said firm.
As a result of this investment, Gensol Engineering expects increased revenues to the tune of Rs 5-6 bn by fiscal 2024. It plans to set up an R&D centre in Pune by the first quarter of 2023. It aims to build a capacity for manufacturing 12,000 cars per year in the first phase.
However, is it noteworthy that Gensol Engineering's share price has performed exceptionally well on the bourses in the past year.
On 14 July 2021, Gensol Engineering's shares traded at Rs 78. Today, the shares trade at Rs 641.9. This is a massive jump of 723% in a year!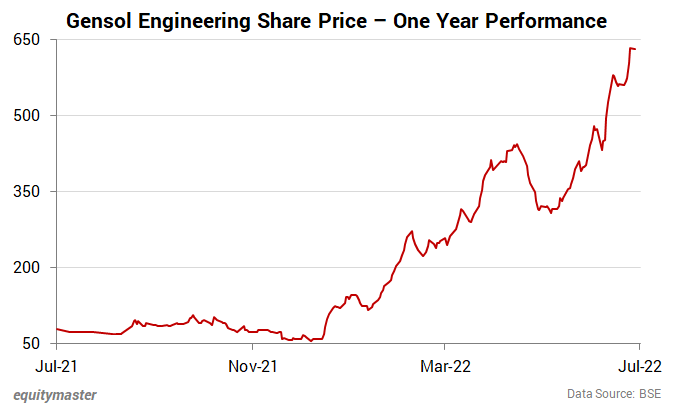 But what caused the rally?
Keep reading on to find out...
Turning Multibagger
If "der aaye durust aaye" had a face, the share price of Gensol Engineering would be it. Since its listing on the bourses, the share price had barely shown any movement.
It was after December 2021 the share price started showing its moves.
Many factors were responsible for this growth.
Gensol Engineering was initially a carbon credit advisory firm. Established in 2007, Gensol Engineering was a lead player in its field in 2010. But as the carbon credit market crashed, Gensol Engineering was suddenly out of business.
However, very soon after this downfall, Gensol Engineering came back stronger, this time in the field of Solar Energy. Gensol Engineering has become a one-stop solution for various solar energy needs.
In May 2022 and December 2021, Gensol Engineering bagged big orders for building solar power projects in the states of Goa, Gujarat, Punjab, Karnataka, and Madhya Pradesh.
Listed in 2019, Gensol Engineering was moved from BSE SME board to BSE main board on 13 June 2022. It indicates an increase in the marketcap of the company.
Financially too, the company seems well placed.
Gensol Engineering has given a stellar financial performance over the year. In 2020 and 2021, owing to the pandemic, many companies reported weak numbers. But Gensol Engineering managed to stay positive in these tough times.
In financial year 2021-22, Gensol Engineering's revenue has grown over 151% and net profit shot up multifold.
Financial Snapshot of the Company
| Particulars (Rs in m) | FY17 | FY18 | FY19 | FY20 | FY21 | FY22 |
| --- | --- | --- | --- | --- | --- | --- |
| Total Income | 623.18 | 696.44 | 841.81 | 834.90 | 645.97 | 1.623.00 |
| Growth (%) | 413% | 12% | 21% | -1% | -23% | 151% |
| Operating profit | 18.3 | 78.5 | 103.8 | 68.4 | 70.0 | 174.0 |
| Operating profit margin (%) | 3% | 11% | 12% | 8% | 11% | 11% |
| Net profit | 11.9 | 53.4 | 65.9 | 22.1 | 31.9 | 111.0 |
| Net profit margin (%) | 2% | 8% | 8% | 3% | 5% | 7% |
(Source: Equitymaster)
Gensol Engineering is in the field of solar energy and is moving towards EVs. Opportunities in these sectors are booming already.
Gensol Engineering's management has faced the storms of a market crash and a pandemic, and still has managed to keep the company up and running.
With good performance, growth prospects, and a management like this, it's no wonder Gensol Engineering is shooting up on the bourses.
Investment takeaway
Gensol Engineering is already called a solar industry expert. Now it has big plans for entering the EV industry.
We reached out to Tanushree Banerjee, Co-head of research at Equitymaster, on what she has to say about the massive EV opportunity in India.
Here's what she had to say...
The United States, China, and Europe are the top three regions where the winds of EV shift have been blowing over the last decade.

India is on the same path as these economies were on a few years ago. Knowing their journeys will give a good sense of this opportunity.

India's low EV penetration so far makes the opportunity size much bigger for us. There is a unique late mover advantage that India will benefit from as compared to early movers.
Gensol Engineering seems to be one of the early movers seizing the massive opportunity. As India's top EV stocks gain from the EV revolution, Gensol Engineering will also be beneficiary in some sort.
However, an investor should keep in mind that being too hopeful is also too risky. Gensol Engineering is making big plans, but will it be successful?
Only time will tell...
The EV market already has big players in the field, which might raise concerns for Gensol Engineering.
Happy Investing!
Disclaimer: This article is for information purposes only. It is not a stock recommendation and should not be treated as such. Learn more about our recommendation services here...