Why Adani Group Stocks are Falling
Aug 24, 2022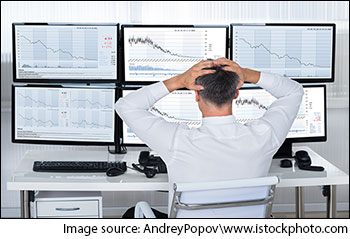 Editor's note: Adani group stocks continue to be the most popular stocks in the market on any given day.
On some days, they continue to rally like there's no tomorrow. All stocks rise in tandem. Making sense of the sharp rally in Adani stocks is a dilemma.
On the other days, however, all stocks from the group come under intense pressure. This is exactly what has happened in recent days.
Adani group shares fell up to 5% yesterday.
For the past few weeks, they were making headlines for the sharp rally, but now, they have come down a lot.
So, what led to this sudden fall in Adani Group stocks?
The group has pursued aggressive expansion plans recently. All this expansion appetite is largely debt-funded. The excessive debt and overleveraging by the group could have pressurized its credit metrics and cash flows.
This has impacted the shares of Adani group of late it seems. There's a report circulating that the group is saddled with debt and its overleveraged status could bring down most of the stocks.
There are other factors too, dragging the group stocks lower. And we wrote to you about those reasons back in July.
Continue reading this updated article to know more...
Why Adani Group Stocks are under pressure
The fastest growing stocks of 2022.
The best performing stocks since the March 2020 crash.
The most popular stocks in the stock market.
Many Adani group stocks feature in all the above categories.
All Adani group companies have witnessed a massive rally over the year gone by, making Gautam Adani the wealthiest man in India.
But lately, a couple of billionaire Gautam Adani's companies have been showing a sharp decline.
Yesterday, these companies fell nearly 8%. Today, they were down in the range of 5-6% but reversed course later in the day.
#1 Is the market factoring the high valuations of these companies?
It could be.
In the past one month, most of the Adani group stocks have gained considerably.
This is after the group forayed into the telecom business by participating in the 5G auctions, among other reasons.
Here's how the stocks of Adani Group performed between 22 July 2022 to 22 August 2022.
Adani Group share price Performance- 1 month
Source: Equitymaster
Investors may have booked profits after a sudden rally seen in the past couple of days.
Adani groups stocks have been buzzing in the market for their high PE multiples. Take the top 5 most overvalued stocks in India and a couple of them will be from the Adani group for sure.
The recent correction can be due to the absurd valuations of the Adani group companies.
Stocks of all the companies have shown a bullish trend despite market volatility.
This year too, Adani Power and Adani Wilmar have turned into multibagger stocks and delivered over 100% returns.
Value investors usually refrain from trading the shares of such companies. The overvalued stock price makes the company is prone to market risk arising from poor management.
Here's the PE multiple for Adani group companies.
Adani Group Trailing Twelve Month PE
| Company | PE Multiple |
| --- | --- |
| Adani Enterprises | 503.6 |
| Adani Green Energy | 768.2 |
| Adani Port and SEZ | 40.7 |
| Adani Power | 16 |
| Adani Total Gas | 746.9 |
| Adani Wilmar | 109.2 |
Source: Equitymaster
#2 Deeply overleveraged conglomerate
Yesterday, financial services firm CreditSight released a fundamental analysis of the Adani group. It raised concerns over the expansion appetite being largely debt-funded.
Adani Group and Reliance Industries have been a strong competition to achieve market dominance. To achieve it Adani group has pursued an aggressive expansion plan through excessive debt.
This expansion in new industries needs high capital. There has been diluting execution in these projects, leading to pressure on its cash flow and credit metrics.
The report states that these debt-funded growth plans could turn into a massive debt trap. It could harm the credit quality of the debt instrument within the group.
Apart from this, the group is also prone to a moderate level of governance and ESG risks.
This has led to a downfall in Adani group stocks by up to 5%. Among them, shares of Adani Power, Adani Wilmar and Adani Green Energy saw the maximum selling pressure.
Bottomline
Some of the Adani group stocks in over a year have given multibagger returns. All these stocks have given a consistent rising performance.
This sudden dip in their stock price can be a temporary effect. No one knows for sure...
Also, some of the stocks from the group saw a downfall due to the recent volatility caused by the changes in the MSCI index.
The only red flag that can be presently spotted for the investment is the overvaluation of stocks.
If you are an investor in any Adani group company and facing a dilemma of holding or selling, check out Co-head of Research at Equitymaster Rahul Shah's video where he explains what to do with Adani group stocks.
While many of you may have added to your riches by investing in these companies, Co-head of Research at Equitymaster, Rahul Shah, is happy to have missed this opportunity.
Surprising, isn't it?
According to Rahul, the hype in the companies is not justified. Read his editorial to know why - Why I Haven't Recommended Any Adani Group Stock Yet.
Disclaimer: This article is for information purposes only. It is not a stock recommendation and should not be treated as such. Learn more about our recommendation services here...