Why Wipro Share Price is Falling
Aug 30, 2022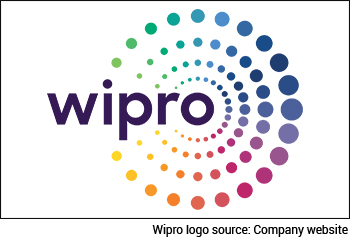 Editor's note: Fed Chair Jerome Powell's remarks at the Jackson Hole Symposium ended the short-lived positive sentiment on Dalal Street. Or so it seemed.
Indian share markets fell sharply on Friday last week and even more on Monday this week.
In US markets, the tech-heavy Nasdaq crashed 4% on Friday as Powell made it clear that interest rates may continue to remain elevated for some time to come.
On Monday too, the tech stocks selloff continued as the Nasdaq dropped 1%.
This US stock market index is the most widely tracked measure of tech stock prices. So far this year, it has fallen over 20%.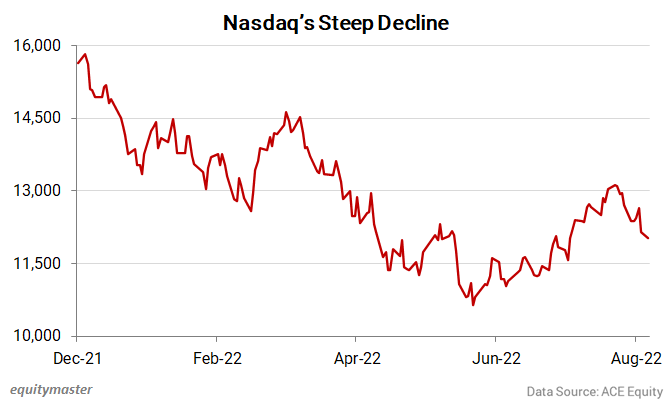 Mirroring the trend on Nasdaq, Indian IT stocks fell sharply yesterday. IT stocks have been falling for quite some time now and the reasons are not hard to guess.
Bluechip IT companies Infosys and Tech Mahindra have fallen around 40-45% this year.
Among the top 4 IT companies in India, Wipro has also crashed over 40% this year. In July this year, we wrote to you about the reasons behind Wipro's decline.
Adding to worries, Wipro posted lower than expected quarterly results for the September 2022 quarter.
The stock is again on a downward trend and showing similar downward movement.
Continue reading this updated article to know why Wipro share price is falling.
Why Wipro Share Price is Under Pressure
The IT and broader technology sectors were in the spotlight during the pandemic and lockdowns.
These stocks experienced a huge boom at that time. This was due to the growing popularity of working from home.
But how quickly have things changed!
The IT sector is under pressure as a result of the recent global recession fears.
Majority of Indian IT stocks are falling and hitting new lows every passing day.
The Nasdaq Composite index, which includes well-known tech stocks like Amazon, Tesla, and Google among others, has fallen more than 28% so far this year.
When it comes to technology, Indian IT stocks follow a similar pattern. Therefore, Indian IT stocks typically decline the following day if Nasdaq declines overnight.
The BSE IT index, mirroring Nasdaq's performance, has fallen 26% so far in 2022.
Among IT majors, Wipro share price has taken a huge hit. More so in recent days.
Ever since TCS reported mixed results, Wipro share price has added to it's 2022's losses.
So far in 2022, the stock has declined more than 40%.
Let's take a look at the probable causes for the fall.
#1 Fears of a global recession
In 2022, Indian IT stocks experienced a sharp correction, partly due to concerns about a prolonged slowdown in US IT spending.
In fact, the Nifty IT index has dropped around 25% this year. May 2022, in particular, proved to be a bad month for Indian IT stocks.
As the US Federal Reserve ramps up its fight against decades-high inflation, a growing number of economists predict a US recession within the next 12 months.
When the US market is experiencing a fear of recession, the Indian market is unlikely to escape this headwind.
The IT sector is no exception. Thus, it has fallen prey to this fear.
#2 High attrition rate
The rate at which employees leave a company is known as the attrition rate, also known as the churn rate.
It is calculated by dividing the number of departing employees by the average number of employees over time.
Throughout the pandemic, attrition in the IT sector has steadily increased, surpassing the previous highest levels. This is happening in all of the top IT firms.
Most Indian IT firms reported an employee attrition rate of more than 20% in the final quarter of financial year 2021-22.
Wipro experienced 23.8% attrition in the March 2022 quarter. TCS, India's largest software services firm, reported 19.7% attrition in the June quarter.
To rein in the situation, Wipro has announced to give a 10% raise to majority of its employees. Top performers may also be eligible for 15% salary increases up to the mid-management level in the future.
Every quarter, Wipro plans to reward its top performers with promotions. The company has decided to offer quarterly promotions to its top performers.
All of this hassle suggests how the company is struggling to retain its employees.
The company is facing a rough time addressing this issue and thus employee cost has increased which will eventually affect the company's financial numbers.
However, the company's effort to go the extra mile exhibits the depth of the problem.
#3 TCS Results Dampen Sentiment
Last week, TCS reported its quarterly results where profits remained muted while margins contracted.
TCS had higher attrition to report and it also raised concerns about revenues from global markets.
Majority of IT companies generate significant revenue from global markets. The recent tensions have raised concerns and contracts could be affected. No one knows to what extent.
Following TCS, HCL Tech also reported its Q1 results this week which were not very impressive.
All these reasons point that the picture for Wipro may not be good in the coming week as it is set to report its earnings next week on 20 July.
Investors are adopting a wait-and-watch attitude before making any fresh investments in IT stocks these days.
#4 Variable Pay
Is variable pay also causing this crunch in Indian IT stocks? Could be.
Variable payout is the compensation given to employees based on their contribution beyond their normal job requirements. It's primarily based on two factors - employee performance and the company's performance.
A recent report shows that the top Indian IT companies are freezing or cutting staff bonuses.
Wipro recently scaled back on variable pay due to margin pressures. The company said that inefficiency in its talent supply chain and increased investment in technology had increased the costs of the company.
TCS and Infosys have also scaled back on variable pay.
Indian IT companies are worried that tightening budgets at US and European clients bracing for a recession, will sharply hit their own profits after a pandemic-led boom.
Financials and stock performance
In its March 2022 quarterly result, Wipro reported a revenue of Rs 155 bn which stood at Rs 132 bn a year ago in the same period.
The company's net profit has been increasing at a CAGR of 8.8% over the last 5 years.
Wipro is also known for rewarding shareholders with continuous dividends.
Over the past one year, the share price of Wipro has plunged from Rs 525 to Rs 411, a loss of 21%.
In 2022, the company's share price has tumbled by more than 40%.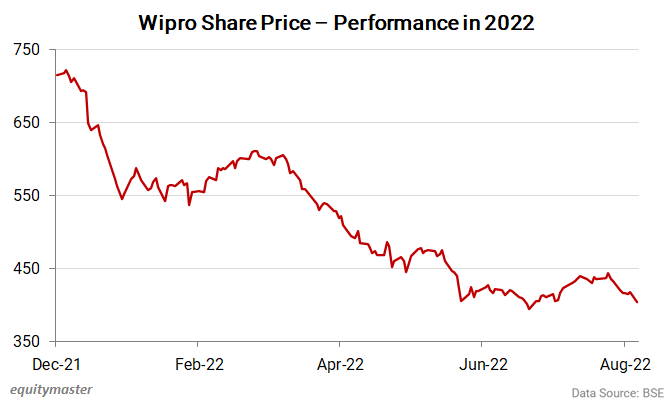 For more details, check out Wipro's 2021-22 annual report analysis.
About Wipro
Wipro is one of the leading global IT, consulting and business process services companies.
Wipro was incorporated in 1945 as Western India Vegetables Product Limited. It was a consumer care product manufacturer till 1980 after which it diversified into the IT services business.
With effect from 1 April 2012, the company demerged its other divisions (consumer care and lighting, medical equipment, and infrastructure engineering) into a separate company called Wipro Enterprises Limited (WEL)
This was done to enhance its focus and allow both businesses to pursue their individual growth strategies.
Wipro's operations can be broadly classified into IT Services, IT Products, and India State Run Enterprise.
For more details about the company, you can have a look at Wipro Company fact sheet and Wipro quarterly results on our website.
For a sector overview, you can read our IT sector report.
You can also compare Wipro with its peers on our website:
Happy Investing!
Disclaimer: This article is for information purposes only. It is not a stock recommendation and should not be treated as such. Learn more about our recommendation services here...