Why EKI Energy Share Price is Falling
Jul 15, 2022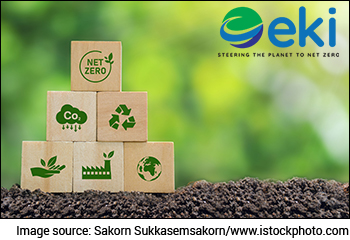 One night I fell asleep and the next morning, woke up as a millionaire.
This story sounds ridiculous, right?
But what if I tell you that this is true? That this actually happened in 2021?
Imagine you purchased shares of a company in April last year and forgot all about it. Now, you woke up eight months later and saw astonishing gains on that same stock.
In 2021, a stock was listed on 7 April at Rs 140, and the same stock closed at Rs 9,928 on 31 December 2021. It's a massive increase of 6,654%! That too in such a short time frame.
If you're wondering whether this is a penny stock, you couldn't be more wrong!
The stock we are talking about is EKI Energy.
EKI Energy Service had left everyone in the market stunned. It reminds me of Vakrangee.
But it seems like this super growth stock has lost its charm as it was falling for the last two weeks recently. (by the way, EKI Energy share price is down around 50% in 2023 so far and the reasons for the fall are also different from what's highlighted in this article)
What has caused this fall?
Read on to find out...
Why is EKI Energy Services share price falling?
EKI Energy Services rose dramatically in 2021. Investors could not believe their luck when their investments paid back such a hefty return.
But July 2022 did not turn out to be a good month for EKI Energy Services' share price.
Following are the reasons for the falling share price...
#1 Bonus Issue
Bonus shares are issued to reward shareholders for placing faith in the company. Shareholders are awarded new shares of the company free of cost.
The bonus issue is a win-win. It allows the company to widen its equity base, and simultaneously shareholders get more shares.
When bonus shares are issued, the market price of the shares comes down, due to the mechanics of the bonus. As shares are issued without consideration, only the capital base is increased without an increase in actual capital, which causes the share price to fall.
However, a bonus increases the liquidity of the stock. New investors get an entry point due to a fall in share price.
Thus, EKI Energy Services share price also fell due to the same logic.
EKI Energy Service announced its bonus on 17 May 2022. As it is migrating from the BSE SME board to BSE main board, it extended its bonus record date to 5 July 2022.
Hence, this is why the share price was falling at the beginning of July 2022.
EKI Energy was one of the highly priced stocks as it rose to new heights. Investors had to think twice before adding this stock to their portfolio.
Now that's not the case.
#2 Profit Booking
Imagine there is an unlimited offer going on at a diner. You can come and go anytime when the offer is on, but there is a condition that you cannot change the order in which dishes come to you.
So you start eating, and luckily all your favourite dishes come to you, one by one. The later it comes, the better it tastes. You ate like you haven't had anything in months; the food tastes better than you expected.
When you look around, you see people around you are getting the dishes you do not like.
You might get your favourite dessert at the end of the meal, but you do not like the dishes in between.
You are full, and there are chances that you might not like the food dish. You have a free exit.
In this scenario, what do you do? You leave, right? You take what you have and leave, even though there is a possibility that you might get better things.
This whole scene describes profit booking. Investors get the return they expected from the shares, so instead of waiting further, they sell out and book the profits they made.
This happened with EKI Energy Services. Hence, the share price fell.
Financials are intact
The fall in EKI Energy Services' share price is not because of weak performance. As it is the only lead player in the field of carbon credit in India, it has a very good business.
However, is the business good enough to justify a jump of 6,654%, that is questionable.
It has good business and stellar financials but, it lacks sound fundamentals.
Tanushree Banerjee - Co-head of research at Equitymaster, also has her concerns about this stock. She says:
Now, the company's stupendous growth numbers and margins may be real. But they certainly are too good to be sustainable.

For a business that is so dependent on regulations, geopolitics, and voluntary purchases the climate change megatrend is but a misnomer.

EKI expects to triple the trading of carbon credits in 2022, against that of last year. And when the carbon trading market opens up, the management believes the throughput will be at least 5x..."aaraam se".

While the stock reminds me of Vakrangee, investors would do well to stay sceptical.
Hence investors will have to keep their minds, eyes, and ears open to decide whether to buy the shares at this fall or not.
To know more about the company, check out EKI ENERGY SERVICES company fact sheet and quarterly results.
Happy Investing!
Disclaimer: This article is for information purposes only. It is not a stock recommendation and should not be treated as such. Learn more about our recommendation services here...