The New Winners in the Real Estate Sector
Jul 16, 2021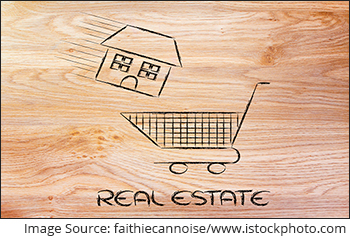 When the world was struck by the Covid-19 pandemic, buyers went short on the residential real estate sector.
Manufacturing and construction activity came to a standstill. Construction workers went back to their hometowns.
Most large real estate companies had to deal with a pile-up in their inventory. Even as activity reopens gradually, it will cause project delays of at least 4-6 months.
The already affected Indian real estate sector was set to worsen because of the pandemic. If only that were the case.
While standalone builders struggled due to lower access to capital, large real estate developers have seen their market shares increase.
The real estate sector saw a down cycle of more than five years following the implementation of Real Estate Regulatory Authority (RERA), demonetisation, credit issues, and then pandemic.
As a result, small players took a hit, losing market share.
According to a research by Anarock, a real estate services firm, leading listed real estate developers have seen their market share increase from 6% in financial year 2017 to 22% in financial year 2021.
Out of 93,140 units sold in the first three quarters of 2021, listed players accounted for 21.2 m square feet or 2% more when compared to the same period in 2020.
An excerpt from the survey read,
While working on this survey, we spoke to about 8,000 customers and the feedback was that while they were willing to buy under-construction properties from a larger developer, they were unwilling to do so from a smaller player, even at a discount.
Large players have been able to increase their shares because several developers have exited their land parcels and sold them to their larger counterparts.
Let's have a look at the top players from the real estate sector which have benefitted.
#1 DLF
DLF is primarily engaged in the business of colonisation and real estate development.
The operations of the company span all aspects of real estate development, from the identification and acquisition of land, to planning, execution, construction, and marketing of projects.
The company's sales had dropped sharply amid the second wave of the pandemic, but they revived sharply in June 2021.
Despite being impacted by the second wave, DLF has given sales guidance of Rs 40 bn for financial year 2022.
It has hiked prices of approximately 20% in the second phase of its independent floors project and the market seems to have absorbed the price hike.
The company has ready inventory which can generate significant cash flow in the near term.
#2 Godrej Properties
Godrej Properties is the real estate development arm of the Godrej Group, which was started in 1897 and today, is one of India's most successful conglomerates.
This year, Godrej Properties became India's largest developer by value and volume of sales achieved.
The company's sales bookings grew 14% to a record Rs 67.3 bn last fiscal despite the severe impact of pandemic.
It surpassed the nearly Rs 60 bn clocked by Macrotech Developers (Lodha).
The company has been witnessing declining inventory led by demand-supply gap in tier-1 cities. Its inventory has decreased from 1,095 m sq. ft. in 2015 to 870 m sq. ft. in 2020.
Godrej Properties mainly focuses on four markets - Mumbai, Pune, Bengaluru, and Delhi-NCR.
It has been consistently increasing market share in focus markets. The market share in NCR was increased from 2% in 2015 to 7.7% in 2021.
It increased market share in Bangalore from 0.8% to 5% in the same time frame and in Pune from 1% to 4.3%.
MMR's share saw a marginal rise from 0.9% to 1.4% but overall it remains comparatively low.
What has helped the company is that it has the lowest bank funding cost of 7.3% p.a. in the sector due to its financial position and the goodwill of the company.
#3 Oberoi Realty
While realty players tend to have huge debt, Oberoi Realty is one such company which has maintained its debt levels.
Its debt to equity ratio has remained nil or in the range of 0.1x - 0.3x in the past ten years.
Property developers have lined up a slew of housing projects for launch as they await a complete lifting of lockdown curbs.
Oberoi Realty is planning new launches in the fiscal second half in Thane and ongoing projects once the lockdown curbs are eased.
The company is expected to bring in sales of at least Rs 25 bn and Rs 35 bn in 2022 and 2023, respectively.
#4 Prestige Estates
Bengaluru-based Prestige Estates Projects sales bookings rose 20% year on year (YoY) to a record of Rs 54.6 bn in fiscal year 2021.
Prestige Estates is a stock one must closely watch as the company is aiming to be net cash positive by September 2021.
It's also on course for its next phase of growth with a target of Rs 38 bn of rental income in the next five years through office and retail developments.
The company has reduced its debt levels significantly after the phase 1 completion of Blackstone deal.
Consolidated net debt has reduced to Rs 13.1 bn in June 2021 from Rs 84.6 bn in March 2021, which has brought down the debt to equity ratio to 0.36.
Once the phase two is completed, net debt will be zero.
Additionally, the company may also create a REIT in next 5-6 years.
The company is entering new geographies of Mumbai and Delhi NCR while also expanding its footprint in Hyderabad in Chennai.
#5 Macrotech Developer (Lodha)
Macrotech Developers, formerly known as Lodha Developers, is one of the largest real estate developers in India.
The core business of the company is residential real estate developments with a focus on affordable and mid-income housing.
It also develops commercial real estate, including as part of mixed-use developments in and around core residential projects.
Lodha recently gave a strong business update in which it clocked sales bookings of Rs 9.6 bn, up 88% YoY. In context of the second wave, this is a good performance.
The company also reduced its India business net debt by Rs 36 bn to Rs 125 bn.
The biggest positive for the company is its inventory. As of March 2021, Macrotech Developers had a total unsold inventory worth Rs 238 bn consisting of Rs 78 bn worth of ready to move in inventory and Rs 160 bn worth of ongoing projects.
Lodha's focus on mid-income housing has allowed it to grow sales and emerge as the number one developer in Mumbai even amid a market downturn.
One big concern that analysts point out is its high debt levels.
Why large players have the upper hand
Buyers always trust the developers that have a firm delivery track record.
These players have better access to land deals as landowners will not always trust smaller developers.
Their debt levels are also falling. All listed developers surveyed showed a decline or flat debt numbers over the last year, even though in the last decade they had risen sharply.
Also, large developers can borrow at rates that are much lower. Take for instance Sobha, where the cost of funds stood at 9.17% in December 2020.
Now compare this to smaller players who usually borrow at 15 to 18%.
However, one must be careful while selecting stocks from the realty sector.
Here's what Tanushree Banerjee, Co-head of Research at Equitymaster, has to say about the realty sector.
The biggest drag on real estate players is high debt and with interest rates moving up, investors need to be wary of realty companies with the tendency to pile up debt and dines with poor cash flows.

Also, this is a sector where investors have to be very careful about the management quality. Poor accounting and lack of corporate governance has been the reason for many large realty companies performing poorly in the past.
Market experts are suggesting that the June quarter will not be as good as the March quarter due to the state-wise lockdown, but the long-term story of the real-estate market has been maintained.
Record low interest rates, good schemes, discounts, are among the key drivers boosting outlook for the sector even as stamp duty cuts have been rolled back.
Construction activities have also resumed.
As per reports, property prices have begun to rise at rates seen only before the 2007-08 global financial crisis (the biggest since the Great Depression).
Industry experts are predicting realty prices in India to rise more as steel and cement costs have risen, making it more difficult for the companies to sell flats without baking in higher input expenses.
Realty stocks are on a roll with both, the BSE realty index and the Nifty realty index hitting over 10 year highs.
But how long can the rally sustain?
The outlook for the sector looks much better than what it was a year ago, but with the pandemic far from over, there can be volatility.
It remains to be seen how the realty sector performs as the activity reopens.
To know what's moving the Indian stock markets today, check out the most recent share market updates here.
Disclaimer: This article is for information purposes only. It is not a stock recommendation and should not be treated as such. Learn more about our recommendation services here...