HDFC AMC Gains 6% in the Week Leading to June Quarter Earnings
Jul 17, 2021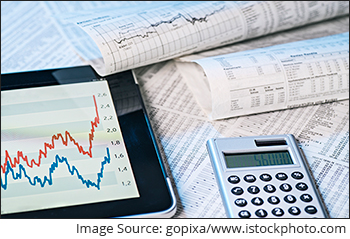 HDFC Asset Management Company on Friday posted a profit after tax (PAT) of Rs 3.5 bn in the April-June quarter of 2021.
The bottomline rose 14% compared with Rs 3 bn reported in the same period a year ago. The rise in bottomline was largely due to higher income.
Its revenue from operations rose 23% to Rs 5.1 bn in June 2021 from Rs 4.1 bn in June 2020. Overall revenues increased 24% at Rs 6.1 bn.
Revenues increased due to an increase in AUM, as well as more remunerative mix with higher percentage of equity AUM.
Gross profit from core asset management business rose 21% at Rs 3.7 bn compared with Rs 3 bn in the year ago period.
HDFC AMC also announced dividend of Rs 34 per share.
Here's a table comparing HDFC AMC's financials on key parameters.
Financial Snapshot
| (Rs m) | Q1FY22 | Q1FY21 | Q4FY21 | YoY (%) | QoQ (%) |
| --- | --- | --- | --- | --- | --- |
| Revenue | 5,071 | 4,115 | 5,029 | 23.20% | 0.80% |
| Total Expenses | 1,419 | 1,109 | 1,226 | 27.90% | 15.80% |
| Profit before tax | 4,661 | 3,804 | 4,230 | 22.50% | 10.20% |
| Tax | 1,207 | 780 | 1,069 | 54.70% | 12.80% |
| Profit after tax | 3,455 | 3,024 | 3,161 | 14.30% | 9.30% |
Data Source: Company Filings
Drop in market share
The market share of the fund house fell to 12% from 14%.
HDFC AMC's quarterly average assets under management (AUM) were up 17% in June quarter at Rs 41.7 bn against Rs 35.6 bn logged in same period last year.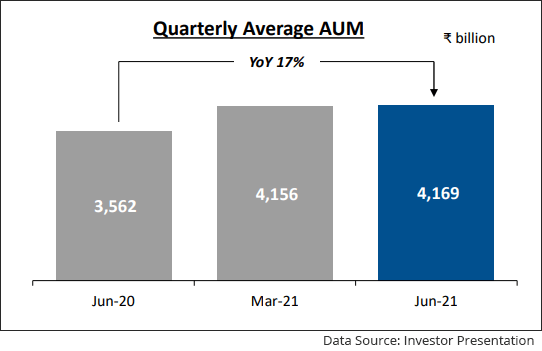 The average equity AUMs in the quarter under review were up 33% at Rs 17.2 bn.
Debt fund increased to Rs 15.7 bn.
Inflows through systematic investment (SIP) was up 2% year on year (YoY) at Rs 9.8 bn. However, it was lower when compared to Rs 10.4 bn in March 2021 quarter.
As of June 2021, the company has cash reserves of Rs 51.3 bn.
Highlights from the conference call
During the quarter, the company launched an asset allocation fund of fund (FOF), which saw healthy response.
HDFC AMC's performance improved during quarter ended June 2021 as compared to corresponding quarter in 2020.
However, the company incurred additional business promotion expenses. Since such scheme related expenses are accounted for in the books of the scheme, they're resulting in lower management fees to the company.
It also saw some dilution in margin due to reduction in total expense ratio in some equity schemes due to increase in the size.
HDFC AMC remains as the preferred choice of individual investors leading with a market share of 13.5%. ICICI Prudential has the second spot with 12.7% share.
Unique Investors - HDFC AMC vs Industry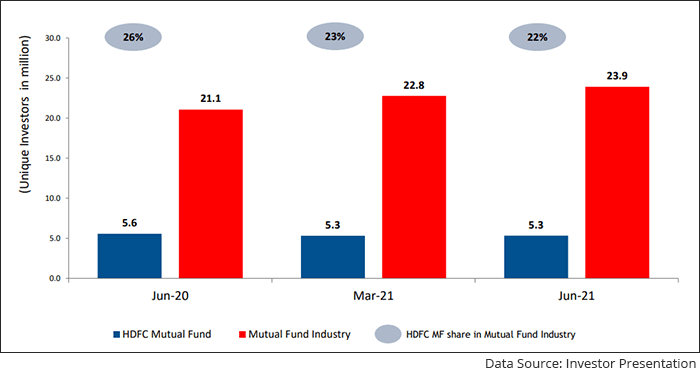 Indian mutual fund industry's growth prospects
HDFC AMC's Chairman Deepak Parekh said India's mutual fund (MF) industry has the potential to grow exponentially as the country's MF penetration levels remain considerably low compared to large economies.
Parekh lauded the market regulator's new framework on aligning interest of key employees with unit holders of the mutual funds scheme.
In April, the regulator asked asset management companies (AMCs) to pay at least 20% of gross salary of key employees in the form of the units of the scheme managed by them.
The new rule covers all key employees who have been defined as heads of various functions and all employees who are involved in the fund management process fund managers, research teams and dealers, among others.
Overall, the mutual fund industry's AUM rose by 41% YoY to close at Rs 31.4 lakh crore.
Over the past five years, the industry's AUM has seen a compound annual growth rate (CAGR) of 20.6%, and equity-oriented AUM has increased at a CAGR of 25%.
Despite the high growth, Parekh said India's mutual fund AUM to GDP ratio remains significantly low at 15% as compared to global average of 75%.
Out of the 44 AMCs in India, the top 10 control around 80% of the AUM. Only three are listed so far HDFC AMC, Nippon Life India AMC, and UTI AMC.
Competition in the MF space is set to get intense as biggies like Zerodha, Bajaj Finserv, Samir Arora's Helios Capital Management, and Rakesh Jhunjhunwala's Alchemy Capital have applied for licenses from the market regulator.
Institutional holdings in HDFC AMC
It's interesting to note that institutional investors have a fair amount of stake in HDFC AMC.
HDFC is currently the largest shareholder with 53% stake. With 21% and 4.1% of the shares outstanding respectively, Aberdeen PLC (Standard Life) and Life Insurance Corp (LIC) are the second and third largest shareholders.
Foreign portfolio investors (FPIs) hold 9.14% stake in the company while general public has a 13% stake.
How the markets reacted to HDFC AMC's earnings
On Friday, HDFC AMC share price ended on a flat note.
It opened at Rs 3,121 on the BSE and went on to touch an intraday high of Rs 3,289, rising over 4%.
Gains were erased as the session progressed as the stock ended at Rs 3,089, up 0.1%.
Shares of the company have been on an uptrend recently. The company's shares rose for a fifth straight session on Friday.
Over the last one year, the stock is up 26% as compared to a 46% gain in NSE Nifty and a 54.8% gain in the Nifty Financial Services index.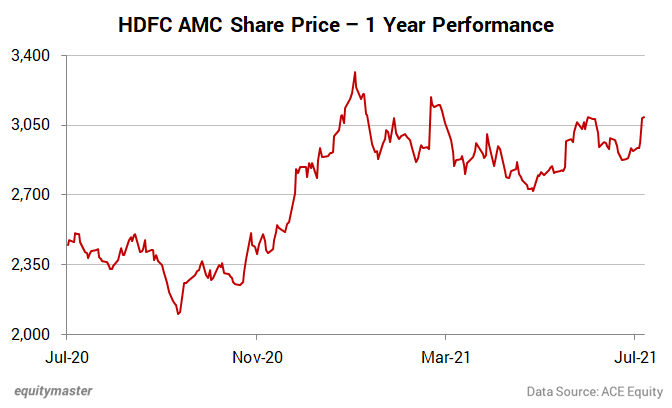 At the current price of Rs 3,089, the company commands a marketcap of Rs 658.2 bn.
About HDFC AMC
HDFC AMC is an investment manager to HDFC mutual fund. The company has a diversified asset class mix across equity and fixed income/others.
Promoted by HDFC in 1999, Standard Life Investments (SLI) acquired 26% stake in HDFC AMC in 2001, and now the company operates as a joint venture between HDFC and SLI.
Through organic growth and acquisitions, such as Zurich India and Morgan Stanley MF, the firm has grown to one of the top two AMCs in India.
In fact, HDFC AMC has been the largest AMC in India in terms of equity-oriented AUM since the last quarter of financial year 2011.
It also has a countrywide network of branches along with a diversified distribution network comprising banks, independent financial advisors and national distributors.
To know more about the company, you can check out HDFC AMC company fact sheet and HDFC AMC quarterly results.
You can also compare HDFC AMC with its peers.
To know what's moving the Indian stock markets today, check out the most recent share market updates here.
Disclaimer: This article is for information purposes only. It is not a stock recommendation and should not be treated as such. Learn more about our recommendation services here...
Yash Vora is a financial writer with the Microcap Millionaires team at Equitymaster. He has followed the stock markets right from his early college days. So, Yash has a keen eye for the big market movers. His clear and crisp writeups offer sharp insights on market moving stocks, fund flows, economic data and IPOs. When not looking at stocks, Yash loves a game of table tennis or chess.