Why RBL Bank Share Price is Rising
Jul 18, 2023
Bulls do not seem to be exhausted and are charging the markets to fresh record highs almost every day. Yesterday, the BSE Sensex climbed by 500 points, surpassing previous records to settle at 66,590, while the Nifty 50 rose by nearly 150 points, closing at an impressive 19,712.
This upward surge was primarily attributed to a strong buying spree observed in the banking sector, which has notably stood out in recent months.
Among the banking stocks, RBL Bank has emerged as a standout performer, surpassing the broader market's performance.
On 17 July 2023, the company's shares experienced a substantial intraday surge, soaring by 7% to reach a new peak of Rs 230.5. Over the week, the stock achieved a remarkable gain of 15%.
Here's why the stock is up.
#1 Bulk Deal
Hrti Private Limited, an unlisted private company, on Monday, Invested a little over Rs 7.4 billion (bn) through an open market transaction.
According to bulk deal data available with the NSE, HRti Private bought a total of 3.3 million (m) shares of the RBL Bank, amounting to over 1% stake in the company.
The shares were bought for Rs 220.4 apiece, taking the transaction size to Rs 7.5 bn.
Following the deal, the shares of the company jumped 7% yesterday.
#2 Positive Outlook for the upcoming quarter
RBL Bank has fixed 21 July 2023 as the date to consider and approve the audited standalone and consolidated financial results for the June 2023 quarter.
For the March 2023 quarter, the company reported a 36.8% YoY jump in net profit to Rs 1.9 billion (bn) and a 7% YoY jump in net interest income (NII) at Rs 1.2 bn, driven by higher sales.
However, on a sequential basis, both net profit and net interest income witnessed a rise of 30% and 5%, respectively, mainly due to higher core income, other income, and lower provisions. This was the primary factor contributing to this surge, which resulted in a rally in the stock.
Experts foresee favourable conditions in the upcoming quarters, including gradual improvement in asset quality, reduced credit costs, and increased deposits, leading to improved profit margins for companies.
Analysts and brokerage firms project that the banking sector will experience robust loan growth in the first quarter of the financial year, primarily due to sustained momentum in the retail and SME segments. This anticipated traction is expected to contribute to a healthy expansion in the sector.
How RBL Bank shares have performed recently
The share price of RBL Bank have surged over 155 in the past week. While over the month they are trading higher by 30%.
In 2023 so far, RBL Bank share price is up over 21%. Over the past year the shares of the bank have delivered a multibagger return of 156%.
RBL Bank has a 52-week high quote of Rs 226.4 touched on 8 July last year while the stock touched its 52-week low of Rs 86.4 today.
The stock is currently trading at a PE (price to earning) ratio of 15.3x.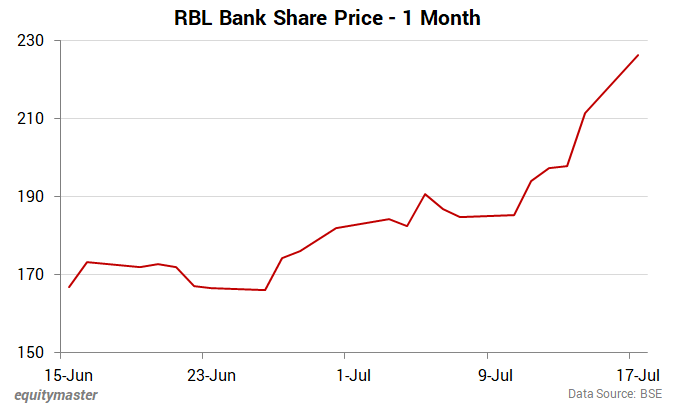 As of June 2023, FIIs hold 25.8% stake in the company, while mutual funds hold 11.6%. To know more, check out RBL Bank's latest shareholding pattern.
About RBL Bank
Incorporated in 1943, RBL Bank a private sector bank in India with an expanding presence across the country.
The bank offers services under five business verticals namely: corporate & institutional banking, commercial banking, branch & business banking, retail assets, and treasury and financial markets operations.
It currently services over 11.2 m customers through a network of 502 branches, 1,418 business correspondent branches, and 414 ATMs spread across 28 Indian states and union territories.
To know more about the company, you can check out RBL Bank's company fact sheet and its quarterly results.
You can also compare RBL Bank with its peers.
To know more about the sector, you can have a look at the banking sector report on our website.
Investment in securities market are subject to market risks. Read all the related documents carefully before investing
Want to Grow Your Wealth With Safe Stocks?
If you want a simple, safe, and hassle-free approach to long term wealth building...
Without having to worry about negative news or every little downswing in the market...
And without having to worry whether your investments will actually "deliver"...
You must read our note on Blue Chip Stocks now.
Details of our SEBI Research Analyst registration are mentioned on our website - www.equitymaster.com
Disclaimer: This article is for information purposes only. It is not a stock recommendation and should not be treated as such. Learn more about our recommendation services here...