L&T Finance Holdings Share Price Tanks Even After Reporting a 20% Rise in Net Profit
Jul 19, 2021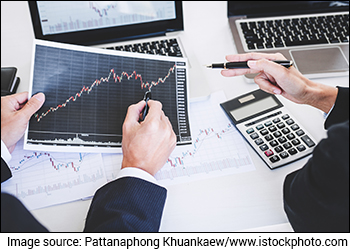 L&T Finance Holdings posted a 20% rise in consolidated net profit, at Rs 1.8 bn in the quarter ended June 2021 on improvement in margins and fees.
It had posted a net profit of Rs 1.5 bn in June 2020.
The consolidated net profit in the March 2021 quarter was at Rs 2.7 bn.
Its net interest margin (NIM) plus fees improved to 7.5% in June 2021 quarter from 5.8% a year ago on consolidated basis. Sequentially, it was down from 8.2% in March 2021 quarter.
The provisions for impairment on financial instruments fell to Rs 7.9 bn in the first quarter of the current year from Rs 9.4 bn in the last year.
Collections showed signs of improvement
On-ground collection affected in May due to restrictions on movements, however it has bounced back in June. Also, collection momentum has further picked-up in the month of July.
Analytics led prioritisation and better resource allocation led to low impact on collection volumes.
Despite lockdown, collections during the quarter one of the financial year 2022 grew about three times to Rs 131.7 bn from Rs 43.2 bn in the same period a year ago.
--- Advertisement ---
No crash, correction, or pandemic can STOP This...

At last, it's happening...

Right here in India...three hidden mega-trends are converging for the first time ever to trigger an economic boom of unparalleled proportions.

A boom so powerful - no crash, no correction, and no pandemic can STOP India from becoming the next economic superpower...

And those who take advantage of this mega shift could potentially generate massive wealth for themselves and their families in the long run.

We are talking about potential 1,000% gains...and perhaps even more over the long term.

But trust me, people who pass this opportunity will regret their decision in the years and decades to come...

So, if you want to save yourself from potential downsides of this mega shift...

...and instead, leverage on it for potential windfall gains...

Join us on 24th September at my special event...

Put your email in the box below and get your free ticket right away.
------------------------------
Asset quality impacted due to state wide lockdowns
The effect of the pandemic showed up in asset quality pressures with its gross and net non-performing assets (GNPAs) rising year on year (YoY) and sequentially.
The GNPA rose to 5.8% in June 2021 from 5.2% a year ago and 5% in March 2021.
Net NPAs were at 2.1% in June 2021, up from 1.7% in June 2020 and 1.6% in March 2021.
The provision coverage ratio moderated to 65% in June 2021 from 69% in June 2020 and March 2021.
That apart, the loan book shrunk by 11% on YoY basis to Rs 884.4 bn in June 2021 from Rs 988.8 bn in the same quarter last year. Its loan book stood at Rs 940.1 bn in March 2020.
Segment wise quarterly performance
Farm equipment finance witnessed 130% growth at Rs 13.6 bn as against Rs 5.9 bn in the year ago period.
Infrastructure finance showed robust disbursement momentum post unlock and continued sell-down with Rs 14.8 bn disbursed in the quarter.
Due to slower industry pick-up, the micro loans, housing and real estate business saw moderate uptick in collections and disbursements.
However, the business continues to see robust performance backed by higher sell-down volumes and refinancing.
Strong growth in asset under management (Mutual Funds)
Overall asset under management (AUM) has increased from Rs 600.6 bn in June 2020 to Rs 765.5 bn in June 2021, up 27% YoY.
This was due to higher inflows in hybrid category and higher market movement in equity and hybrid category.
--- Advertisement ---
INSIDER SECRET: An Astonishingly Easy Way to Pile Up Potentially 40-60% Gains in Just 1 Year

India's most well-connected trader with over 35 years of experience just confessed...

"This Lucrative Market Segment Could Leapfrog Over Nifty in The Next 12-16 Months"

... thanks to a massive and irreversible mega-trend fueling its growth!

In fact, he and his partner have already identified 2 spectacular stocks from this segment... which are ready to rake in potentially 40-60% gains in just 1 year... and make you big, fat profits!

The best part of them all...

Their Details Are Packed in This Special Report (Discover How to Claim it for Free)
------------------------------
The AUM for pure equity and hybrid asset classes as on 30 June 2021 stood at Rs 323.4 bn and Rs 123.3 bn with growth of 7% and 24%, respectively on quarter on quarter (QoQ) basis.
The company's overall average AUM (AAUM) rank remained the same at 12th position for the June quarter.
Pandemic-led situations disrupted business
L&T Finance Holdings said Covid-related partial lockdowns in April and May had an impact on few businesses during the first quarter of the current year.
However, with gradual unlock of the economy from June, the disbursements bounced back led by faster pick-up in economic activity across farm equipment finance, two-wheeler finance, consumer loans and infrastructure finance.
Despite severe impact of Covid 2.0, the learnings from Covid 1.0 held them in good stead in managing short-term challenges and helped maximise positive impact on business metrics.
L&T Finance Holdings' Managing Director & CEO, Dinanath Dubhashi said,
Our first quarter performance reflects the fact that the company has built a sustainable business model, one which will enable it to grow in the medium to long-term while dealing with any short-term challenges (including impact of COVID 2.0).
REVEALED: 3 "Super Smallcaps" You Didn't Know About
How the stock markets reacted to L&T Finance Holdings
Shares of L&T Finance Holdings opened the day at Rs 92.6 on the BSE and Rs 93 on the NSE.
Its share price closed at Rs 90.5 (down 4.6%) on the BSE and the NSE.
At its current price, it is trading at a P/E of 24.1.
The share touched its 52-week high of Rs 113.4 and 52-week low of Rs 51.7 on 3 March 2021 and 25 September 2020, respectively.
Over the last 30 days, the L&T Finance Holdings share price is down 6.1%. Over the last one year, the company's share price is up 63.6%.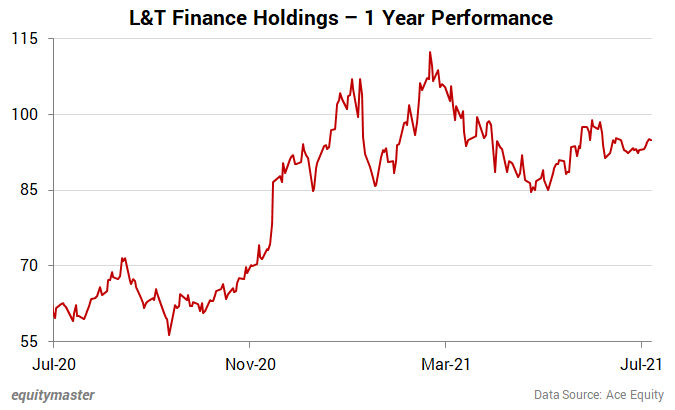 About L&T Finance Holdings
L&T Finance Holdings was incorporated on 1 May 2008 as a public limited company with the name L&T Capital Holdings.
The company was promoted by Larsen & Toubro as a holding company for their financial services business.
It is a financial holding company offering a focused range of financial products and services across rural, housing and wholesale finance sectors, as well as mutual fund products and wealth management services, through its wholly-owned subsidiaries viz. L&T Finance, L&T Housing
Finance, L&T Infrastructure Finance Company, L&T Investment Management, L&T Capital Markets, and L&T Infra Debt Fund.
L&T Finance Holdings is registered with RBI as a systematically important core investment company (CIC-ND-SI).
For more details about the company, you can have a look at L&T Finance Holdings factsheet and quarterly results on our website.
You can also compare L&T Finance Holdings with its peers.
L&T Finance Holdings vs Aditya Birla Capital
L&T Finance Holdings vs Bajaj Finance
L&T Finance Holdings vs Cholamandalam Invest
To know what's moving the Indian stock markets today, check out the most recent share market updates here.
Disclaimer: This article is for information purposes only. It is not a stock recommendation and should not be treated as such. Learn more about our recommendation services here...