5 Takeaways from HDFC Life's Q1 Results
Jul 19, 2022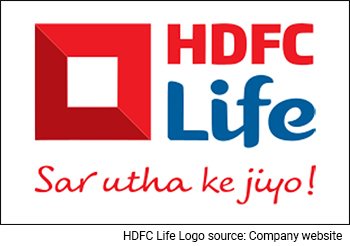 During market hours today, insurance major HDFC Life Insurance reported its quarterly results for the quarter ended June 2022.
The private insurer reported good set of numbers in its Q1 results by registering double-digit growth in all metrics.
Still, shares of the company fell over 1.5% post declaring results.
Here are five key takeaways from HDFC Life's Q1 results.
HDFC Life's net profit grew by 21% YoY to Rs 3.7 bn in the quarter under review. This compared with a net profit of Rs 3 bn in the corresponding quarter last year.
The insurance company's new business margins increased to 26.8% in June 2022 as against 26.2% in the June quarter of last year.

Value of new business soared 25%.
The total assets under management went up by 10% YoY to cross the Rs 2 tn mark. The debt to equity mix ratio stood at 65:35 and around 99% of debt investments in G-Secs and AAA bonds.
In the exchange filing, the company said renewal premiums saw a 19% growth, supported by improving persistency.
On the merger with Exide Life, the company said the process is on track. Exide Life witnessed strong growth of 34% based on Individual WRP and continues to enjoy a healthy product.

The company has received the initial NCLT approval for triggering the merger process, including intimations to various regulatory authorities and related NOCs.
Here's the table showing important metrics from the exchange filing:
Key Financial Summary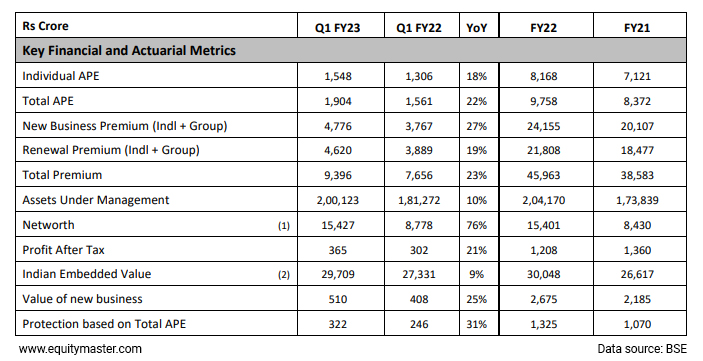 How HDFC Life has performed recently
Ahead of its results, HDFC Life share price opened the day on a flat note at Rs 542.
As the session progressed, it fell 1% and extended losses post results declaration.
HDFC Life has a 52-week high quote of Rs 776 touched on 2 September last year while it has a 52-week low quote of Rs 497 touched in March 2022.
Note that HDFC Life has been one of the underperforming stocks this year and has fallen 18% so far in 2022.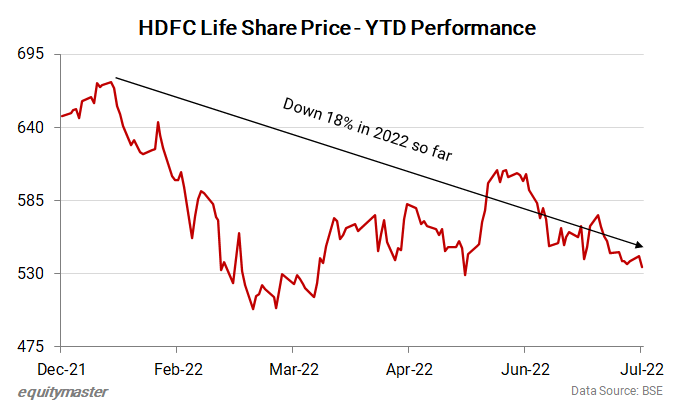 HDFC Life share price is falling owing to its business slowing down and persistent selling by FIIs.
However, the recent fall looks like a temporary blip.
Here's what Tanushree Banerjee, Co-head of Research at Equitymaster and editor of StockSelect, has to say.
The stocks of private sector insurance companies including HDFC Life Insurance have corrected sharply in recent months owing to a slowdown in new business premium.

However, the trend is temporary. Also, given their large float the insurance companies are well placed to benefit from rising interest rates.

The hypothesis of large private life insurers like HDFC Life cannibalising into LIC's market share is playing out well and will continue to do so in the coming years.

For HDFC Life, the additional catalyst is the HDFC-HDFC Bank merger. Powered by its strong brand and distribution network (especially bancassurance reach), HDFC Life can execute its strategy very well by being agile and innovative.
Hence, it looks like HDFC Life Insurance share price will recover as Indian share markets recover.
To know more about the company, you can visit its factsheet and quarterly results.
You can also compare HDFC Life Insurance with its peers.
HDFC Life Insurance vs SBI Life Insurance
HDFC Life Insurance vs Life Insurance Corporation of India
Disclaimer: This article is for information purposes only. It is not a stock recommendation and should not be treated as such. Learn more about our recommendation services here...