Vijay Kedia Increases Stake in this Multibagger Engineering Stock
Jul 20, 2022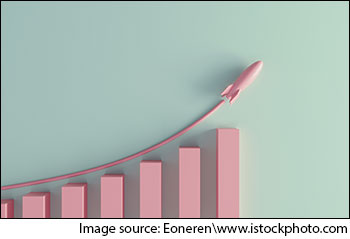 If you're wondering what made the engineering stock, Elecon Engineering Company, hit its 52-week high twice in two days, we have the answer.
According to the latest shareholding data, seasoned investor Vijay Kedia has increased his stake in the company.
June 2022 marks the second quarter in which the ace investor has upped his stake in the engineering stock.
Data showed Vijay Kedia holds over 2 m shares of the company giving him 1.85% stake.
During the December 2021 quarter, he held 1.16% stake which increased to 1.19% in March 2022.
What's making Elecon Engineering Company the seasoned investors' hot pick? Let's find out...
A word about Vijay Kedia...
Vijay Kishanlal Kedia is an Indian investor and trader based out of Mumbai. His company - Kedia Securities - is the largest shareholder (after the promoter) in several listed companies.
Kedia has been involved in the Indian stock market since the age of 19. He has been described by many as a 'market master'.
To point out a few of his investments, he bought ACC at Rs 300 in 1992-93 and sold the stock around Rs 3,000 within a year and a half.
During years 2004 and 2005, he picked several multibagger stocks which gave returns of over 1,000% in the next 10-12 years. Few of these stocks were Atul Auto, Aegis Logistics, and Cera Sanitary.
Why did Vijay Kedia increase his stake in Elecon Engineering Company?
While we can't know for sure why the star investor bought into it, there are some reasons that we can guess...
#1 Industrial boost
Gujarat-based Elecon Engineering Company has a presence in industrial capital expenditure (capex) across various sectors, especially in cement and steel.
Elecon derives its growth through industrial capex. With the capex cycle showing signs of recovery, the company is set to benefit big time.
The government's infra push and strong housing demand have created stiff competition among key cement players for market share.
The competitive landscape amplified following Adani group's entry and its consequent purchase of Holcim's assets - Ambuja and ACC.
As the sector transforms, the players have increased capex multifold.
Similarly, the recent commodity boom has sent capex in the steel sector soaring.
Over the last decade, steel and cement sectors have accounted for 20-30% of revenue of the company's transmission segment.
The management's commentary has also strengthened over the last few quarters, driven by pick-up in order enquiries.
#2 Rising demand for industrial gear
Strong industrial capex is likely to drive higher utilisation in the industrial gear segment.
This is expected to boost the revenue of the company. Afterall, Elecon Engineering Company is a market leader in the manufacturing of industrial gears.
The company holds 30-35% market share in the Indian industrial gear market.
Apart from the early capex cycle boost, a high number of end-use industries contribute to the demand for industrial gears.
The company has clients from various sectors such as steel, cement, power, textiles, tyre, and sugar, among others.
Anything that requires rotation and related power transmission in an industry would involve industrial gears. Mostly industrial gears find application in a plant along with industrial motors.
#3 Improved financial performance
For the financial year 2022, the company reported nearly 150% increase in its net profit. During the same period, net sales grew 15% reaching 12 bn.
Have a look at the table below showing net sales growth and some key fundamental ratios over the past five years.
Elecon Engineering Company Financial Snapshot (2019-2022)
| | 2019 - 2020 | 2020 - 2021 | 2021 - 2022 |
| --- | --- | --- | --- |
| Net Sales (Rs m) | 10,885 | 10,444 | 12,036 |
| Net Sales Growth (%) | | -4.1 | 15.2 |
| Net Profit (Rs m) | 881 | 558 | 1,391 |
| Net Profit Margin (%) | 8.1 | 5.3 | 11.6 |
| Return on Assets (%) | 7.8 | 5.8 | 10.3 |
| Return on Equity (%) | 10.3 | 6.1 | 13.2 |
Data Source: Equitymaster
The company has deleveraged its balance sheet over the last few years. The debt-to-equity has decreased from 0.3 in 2019 to 0 in 2022.
In line with this, the pledged promoter holdings have gone down from 23.5% in March 2021 to 3.8% in June 2022.
How the stock of Elecon Engineering Company has performed recently
Elecon Engineering Company shares hit an all time high of Rs 348.5 in early trade today.
The stock has given multibagger returns of 134.8% in the past one year. Despite weak sentiment in the overall market, the stock has rallied 39.8% in the past month alone.
The stock has a 52-week high quote of Rs 348.5 touched on 20 July this year. The stock touched its 52-week low of Rs 128.1 on 24 February this year.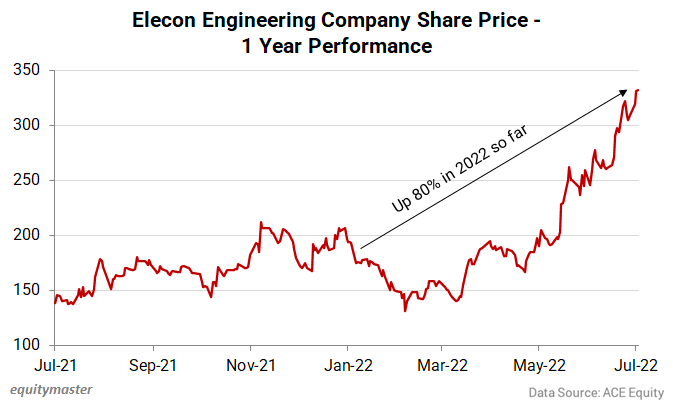 Elecon Engineering Company currently trades at a price-to-book value multiple of 3.4 times and a price-to-earnings multiple of 27.7. The company has a marketcap of Rs 38.5 bn.
As of June 2022, promoters hold 59.3% stake in the company while promoter pledging stands at 3.76%.
FIIs increased their stake to reach 2.1%, during the June 2022 quarter.
To know more, check out Elecon Engineering Company's latest shareholding pattern.
About the company
Elecon Engineering Company is one of the largest manufacturers of material handling equipment and industrial gears in Asia.
The company has a global presence with clients in the US, UK, and European countries.
Elecon Engineering Company primarily operates in two business segments: Transmission Equipment and Material Handling Equipment.
The company caters to the needs of various sectors like steel, fertilisers, cement, coal, lignite, and iron ore mines, sugar, power stations, and port mechanisation.
To know more about the company, you can check out Elecon Engineering Company's company fact sheet and its quarterly results.
You can also compare Xpro India with its peers.
Elecon Engineering Company vs Action Construction Equipment
Elecon Engineering Company vs Brady & Morris Engineering Company
Elecon Engineering Company vs Eimco Elecon
And to know more about the sector, you can have a look at the engineering sector report on our website.
And to know what's moving the Indian stock markets today, check out the most recent share market updates here.
Disclaimer: This article is for information purposes only. It is not a stock recommendation and should not be treated as such. Learn more about our recommendation services here...