5 Key Takeaways from Wipro's Q1 Results
Jul 20, 2022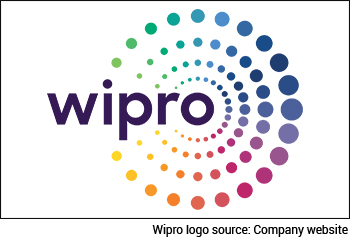 Post market hours today, Wipro declared its results for the quarter ended June 2022.
Earlier this month, two IT majors TCS and HCL Tech had declared their Q1 results.
TCS' quarterly results showed a mixed performance while HCL Tech too didn't have anything exceptional to report.
In the past few quarters, supply-side pressures have affected the margins of Indian IT companies. This was due to higher retention costs, wage revision, visa costs, and rising travel expenses.
Both HCL Tech and TCS' muted results were pointing that the picture for Wipro may not be good.
Analysts were already expecting Wipro to report mixed earnings with expectations of a decline in profit.
So, what did Wipro have to report today?
Here are five key takeaways from Wipro's Q1 results.
Wipro's consolidated net profit fell 20.9% year-on-year (YoY) to Rs 25.6 bn. This was due to higher employee-related costs, which pushed the company's expenses.

The company had reported a net profit of Rs 32.3 bn in the year-ago period.
Wipro's revenues rose 17% to Rs 215.3 bn as compared to Rs 182.5 bn in the same quarter last financial year.
The company highlighted that its IT services operating margin for the quarter was at 15%, a decrease of 200 bps sequentially.
For the outlook for the upcoming quarter, the company said it expects revenue from IT services business to be in the range of US$2,817 m to US$2,872 m. This translates to a sequential growth of 3-5%.
During the quarter, the company added 15,446 employees out of which 10,000 were freshers.
Commenting on the results, the company's CEO and MD Thierry Delaporte said,
We have made significant investments in Wipro's growth engine and are very pleased with the outcomes. Our order bookings grew 32% YoY in Total Contract Value terms, powered by large transformational deals, and our pipeline today is at an all-time high.

We continue to reinforce the investments that allow us to grow our business, remain agile in the market and efficient as an organization, while staying focused on serving our clients even better.
How Wipro has performed recently
Ahead of its results, Wipro share price opened the day 1% higher at Rs 410 against its previous close of Rs 405.6.
As the session progressed, Wipro rose over 2% to touch a high of Rs 417.7.
Wipro has a 52-week high quote of Rs 740 touched last year in October while it has a 52-week low of Rs 391 touched earlier this month on 15 July.
Even as the rupee is falling this year, IT stocks have been the worst performers and Wipro is no exception.
On a YTD basis, shares of Wipro have tumbled more than 40%.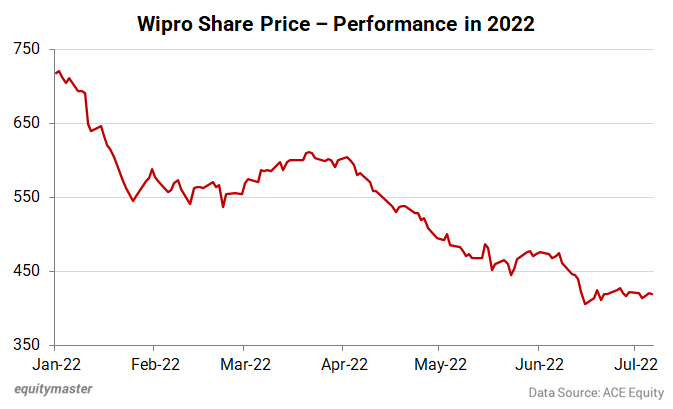 Fears of a global recession and attrition are the two main concerns which are dragging Wipro lower.
For more details, check out Wipro's 2021-22 annual report analysis.
About Wipro
Wipro is one of the leading global IT, consulting and business process services companies.
Wipro was incorporated in 1945 as Western India Vegetables Product Limited. It was a consumer care product manufacturer till 1980 after which it diversified into the IT services business.
With effect from 1 April 2012, the company demerged its other divisions (consumer care and lighting, medical equipment, and infrastructure engineering) into a separate company called Wipro Enterprises Limited (WEL)
This was done to enhance its focus and allow both businesses to pursue their individual growth strategies.
Wipro's operations can be broadly classified into IT Services, IT Products, and India State Run Enterprise.
For more details about the company, you can have a look at Wipro Company fact sheet and Wipro quarterly results on our website.
For a sector overview, you can read our IT sector report.
You can also compare Wipro with its peers on our website:
Since we're talking about IT stocks, check out the below video where Chartist Brijesh Bhatia discussed IT stocks and whether they are forming a bottom.
Disclaimer: This article is for information purposes only. It is not a stock recommendation and should not be treated as such. Learn more about our recommendation services here...