IndusInd Bank Share Price Rallies 10% Post Good Quarterly Results
Jul 21, 2022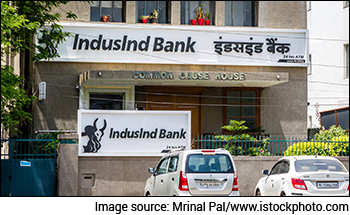 For the past few days, a private sector banking stock was under serious pressure.
The bank in question is IndusInd Bank.
Last week in a regulatory filing, IndusInd Bank said the Enforcement Directorate (ED) has lodged an investigation against certain entities and some bank employees.
This added to some short-term pressure and because the primary reason why IndusInd Bank share price was falling.
But how quickly the tables have turned!
In the past four days, IndusInd Bank share price has rallied 18% and erased all the losses of 2022.
The reason? Good quarterly results.
IndusInd Bank post market hours on Wednesday reported its Q1 results.
Analysts were already expecting a good quarter for the bank so the stock's run up to its result declaration was good.
Here are five key takeaways from IndusInd Bank's Q1 results.
IndusInd Bank's net profit for the quarter ended June 2022 came in at Rs 16.3 bn as compared to Rs 10.2 bn reported last year in the same quarter. This is a growth of 61% YoY.
The surge is net profit is due to higher net interest income (NII). IndusInd Bank's NII showed a 16% growth to Rs 41.3 bn.
In the exchange filing, the bank said its net interest margin (NIM) improved marginally by 10 basis points (bps) to 4.21% from 4.2% sequentially.
IndusInd Bank also showed improvement on the non-performing asset (NPA) ratios. The bank's gross NPA ratio improved from 2.88% to 2.35% while net NPA ratio improved to 0.67% from 0.84% YoY.

IndusInd Bank is one of the Indian banks which has the lowest NPAs.
On the credit front, the bank's MD and CEO Sumant Kathpalia said that while the bank's guidance is for a 16-18% compound annual growth rate per year (CAGR), the bank is aiming for a 20% CAGR in the current year.
Equitymaster's view on IndusInd Bank
We reached out to Tanushree Banerjee, editor of StockSelect at Equitymaster, on what she has to say about the lender's performance.
Here's Tanushree:
IndusInd Bank's results are reflective of a trend that may be seen across the banking sector in the next couple of quarters.

Strong credit growth along with rise in lending rates have come at a time when NPA levels have moderated, and treasury incomes are high.

Therefore, higher than expected profit growth is given in the near term. Over time once deposit rates also catch up with the lending rates, the lending margins may moderate.
In fact, Tanushree had predicted last month that the coming quarters for banking sector stocks will be good.
Read here editorial to know why: Bank Stocks in 2022 Mirror Warren Buffett's 1989 Wells Fargo Investment.
IndusInd Bank's shareholding pattern
Total promoters' stake in IndusInd Bank decreased by 0.01% in the quarter ended June 2022, to 16.51%, from 16.52% in March 2022.
Meanwhile, mutual funds reduced their holdings by 1.38%.
FIIs also reduced their holding from 46.33% to 45.83% in June 2022.
For more, check the latest shareholding pattern of INDUSIND BANK.
How IndusInd Bank has performed so far in 2022
Thanks to today's rally, IndusInd Bank share price has recovered all of its 2022's losses.
With today's gains, IndusInd Bank is up 8% so far in 2022.
IndusInd Bank has a 52-week high of Rs 1,242 touched on 18 October last year and a 52-week low quote of Rs 763 which it hit last month.
At the current price, IndusInd Bank trades at a PE multiple of 15.4 and a price to book value multiple of 1.4.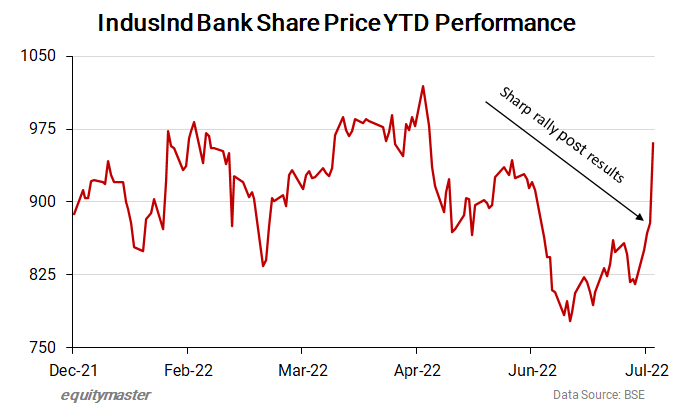 To know more, check out IndusInd Bank news and analysis.
About IndusInd Bank
IndusInd Bank, incorporated in 1994, is a Mumbai-based new-generation Indian bank. Commercial, transactional, and electronic banking goods and services are available from the bank.
Manmohan Singh, then Union Finance Minister, launched IndusInd Bank in April 1994. IndusInd Bank is the first of India's new-generation private banks.
The bank focuses on retail banking services and is seeking to grow its branch network across the country.
Its technical platform allows for multi-channel distribution. IndusInd Bank has branches/banking outlets and ATMs scattered in 760 geographical regions in the country.
To know more about IndusInd Bank, check out its factsheet and quarterly results.
You can also compare IndusInd Bank with its peers.
Disclaimer: This article is for information purposes only. It is not a stock recommendation and should not be treated as such. Learn more about our recommendation services here...
Yash Vora is a financial writer with the Microcap Millionaires team at Equitymaster. He has followed the stock markets right from his early college days. So, Yash has a keen eye for the big market movers. His clear and crisp writeups offer sharp insights on market moving stocks, fund flows, economic data and IPOs. When not looking at stocks, Yash loves a game of table tennis or chess.