ITC Share Price Breakout: The Turnaround Has Just Begun
Jul 21, 2023
ITC Ltd, a prominent stock in the Indian market, was for a long time considered one of the most hated stocks among investors.
Despite being a significant conglomerate with diverse businesses, the perception of ITC as a non-performing and stagnant stock prevented many investors from considering it as a viable investment.
Contrary to the prevailing sentiment, ITC has astounded the market by proving investors wrong with its remarkable performance.
Over the span of 14 months, the stock has rallied an astonishing 100%, signalling a potential paradigm shift in perception and inviting a closer look at its underlying potential.
The Awakening of ITC Ltd
In the past, ITC had been weighed down by negative perceptions, due to factors like excessive government regulations on its tobacco business and the belief that it was underutilising its cash reserves.
This negative sentiment overshadowed the company's strengths in its FMCG and other business segments. However, a series of strategic moves and a renewed focus on growth have gradually turned the tables.
Impressive Rally and Leadership in FMCG Index
The stock's incredible rally over the last 14 months has been a turning point.
It has surpassed market expectations and dispelled the notion that it's unable to generate value for investors. As a result, the perception of ITC as a stagnant stock has started to change, attracting newfound interest from investors.
The company's significant weight of 31% in the FMCG Index has also contributed to the rise of the index.
By leading the FMCG index to all-time highs, ITC has solidified its position as a crucial player in this sector, demonstrating its potential to create value for shareholders.
Technical Breakout and RSI Trends
From a technical perspective, the stock price has broken out of a long-standing resistance zone and has shown no signs of looking back. This breakout further validates the positive sentiment surrounding the stock and points to the potential for further upside.
ITC Ltd Weekly Chart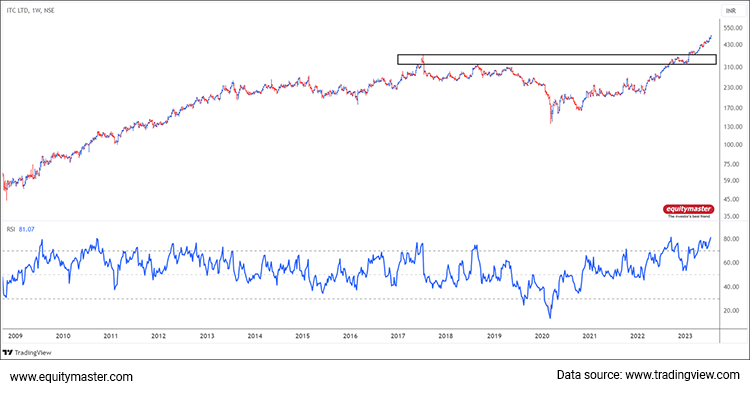 The Relative Strength Index (RSI) continues to trend bullish. It serves as an additional indicator of the stock's strength.
Despite trends in the overbought zone, the index remains elevated as ITC's stock continues to soar, reinforcing the strength of the current uptrend.
While an overbought RSI might trigger concerns about a potential pullback, it's essential to note that the RSI can trend in the overbought zone for extended periods during strong bullish phases.
The Debate on Overbought RSI
The debate surrounding the duration of an overbought RSI trend is a common topic among traders and analysts.
While a high RSI may signal a potentially overextended rally, it does not necessarily imply an imminent reversal.
The RSI, as an oscillator, indicates the level of price momentum and overbought/oversold conditions. In strong uptrends, the RSI can remain in the overbought zone for an extended period as buying pressure persists.
However, it's crucial to approach overbought signals with caution and consider other technical factors and market fundamentals before making any investment.
Conclusion
ITC's astounding 100% rally over 14 months has significantly altered the perception of the stock in the market.
The company's ability to prove investors wrong and showcase its true potential in various business segments has led to a paradigm shift in the way it's perceived.
With its weight in the FMCG Index and its leadership role in driving the index to all-time highs, the stock has cemented its position in the sector.
From a technical standpoint, the breakout from the resistance zone and the continued bullish trend in the RSI indicate a strong uptrend.
While the overbought RSI may raise questions about potential pullbacks, it's essential to consider other technical indicators and market fundamentals before considering any investment.
As ITC continues to defy expectations, investors have recognised the hidden potential in this once-hated stock.
However, investors must exercise prudence and conduct thorough research before making investment decisions. Take into account the dynamic nature of the market and the various factors that influence the stock.
Investment in securities market are subject to market risks. Read all the related documents carefully before investing
Want to Grow Your Wealth With Safe Stocks?
If you want a simple, safe, and hassle-free approach to long term wealth building...
Without having to worry about negative news or every little downswing in the market...
And without having to worry whether your investments will actually "deliver"...
You must read our note on Blue Chip Stocks now.
Details of our SEBI Research Analyst registration are mentioned on our website - www.equitymaster.com
Disclaimer: This article is for information purposes only. It is not a stock recommendation and should not be treated as such. Learn more about our recommendation services here...
Brijesh Bhatia Research Analyst and expert chartist, is the editor of Alpha Wave Profits. Fully committed to his craft, Brijesh has mastered the art of making money by trading using technical analysis. Brijesh has an MBA from ICFAI and 16 years of experience in India's financial markets. He began his career on Dalal Street as commodities dealer and it wasn't long before he developed his own unique trading system. Brijesh worked on his trading system until it could be expected to deliver 5 units of return for every unit of risk.