Top 5 Penny Stocks with Rising Promoter Holding. Here's a Watchlist...
Jul 21, 2023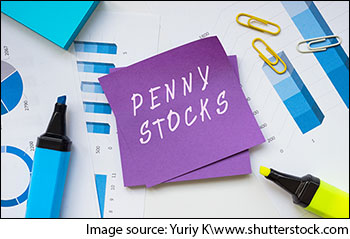 A consistent rise in promoter holding can tell you many things. After all, promoters are the ultimate insiders, the flag bearers of the company who decide everything.
They know the true picture of the existing business, they're well aware of the corporate governance practices, and they understand the business prospects and headwinds.
Tracking this activity becomes even more important when dealing with penny stocks.
The excitement to make big bucks quickly often draws new investors to buy the best penny stocks. And keeping track of penny stocks with rising promoter holding could be a starting point to discover some gems in the markets.
Let's take a look at five such companies that have seen an increase in promoter holding in the June 2023 quarter.
#1 IFCI
First on the list is IFCI.
Erstwhile Industrial Finance Corporation of India, IFCI is a state-owned non-banking finance company established to cater to the long-term finance needs of the industrial sector.
The company's financing activities cover various kinds of projects such as airports, roads, telecom, power, real estate, manufacturing, services sector, and other allied industries.
To point out some of IFCI's big projects, it has financed projects including Adani Mundra Ports and GMR Goa International Airport.
The latest shareholding pattern of IFCI reveals that promoter of the company, i.e. the government, has increased its stake by 3.97% in the quarter ended June 2023.
The president of India currently holds 1,750 million (m) shares or 70.3% stake in IFCI.
Over the years, rising NPAs and consistent yearly losses have remained a cause for concern for investors in IFCI. In FY23, the NBFC's borrowings reduced by 24% compared to the year ago.
Last year, the government had decided to infuse funds in IFCI in a move to rescue the lender and reduce debt. Merger speculations were also on the cards. In October 2022, the government infused Rs 1 bn and it infused another Rs 4 bn in April 2023.
IFCI plays an important role as it manages more than 10 of the government's production-linked incentives (PLI) schemes. Earlier this year, IFCI was also selected to manage and help streamline the Rs 100 billion (bn) FAME-II scheme.
In the past one year, IFCI shares have rallied around 27%.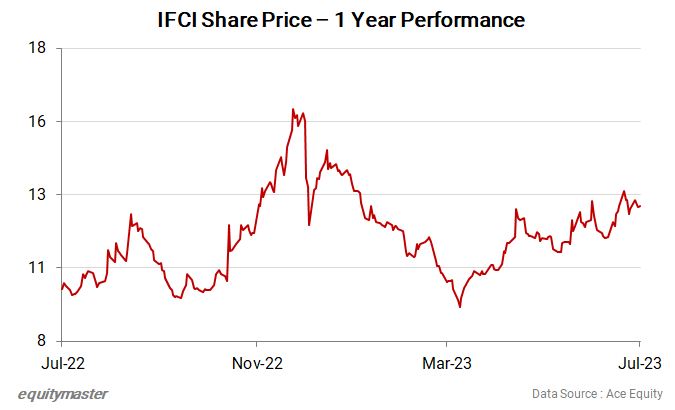 #2 Imagicaaworld Entertainment
Next on the list is Imagicaaworld Entertainment.
Erstwhile Adlabs Entertainment, the company operates themed entertainment destinations, featuring multiple experiences including an international standard theme park, a water park, and a premium hotel.
The company was recently acquired by Malpani Group.
The latest shareholding pattern of Imagicaaworld reveals that promoters of the company have increased their stake by 4.91% in the quarter ended June 2023.
The promoter - Malpani Parks Private - currently holds 341.4 m shares or 70.9% stake in the company.
Banks including Union Bank and Bank of Baroda have made huge gains from their investment in the company, after it was taken over last year. A group of 10 banks last year also invested in the company when the takeover by Malpani Group was going on.
The company's CEO Dhimant Bakshi recently said Imagicaaworld has seen a sharp increase in revenue as the travel and entertainment sector has rebounded sharply.
The company's revenue more than tripled to Rs 3.3 bn in FY23 from Rs 1 bn in FY22. All revenue segments registered growth. As a result, net profit came in at Rs 3.6 bn compared to a loss of Rs 2.5 bn last year.
Adding that the change in management has helped, he said the company is investing in new products and taking advantage of the demand.
In the past four years, debt was the only concern looming over the company and it was cleared once Malpani group acquired it last year.
The company recently bought a new theme park in Surat, Gujarat.
In the past one year, Imagicaaworld Entertainment shares have rallied over 150%.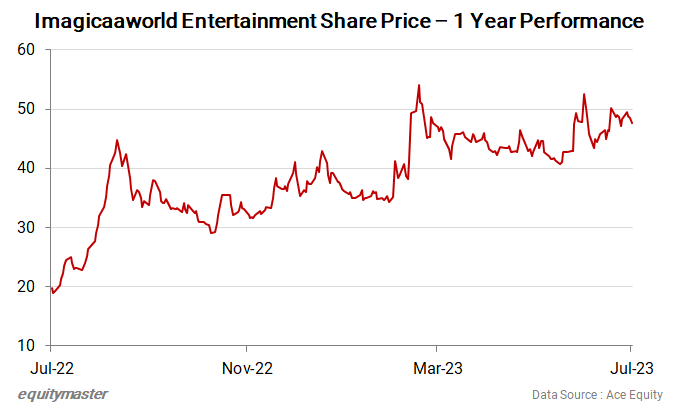 #3 Lloyds Steels Industries
Next on the list is Lloyds Steels Industries.
The company provides engineering and infrastructure solutions by carrying out designing, engineering, manufacturing, fabrication, and installation.
Some of its clients include Cochin Shipyard, Goa Shipyard, BPCL, Coromandel, GAIL, Finolex group, IOC, among others.
The latest shareholding pattern of Lloyds Steels reveals that promoters of the company have increased their stake by 3% in the quarter ended June 2023.
Last month, the company's board approved a rights issue to raise funds.
The company saw a strong growth in its order book in FY23. This in turn, multiplied revenue multifold to Rs 3.1 bn compared to Rs 500 million in FY22.
It plans to set up new manufacturing capacities to support this increasing order book and future growth, according to the investor presentation. The company will invest around Rs 500 m this year in capacity enhancement.
In the past one year, shares of Lloyds Steels Industries have rallied over 150%.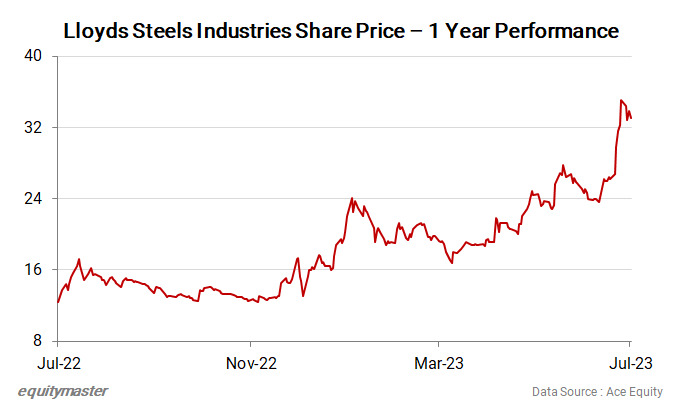 #4 International Conveyors
Next on the list is International Conveyors.
The company is engaged in the manufacturing and marketing of solid woven polyvinyl chloride (PVC) covered conveyor belts. These belts are fire retardant, antistatic, and are mainly used in underground mines for transportation of minerals.
The company operates in a niche segment and its growth is linked to the growth of underground mining operations. Coal India is its major client.
For the quarter ended June 2023, total promoters' stake in International Conveyors increased by 2.7% and stood at 70.65% as compared to 67.95% in March 2023.
In fact, promoters of the company have consistently bought shares in the open market for the past eight quarters.

Source: Equitymaster
In the past five years, the company has delivered steady double-digit growth in revenue.
For FY23, the company reported steady revenue on account of the healthy execution of export orders. Margins also improved on the back of a fall in raw material costs, and lower interest and finance costs.
Out of the total revenue, Rs 14 m came from the renewable energy segment and the company claims that it produces more green energy than it consumes.
The company conducted a share buyback in September last year amounting to Rs 297 m and the price band was fixed at Rs 75 per share.
With a strong orderbook at hand, revenue visibility looks good, and the company is also seeing a huge spike in replacement demand.
In the past one year, shares of International Conveyors have gained 33%.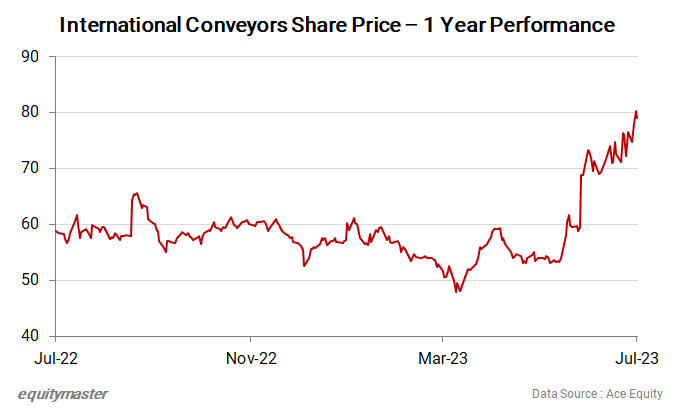 #5 W.S. Industries
Last on the list is W.S. Industries.
The company specialises in electro-porcelain products and turnkey projects.
For the quarter ended June 2023, total promoters' stake in the company increased by 2.4% and stood at 57.5% as compared to 55.1% in March 2023.
Promoter holding in the company has largely varied in the past two years as is visible from the table below.

Source: Equitymaster
Shares of the company have been on a roll in the past one month after it received a large order for a comprehensive water supply scheme and storm drainage works in Tamil Nadu.
The company bagged an order worth Rs 3.2 bn for setting up a 'multi-village water supply scheme' in 498 villages in Tamil Nadu's Nagapattinam district under the Union government's Jal Jeevan Mission.
It also bagged a Rs 544.3 million job for building integrated storm water drainage system in Chennai.
Apart from these orders, the company already has ongoing projects like construction of an integrated bus terminal in Tiruchirappalli and other civil infrastructure projects in Chennai.
In its latest concall, the company's management said that they're expecting the strong order momentum to continue and projects worth Rs 4-5 bn are in the anvil.
In FY23, the company turned profitable and reported profit of Rs 200 m as compared to a loss of Rs 590 m in FY22. It expects revenue for FY24 to be in the range of Rs 2-3 bn, substantially higher from the Rs 0.8 bn reported in FY23.
Going forward, the company is not planning for inorganic growth but focusing more on logistics and IT park projects.
In the past one year, shares of W.S. Industries have rallied over 600%.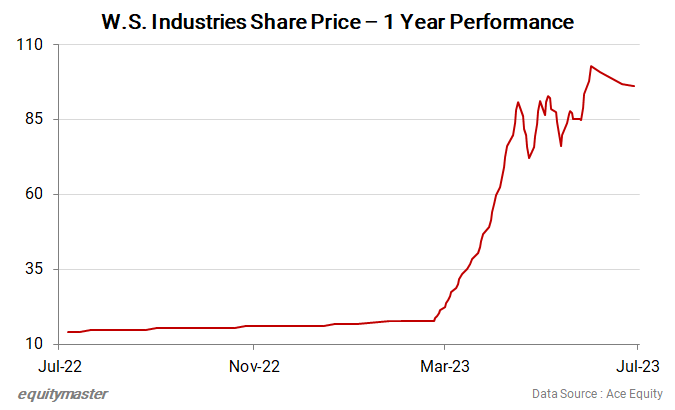 Which other penny stocks are seeing a rise in promoter holding?
Apart from the above, here are other penny stocks where promoters are adding stake.
| Company Name | Current Price | Jun-23 | Mar-23 | Change |
| --- | --- | --- | --- | --- |
| Andhra Cements Ltd. | 79.3 | 95 | 68.73 | 26.3 |
| Jaykay Enterprises Ltd. | 73.8 | 56.29 | 51.3 | 5 |
| Prerna Infrabuild Ltd. | 28.9 | 66.1 | 61.51 | 4.6 |
| Wardwizard Foods and Beverages Ltd. | 36.6 | 52.51 | 48.38 | 4.1 |
| Aplab Ltd. | 68.5 | 63.28 | 59.29 | 4 |
| SPML Infra Ltd. | 42 | 39.35 | 36.1 | 3.3 |
| Swadeshi Polytex Ltd. | 42.3 | 66.39 | 63.21 | 3.2 |
| Beardsell Ltd. | 33.8 | 56.1 | 53.79 | 2.3 |
| JHS Svendgaard Laboratories Ltd. | 22.4 | 44.06 | 42.23 | 1.8 |
| Ritesh Properties & Industries Ltd. | 43.9 | 74.81 | 73.15 | 1.7 |
| DB (International) Stock Brokers Ltd. | 23.6 | 35.84 | 34.34 | 1.5 |
| Snowman Logistics Ltd. | 50.3 | 41.75 | 40.25 | 1.5 |
Data Source: Ace Equity
If you are on the lookout for companies that have seen big shareholding changes and want to apply your own filters and parameters, look no further than Equitymaster's Powerful Stock Screener.
This screener allows you to screen stocks based on both pre-set queries and your own criteria.
Here are some of the popular screens:
Why promoters increasing stake makes a difference, especially for penny stocks
If the promoter of a penny stock is increasing his stake, that gives shareholders more confidence.
The rising promoter holding in a penny stock acts as an indicator of the confidence of promoters in the business as well as the strength of leadership control on the company.
A penny stock with consistent rise in promoter shareholding often represents a scenario where the promoters see a bright future for the company and in turn, they plan to benefit from its good growth.
A word of caution. Sometimes, penny stock promoters can use misleading information about the actual valuation of the company. So make sure to do your own research before taking the plunge.
Since penny stocks interest you, check out Equitymaster's YouTube channel that has a separate playlist for penny stocks.
Happy Investing.
Investment in securities market are subject to market risks. Read all the related documents carefully before investing
Want to Grow Your Wealth With Safe Stocks?
If you want a simple, safe, and hassle-free approach to long term wealth building...
Without having to worry about negative news or every little downswing in the market...
And without having to worry whether your investments will actually "deliver"...
You must read our note on Blue Chip Stocks now.
Details of our SEBI Research Analyst registration are mentioned on our website - www.equitymaster.com
Disclaimer: This article is for information purposes only. It is not a stock recommendation and should not be treated as such. Learn more about our recommendation services here...
Yash Vora is a financial writer with the Microcap Millionaires team at Equitymaster. He has followed the stock markets right from his early college days. So, Yash has a keen eye for the big market movers. His clear and crisp writeups offer sharp insights on market moving stocks, fund flows, economic data and IPOs. When not looking at stocks, Yash loves a game of table tennis or chess.