Asian Paints Touches Record High After Stellar Quarterly Results
Jul 22, 2021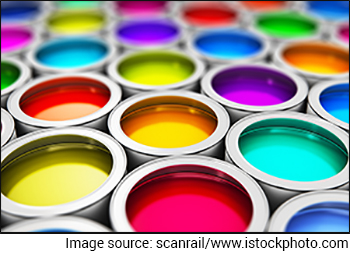 Asian Paints share price closed down by 1.7% today at Rs 3,104.5 on the BSE after opening at a 52-week high of Rs 3,180.
The stock noticed some large deals in the pre-market trade today after the record high.
Why did the share price touch a 52-week high?
Asian Paints shares rose to record high due to stellar results reported by the company.
The revenue of the company jumped 91.1% year on year (YoY) to Rs 55.8 bn as against Rs 29.2 bn in the same period previous year.
As a result, earnings before interest, tax, depreciation, and amortisation (EBITDA) increased by 88.7% to Rs 9.1 bn compared to Rs 4.8 bn in June 2020 quarter.
On the contrary, EBITDA margin had decreased by 0.2% to 16.4%.
The company saw a 160.2% YoY rise in its consolidated net profit to Rs 5.7 bn.
Asian Paints showed a resilient performance across all businesses despite the challenges posed by the second Covid wave which disrupted business continuity from the second fortnight of April 2021.
Compared to June 2020, Asian Paints registered strong compounded average growths in value and volume.
The industrial and home improvement businesses doubled its revenue on last year's low base.
The international business had seen some continuity in the first quarter of the last year. The same segment registered strong double-digit revenue growth in June 2021.
While commenting on the results, Amit Syngle, managing director and chief executive officer at Asian Paints said,
The domestic decorative business more than doubled its volume and delivered stellar revenues over the lower base of last year, which had suffered from the first nationwide lockdown.

The business registered strong compounded average growths in value and volume in comparison to June 2020 quarter which is indicative of a strong consistent trajectory.

We registered strong growths in April 2021 and a robust resounding rebound in June 2021, post May 2021 which was impacted in a big way.
Highlighting the ongoing troubles caused by surging commodity prices, the company said its gross margins in the reporting quarter suffered on account of higher input costs as the global crude oil price continued its upward march.
Highlights from earnings call
Up until April 2021, the company did well. Post this period, demand took a hit amid state lockdowns. The month of May was muted but June was strong.
The company witnessed very steep inflation to the extent of 13-15% for the quarter under review. Owing to this, it hiked prices by 3%. The company said it will further increase prices in July.
During the quarter, the Southern market remained impacted strongly due to increased cases. Meanwhile, Eastern markets remained impacted due to Kolkata elections and Northeast was subdued.
The exterior market saw robust growth with both government and institutions angling for infrastructure push. Waterproofing did well due to better demand from both retail and institutional customers.
The company has filed 20 new patents in fiscal 2021. To date, it has filed a total of 76 patents.
Asian Paints' international portfolio posted over 50% revenue growth over the last year led by Asia & Middle East while Africa remained impacted by local challenges as well as steep inflation.
Equitymaster's view on Asian Paints
We reached out to Brijesh Bhatia, senior analyst at Equitymaster and editor of Fast Profits Report, for his view on Asian Paints' results.
Here's what he had to say,
The paint stocks are on dream run and the leader, Asian Paints is up by 120% since lows of March 2020.

The patient bulls react aggressively after every consolidation taking stock to new high which can be highlighted by volumes on chart.

The low of the day when we witness spurt in volume plays a key support role and the recent spurt in volumes was seen on 20th July 2021.

The low of 2,979 on 20th July 2021 will play as trend change level for the stock.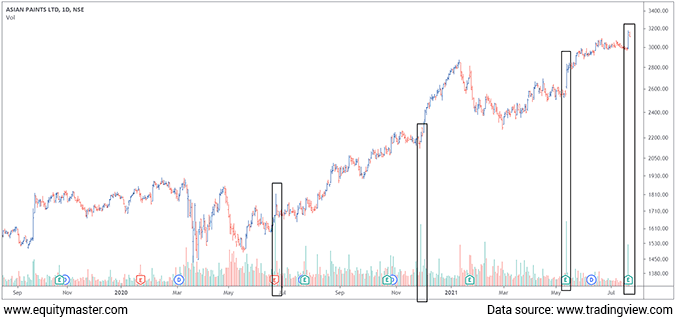 How the stock market reacted to Asian Paints' results
Asian Paints share price closed at Rs 3,101.3 against its previous close of Rs 3,159 on the NSE.
On the BSE, it closed at Rs 3,104 as against its previous close of Rs 3,159 on Tuesday.
Asian Paints' stock has touched a 52-week high of Rs 3,180 today owing to the outstanding June quarter results.
Over the past year, Asian Paints shares are up 77.5%.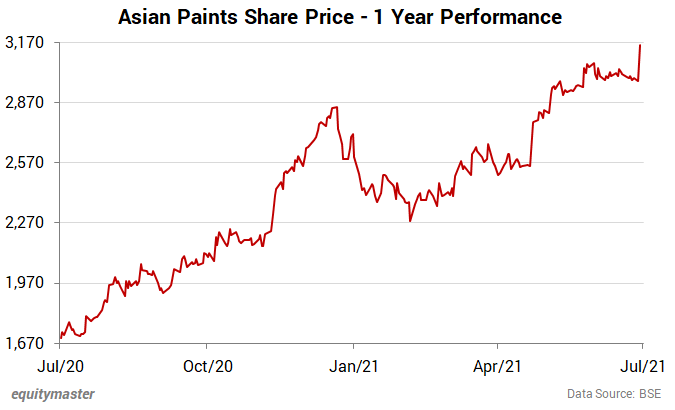 About Asian Paints
Set up in 1942, the Asian Paints group is the largest paint manufacturer in India also engaged in the business of manufacturing of varnishes, enamels, or lacquers, surfacing preparation, organic composite solvents, and thinners.
The company was started in a garage in Gaiwadi, Mumbai by four friends Champaklal Choksey, Chimanlal Choksi, Suryakant Dani and Arvind Vakil.
It operates in 15 countries and has 26 paint manufacturing facilities in the world serving consumers in over 60 countries.
Besides Asian Paints, the group operates around the world through its various brands viz. Asian Paints Berger, Apco Coatings, SCIB Paints, Taubmans, Causeway Paints, and Kadisco Asian Paints.
It also manufactures metal sanitary ware such as baths, sinks, washbasins, and similar articles. Recently introduced lightings, furnishings, and furniture. Thus, it added more products in the home decor and interior design categories
Asian Paints is India's largest and Asia's third largest paints corporation.
It's the holding company of Berger International.
To know more about the company, you can check out Asian Paints fact sheet and Asian Paints quarterly result.
For a sectoral overview, checkout the paint sector report on our website.
You can also compare Asian Paints with its peers
Asian Paints vs Shalimar Paints
Asian Paints vs Kansai Nerolac
To know what's moving the Indian stock markets today, check out the most recent share market updates here.
Disclaimer: This article is for information purposes only. It is not a stock recommendation and should not be treated as such. Learn more about our recommendation services here...