Bajaj Finance Stock Springs a Surprise. Gains 5% Despite Disappointing Results
Jul 22, 2021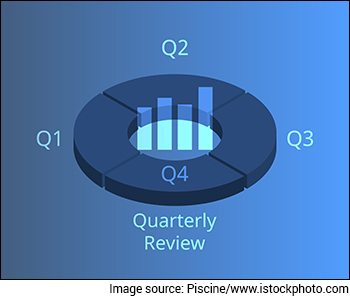 Non-bank lender Bajaj Finance on Tuesday reported a 4% rise in its consolidated net profit for the June quarter at Rs 10 bn. This compared with Rs 9.6 bn reported in the same quarter last year.
Its net interest income (NII), the difference between interest earned and interest expended, increased by 8% to Rs 44.9 bn as against Rs 41.5 bn in the year ago quarter.
This growth came despite its operations being marginally affected by the second wave of the pandemic.
During the quarter, the company has done accelerated write offs of Rs 1.1 bn of principal outstanding on account of Covid-19 related stress.
Asset quality deteriorates but AUM steady
Bajaj Finance's asset quality remained under pressure as gross non-performing assets (NPA) and net NPA as of June 2021 stood at 2.96% and 1.46%, respectively. This was against 1.79% and 0.74% in the March 2021 quarter.
Loan losses and provisions for the quarter was Rs 17.5 bn as against Rs 16.9 bn in the corresponding quarter of the previous fiscal.
Bajaj Finance's assets under management (AUM) grew by 15% to Rs 1,590.6 bn as of June 2021 from Rs 1,380.6 bn as of June 2020. Core AUM growth in the June quarter was approximately at Rs 41 bn.
--- Advertisement ---
No crash, correction, or pandemic can STOP This...

At last, it's happening...

Right here in India...three hidden mega-trends are converging for the first time ever to trigger an economic boom of unparalleled proportions.

A boom so powerful - no crash, no correction, and no pandemic can STOP India from becoming the next economic superpower...

And those who take advantage of this mega shift could potentially generate massive wealth for themselves and their families in the long run.

We are talking about potential 1,000% gains...and perhaps even more over the long term.

But trust me, people who pass this opportunity will regret their decision in the years and decades to come...

So, if you want to save yourself from potential downsides of this mega shift...

...and instead, leverage on it for potential windfall gains...

Join us on 24th September at my special event...

Put your email in the box below and get your free ticket right away.
------------------------------
During the quarter, its new loans booked were 4.63 m as against 1.75 m in June 2020.
The financial services company's capital adequacy ratio (including Tier-II capital) as of June 2021 was 28.57% and the Tier-I capital at 25.41%.
Here's a table comparing Bajaj Finance's results on key parameters.
Financial Snapshot
| (Rs bn) | 31-Jun-21 | 31-Jun-20 | YoY (%) |
| --- | --- | --- | --- |
| AUM | 1,590.6 | 1,380.6 | 15% |
| Assets under finance | 1,531.4 | 1,323.7 | 16% |
| Interest Income | 59.5 | 57.9 | 3% |
| Interest Expenses | 22.5 | 25.0 | -10% |
| NII | 44.9 | 41.5 | 8% |
| PAT | 10.0 | 9.6 | 4% |
Data Source: Investor Presentation
In its investor presentation the company said,
It was a muted quarter impacted by a severe second wave of pandemic.

Both businesses and debt management efficiencies were affected due to strict lockdowns across most parts of India. Business transformation remains on track for phase-1 to go live in October 2021.
Highlights from earnings call
Due to lower debt management efficiencies and consequent increase in GNPA, interest income reversal for the quarter was higher at Rs 4.5 bn as compared to Rs 3.1 bn in June 2020.
In absence of a third wave, the company expects quarterly interest reversals to normalise by December 2021.
Cost of funds for June quarter was 7.11% as against 7.39% in the previous quarter. The company's liquidity buffer was Rs 108.6 bn as of June 2021. This represents 8% of total borrowing.
The company is expecting further reduction in cost of funds as liquidity buffer and borrowing basket is reinstated to pre-Covid levels.
--- Advertisement ---
INSIDER SECRET: An Astonishingly Easy Way to Pile Up Potentially 40-60% Gains in Just 1 Year

India's most well-connected trader with over 35 years of experience just confessed...

"This Lucrative Market Segment Could Leapfrog Over Nifty in The Next 12-16 Months"

... thanks to a massive and irreversible mega-trend fueling its growth!

In fact, he and his partner have already identified 2 spectacular stocks from this segment... which are ready to rake in potentially 40-60% gains in just 1 year... and make you big, fat profits!

The best part of them all...

Their Details Are Packed in This Special Report (Discover How to Claim it for Free)
------------------------------
New customer addition in June quarter was in line with general guidance of 7-8 m new customer addition annually.
Average EMI bounce rate was approximately 1.08x of March 2021 quarter. The bounce rate for July 2021 has improved to 0.96x of the same period.
Non overdue one-time restructuring (OTR) book stood at Rs 12.9 bn as of June 2021 versus Rs 17.4 bn as of March 2021.
The company launched its wallet business on 1 July and said it has onboarded 320,000 customers as of 18 July. It expects to onboard over 5 m customers for its wallet business in fiscal 2022.
Auto finance business worst affected
For the quarter under review, Bajaj Finance's auto finance business was worst affected. Its GNPA increased by Rs 12 bn from Rs 12.3 bn to Rs 24.3 bn sequentially.
The company witnessed a rise in delinquencies in the three months to June, emanating from its auto finance business, specifically because its three-wheeler finance segment was hit by the second wave.
The total size of its auto finance book is Rs 113.5 bn as on June 2021, 19.15% of which turned non-performing.
Managing director Rajeev Jain said that the three-wheeler segment of the business was more severely impacted than the rest.
The reason one did not see the pressure last year was essentially because we were under moratorium. Out of Rs 113.5 bn auto loan book that we have, about Rs 40 bn is in three-wheeler business. They are far more impacted in the first wave as well.
REVEALED: 3 "Super Smallcaps" You Didn't Know About
Performance of subsidiaries
Bajaj Financial Securities (BFSL) registered a net loss of Rs 32.3 m in the June quarter.
Its total income stood at Rs 149.8 m in the June 2021 quarter as against Rs 28.8 m reported in the same period last year.
Bajaj Housing Finance's (BHFL) bottomline increased by 75% to Rs 1.6 bn in June 2021 as against Rs 0.9 bn in the year ago period. NII increased 38% to Rs 3.4 bn.
Both these subsidiaries are not listed on the exchanges.
How the stock markets reacted to Bajaj Finance's earnings
Bajaj Finance share price opened the day on a flat note at Rs 5,934 on the BSE.
As the session progresses, it gained as much as 5% to Rs 6,244. Presently, Bajaj Finance shares are trading up by 4.5%.
Several brokerage houses have turned cautious on Bajaj Finance post the company's June quarter results.
Shares of the company have a 52-week high quote of Rs 6,340 touched earlier this month on 6 July.
Over the past one year, shares of the company have gained 80% as compared to 39% gains in benchmark BSE Sensex.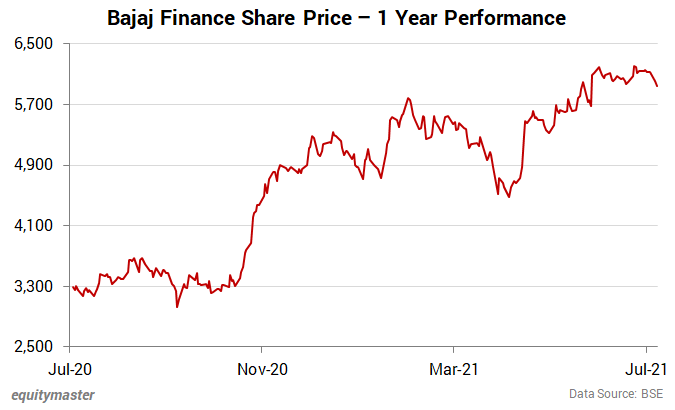 At the current price of Rs 6,207, Bajaj Finance commands a marketcap of Rs 3,747.8 bn.
As of June 2021, Bajaj Finserv holds 52.65% stake in the company followed by Government of Singapore at 4.09%.
Bajaj Finance Top 10 Stakeholders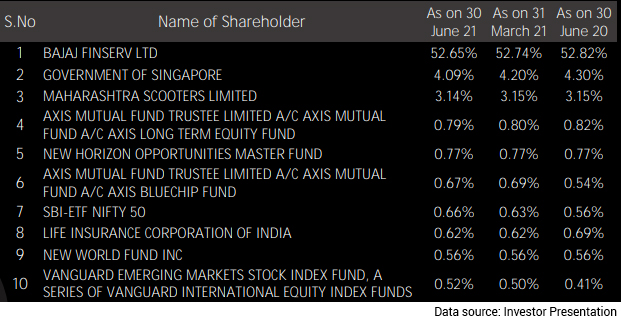 About Bajaj Finance
Bajaj Finance is a deposit taking non-banking finance company (NBFC) with a diversified loan portfolio and a pan-India presence.
While the company was originally set up to provide finance for the purchase of two-wheelers and three-wheelers manufactured by Bajaj Auto, it diversified into other segments over the years.
Currently, it operates across seven broad categories - consumer lending, mortgages, commercial lending, rural lending, SME lending, deposits, and partnerships & services.
Under partnerships & services, the company offers products like health insurance, extended warranty, comprehensive asset care, co-branded credit cards and wallets.
To know more about the company, check out Bajaj Finance company fact sheet and Bajaj Finance quarterly results.
For a sector overview, read our finance sector report.
You can also compare Bajaj Finance with its peers.
Bajaj Finance vs Cholamandalam Invest
Bajaj Finance vs Edelweiss Financial
To know what's moving the Indian stock markets today, check out the most recent share market updates here.
Disclaimer: This article is for information purposes only. It is not a stock recommendation and should not be treated as such. Learn more about our recommendation services here...