Why Gland Pharma Share Price is Falling
Sep 22, 2022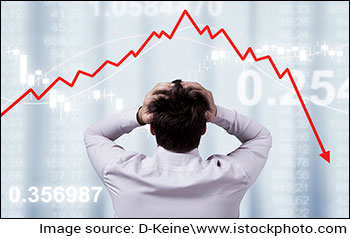 Editor's note: Shares of Gland Pharma declined 3.6% intraday on Wednesday, 21 September 2022 and hit a new low of Rs 2,128.
As the street turned cautious on pharma stocks, the company's shares fell.
The company's shares have underperformed this week as well amid concerns in relation to parent Fosun Pharma.
Reports emerged that regulators in China have asked bank firms to check the financial exposure to Fosun Pharma.
Fosun Pharma was downgraded by rating firm Moody's in August 2022 by one notch to B1 amid concerns with regard to liquidity, refinancing pressure, and exposure to the Chinese property market.
Fosun International is a diversified conglomerate holding stakes in various businesses, including insurance, hospitals, and diagnostics. The company holds around 57.9% stake in Gland Pharma.
However, Gland has concerns of its own, which includes weak numbers.
The company's shares showed a similar downward movement in July. We discussed the likely reasons for the fall back then.
Many developments have taken place since then. Read on the find out the reason for the further fall in the stock.
Why Gland Pharma Share Price is Under Pressure
Consistent compounding stock Gland Pharma seems to have hit a major roadblock of late.
Share price of Gland Pharma is under intense pressure and keeps dipping every passing day.
Yesterday, it hit a new low of Rs 2,180 before recovering.
It currently trades at Rs 2,277, way below its 52-week high level of Rs 4,350 touched on 12 August last year.
Take a look at the company's 1-year share price chart.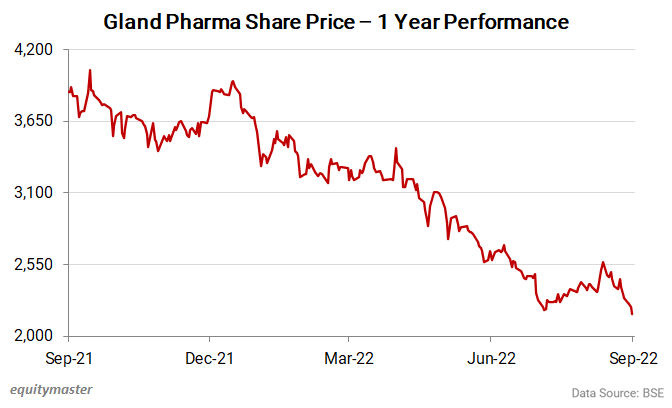 Gland Pharma is one of the largest and fastest-growing generic injectable focused companies.
So if it's one of the fastest growing companies in India, how come its shares are under pressure?
Is it because promoters have sold stake? Or has the company reported weak results and is under pressure like other top pharma stocks in India?
Here are key reasons why the stock is under pressure...
#1 Disappointing Q1 results
Gland Pharma reported its results for the quarter ended June 2022 earlier this week.
In its Q1 results, the company reported a 35% decline in net profit to Rs 2.3 bn on a YoY basis. This was due to lower operational income.
Revenues too declined 26% YoY to Rs 8.6 bn. The year-ago quarter's revenue was higher due to Covid-19 related product sales.
In an exchange filing, the company said,
India market accounts for 6% of Q1FY23 revenue as compared to 16% in Q1FY22.

India B2B sales were impacted due to planned shutdown of Insulin line during the quarter and higher sales of Covid-19 drugs like Remdesivir and Enoxaparin Injection during the same quarter of last year.
India sales fell by a massive 72% while rest of world revenues were down 55%. Post this news, shares of the company fell 10% yesterday to hit a 52-week low.
#2 Supply disruptions
During the quarter, the company faced roadblocks such as supply constraints of raw materials, plant modification which resulted in lower production, and reduced scope of business for certain products in the Indian market.
The delay in raw material supplies significantly impacted the company's ability to take up orders.
In its exchange filing, the company said these disruptions and the decision to shut down two of its manufacturing lines for productivity improvement affected the business during the quarter.
In the earnings call, the management said it lost around 70-80% of production capacity of liquid vials in Dundigal facility due to supply chain disruption.
#3 USFDA inspection
The USFDA (United States Food and Drug Administration) issued Form 483 to Dundigal facility of Gland Pharma last month. It was for one site in Hyderabad (India).
The Form 483 was issued for the quality of the good manufacturing practice for medical devices.
The inspections started on 22 August 2022 at the Hyderabad site and concluded on 25 August 2022.
Following this inspection, Gland Pharma shares saw a sharp 1% drop in its share price intraday.
Form 483 issued to a company always brings some sort of negative sentiment and damages the reputation of the company. When the US drug regulator finds a manufacturer violating the regulations, it causes a selloff until the manufacturing company clarifies on the progress and the next steps.
This might be one reason why Gland Pharma share price is falling.
Gland Pharma's shareholding pattern
For the quarter ended June 2022, promoters' stake in Gland Pharma stands at 57.87%. This is down from 58% in the March 2022 quarter.
In fact, the company's promoters have been selling minor stake consistently for the past few quarters.
Meanwhile, FIIs also have been bearishness for the past two quarters and have reduced their stake.
Mutual funds, on the other hand, have suffered big time as they have increased stake and that too on a big scale. In the June 2022 quarter, mutual funds took their exposure to 15.54% from 11.22% in March 2022.
To know more, check out Gland Pharma's latest shareholding pattern.
About Gland Pharma
Incorporated in 1978 as private company in Hyderabad, Gland Pharma is primarily engaged in manufacturing injectable formulations.
Gland Pharma has a global presence in around 60 countries and operates on a business-to-business model in countries like India, the USA, Canada, Australia, and some European countries.
The company was listed on the bourses in 2020 and has robust financial outlook. The company is debt free and its five-year average return on equity stands at 17.4%.
Its revenue has grown at a CAGR of 20.9% in the last five years while net profit has grown at a CAGR of 26%.
Gland Pharma is among the top midcap growth stocks.
To know more about the company, check out Gland Pharma's financial factsheet and Gland Pharma news and analysis.
Since midcap stocks interest you, check out our guide on the best midcap stocks.
You can also compare Gland Pharma with its peers:
Gland Pharma vs Zydus Lifesciences
Gland Pharma vs Alembic Pharma
Disclaimer: This article is for information purposes only. It is not a stock recommendation and should not be treated as such. Learn more about our recommendation services here...