Top 5 Multibagger Smallcap Stocks of 2023 So Far. Take a Look...
Jul 22, 2023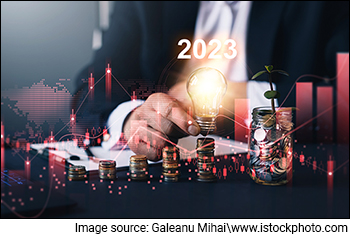 The basic reason for investing in stocks is growth, but some stocks have shown immense growth potential in comparison to other companies.
With markets on a rise, there are companies whose stocks have given returns of more than 100%. Such companies, in the words of Peter Lynch, are known as multibaggers.
Investors on the lookout for such opportunities have been navigating the Indian markets, which have been consistently hitting new highs, particularly with small-cap stocks leading the charge.
Every second small-cap stock has delivered double-digit returns. Nearly 100 stocks from the BSE Smallcap indices have jumped over 50 per cent, with a dozen among them doubling investor wealth, delivering multibagger returns.
In today's article, we look at five smallcap stocks that have rallied the most in 2023 so far.
#1 Zen Technologies
Leading the list is Zen Technologies.
Zen Technologies is a leading provider of military training and anti-drone solutions. The company is at the forefront of applying new technologies and developing new products.
It is actively involved in the indigenization of technologies, which is beneficial to the Indian security forces. In 2023, so far (between 1 January 2023 and 21 July 2023), the stock price has already rallied around 234%.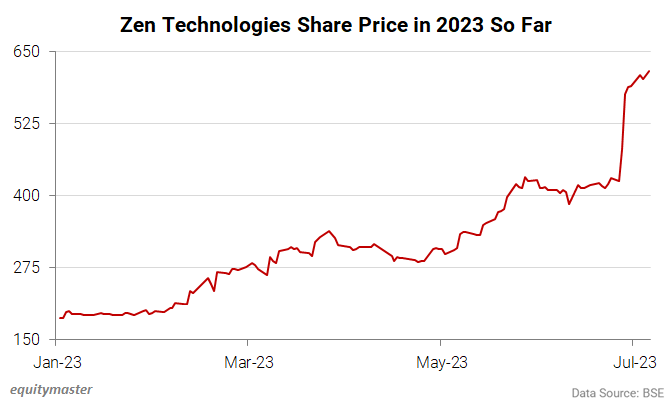 This was due to back-to-back order wins. Zen Technologies achieved a major milestone on 11 July 2023 by securing an export order valued at about Rs 3.4 billion (bn) (around US$ 41.5 million).
This success comes shortly after the company's announcement on 6 July, where it won a Rs 1.6 bn order from the government of India.
The recent order from the export markets aligns with the government's Indigenous Design and Development (IDDM) plan. This emphasises the use of Indian intellectual property and a minimum of 60% domestically manufactured content.
Zen Technologies stood out as the sole vendor meeting these strict criteria, further establishing its position in the industry. As a result of these consecutive wins, Zen Technologies' shares experienced a significant upswing in the market.
The recent disbursement of Rs 300 million (m) as a PLI for drones and drone components is also a game-changer for the industry.
This scheme offers a 20% incentive based on value addition making it one of the most generous PLI schemes to stimulate the industry, creating a fertile environment for the company's sustained success and robust growth.
For more details, see the Zen Technologies company fact sheet and quarterly results.
#2 Aurionpro Solutions
Second, on the list is Aurionpro Solutions.
It offers technology solutions that help enterprises accelerate digital innovation securely and efficiently.
It offers a single platform for guiding businesses to adapt to a dynamic digital transformation across banking, transportation, logistics, and government sectors.
So far in 2023, the stock price has already rallied around 187%.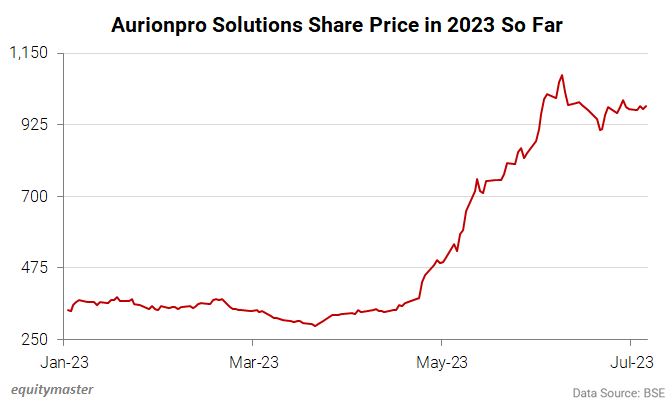 During the financial year 2023, the company's total sales stood at Rs 6,636.6 million (m). It registered a growth of 30% on a YoY basis on the back of an increasing market share.
It reported a net profit of Rs 1,018.9 m. Revamped strategy and disciplined execution of the same boosted its profit-earning capacity.
In the year under review, the company not only achieved its financial targets but also met its long-term objective. Its long-term objective included accelerating R&D to create next-generation platforms.
Aurionpro added a manufacturing capacity for the hardware divisions to scale up revenues in the current year. In a nutshell, the company had the largest number of additions in a single year.
Little wonder the company started the financial year with a strong order book of about Rs 8,200 m. The management expects to maintain the growth trajectory.
In FY24, they anticipate a growth rate of 30-35%. Going forward, the company intends to increase its market share driven by new product launches. It had already launched a brand new corporate digital banking product, Auro-Digi, that's already won its first client.
For more details, see the Aurionpro Solutions company fact sheet and quarterly results.
#3 Ddev Plastiks
Third on the list is Ddev Plastiks.
The company is engaged in polymer compound manufacturing in India. Its product portfolio includes engineering plastic compounds for white goods, automotive and electrical appliances industries.
Shares of the company have rallied 177% in 2023 so far, churning out multibagger returns.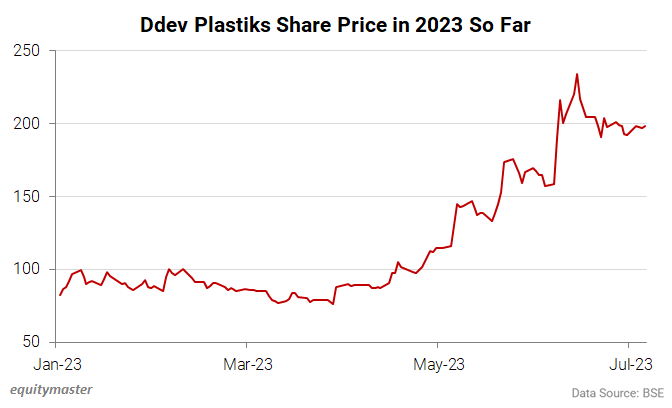 The company's strong net profit growth and expanding product portfolio have been the primary drivers behind its impressive rally.
In the financial year 2023, the company reported a 12.4% YoY jump in total revenue, amounting to Rs 25.3 bn. What's even more striking is the net profit surge of 90% YoY, reaching an impressive Rs 1 bn.
These remarkable achievements were the result of multiple factors, including increased sales, improved margins, and effective cost management.
Notably, Ddev Plastiks is making significant strides in diversifying its product portfolio and entering new markets, such as automotive and electrical appliances. This strategic expansion would further fuel the company's growth, boosting its top line and bottom line.
Adding to its recent achievements, the company has ventured into producing Halogen Free Flame Retardant (HFFR) compounds, establishing production facilities capable of producing around 6,000 metric tons per annum.
Moreover, on 7 July 2023, the company turned ex-bonus, announcing a generous bonus issue of 1:10.
Looking ahead the company's focus is on its production expansion plan in engineering plastics, compounds for white goods, automotive, and electrical appliances.
For more details, see the Ddev Plastiks company fact sheet and quarterly results.
#4 JBM Auto
Fourth on the list is JBM Auto.
The company is engaged in the manufacturing and sale of sheet metal components, tools, dies and molds. The company also sells spare parts and accessories and takes maintenance contracts for buses.
In 2023 so far, shares of the company have rallied 172%.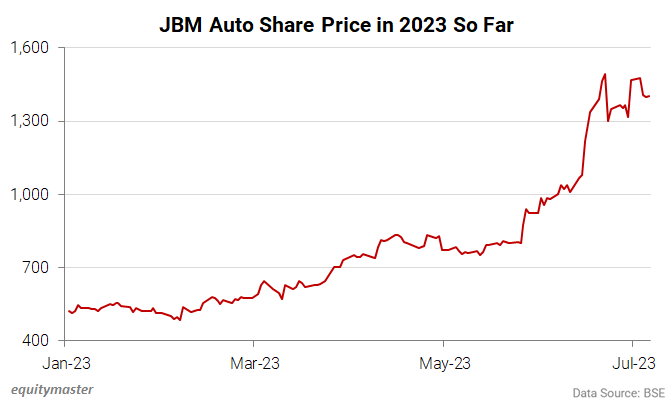 This surge was driven by promoter infusion and growth prospects of the bus subsidiary.
JBM Auto's subsidiary, JBM Ecolife Mobility Pvt, received a significant fund infusion from its promoter, Nishant Arya.
This highlights the subsidiary's crucial role in the company's future growth plans, focusing on manufacturing 100% electric, zero-emission buses.
JBM Auto aims to triple bus revenue and achieve a tenfold increase in sales volume by FY24. They plan to deploy 5,000 electric buses across India by then, with a Rs 5 bn investment in capacity building and technology improvement.
Recently, JBM Auto participated in a tender for 4,675 electric buses, with plans to supply 1,781 electric buses in three states.
Additionally, the company entered the long-range electric luxury coach segment with its fully electric 12-meter Galaxy coach at AutoExpo 2023.
According to media reports, the company is also the leading contender to acquire a controlling stake in automaker SML Isuzu.
For more details, see the JBM Auto. company fact sheet and quarterly results.
#5 Waaree Renewable Technologies
Last on the list is Waaree Renewable Technologies.
WRTL is a leading player in the Indian solar market. It designs, manufactures, installs, and operates solar power plants.
In 2023 so far, shares of the company have rallied 171%.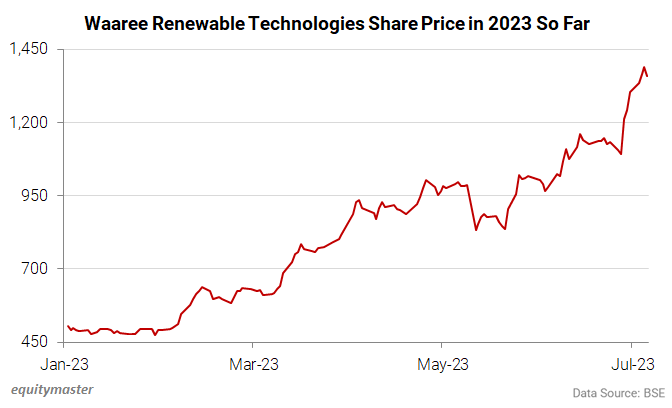 This can be attributed to order completion and back- to back new order wins.
On 3 July 2023, the company successfully commissioned a substantial 122.50 MW DC solar power project out of the total 210 MW DC capacity. This achievement showcased the company's competence and capability in delivering large-scale solar projects.
In addition to these accomplishments, the company received another notable LOA on 3 May 2023, which involved Engineering, Procurement, and Construction (EPC) services for a 6.5 MWp solar power project, accompanied by a five-year operation and maintenance contract.
This project, backed by an esteemed Indian conglomerate active in the steel, power, and infrastructure sectors, further solidified the company's position in the renewable energy market.
Moreover, the company secured an order from a leading Indian steel manufacturing company to construct a substantial 221.8 MWp solar power project, showcasing its ability to attract significant projects from prominent clients.
Lastly, in March, Waaree Renewable Technologies received another LOA from Mahatma Phule Renewable Energy & Technology. This was for the execution of a 1 MW Green Hydrogen project on an own-and-operate basis.
These back-to-back successes and recognition through prestigious awards and contracts have been instrumental in driving the surge in Waaree Renewable Technologies' stock, positioning them as a formidable player in the renewable energy sector.
Going forward, the company will focus on increasing its capacity and expanding its product portfolio.
For more details, see the Waaree Renewable Tech company fact sheet and quarterly results.
Conclusion
Investing in smallcap multibagger stocks can offer attractive opportunities for investors seeking higher returns.
Small-cap stocks have the potential for significant growth, often outperforming larger companies due to their ability to capitalise on emerging opportunities and market niches.
Further, investing in smallcap multibaggers allows investors to enter at an early stage of a company's growth trajectory, which can result in higher returns if the company performs well.
However, it's crucial to recognise that investing in small-cap stocks also comes with higher risk. These stocks are more volatile and face challenges related to liquidity, market visibility, and financial stability.
Due diligence, research, and a well-diversified investment approach are essential when considering these stocks as investments.
Also, individual risk tolerance and financial goals should be carefully assessed before making any investment decision.
Investment in securities market are subject to market risks. Read all the related documents carefully before investing
Want to Grow Your Wealth With Safe Stocks?
If you want a simple, safe, and hassle-free approach to long term wealth building...
Without having to worry about negative news or every little downswing in the market...
And without having to worry whether your investments will actually "deliver"...
You must read our note on Blue Chip Stocks now.
Details of our SEBI Research Analyst registration are mentioned on our website - www.equitymaster.com
Disclaimer: This article is for information purposes only. It is not a stock recommendation and should not be treated as such. Learn more about our recommendation services here...