5 Takeaways from Infosys Q1 Results
Jul 25, 2022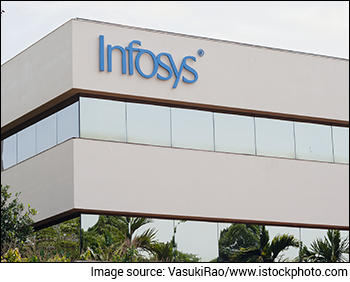 India's second largest IT company Infosys on Sunday reported its results for the quarter ended June 2022.
Largest IT company TCS had reported its results two weeks back and it showed marginal growth in profit while revenues showed double digit growth.
Later on, IT majors HCL Tech and Wipro reported their results.
All these three companies showed concerns on the attrition front which was leading to higher employee costs and denting their profitability.
So, what did Infosys have to report today?
Here are five key takeaways from Infosys' Q1 results.
Infosys on Sunday reported a 3.2% rise in net profit to Rs 53.6 bn for the June 2022 quarter compared with Rs 52 bn in the same quarter last year.

Net profit was below expectations and was down about 5.7% when compared sequentially.
On the revenue front, Infosys showed a 23.6% revenue growth YoY to Rs 344.7 bn. The figure was up 6.8% sequentially.

At a time when there are recession concerns which is dragging IT stocks down, Infosys upped its revenue growth guidance to 14-16% from the earlier projection of 13-15%.

Infosys beat estimates on the revenue front but disappointed on profit and margins.
EBIT margin came at 20.1%, down from the company's range of 21-23%. This was due to higher retention costs and cross-currency headwinds.

This margin is a key metric of profitability determining a company's operating profit as a percentage of revenues.
The company maintained its margin guidance for the year ending March 2023 at 21-23%.
Now comes the main part...the attrition. Attrition continued to haunt Infosys as the attrition rate jumped to 28.4% in the June quarter from 27.7% in the preceding March quarter.

Infosys was the largest hirer of fresher talent this quarter. It added a total of 21,000 freshers during the quarter, much higher than TCS' 14,136.
Salil Parekh, the company's MD and CEO said that there have been discussions on recession and interest rates going up and he sees pressure of this on some segments like mortgage businesses within the financial services sector.
During the company's AGM last month, Parekh calmed investors nerves on the impact of recession. He had said the company's pipeline was strong and that they are "well-poised" to work with clients.
Unlike TCS, Infosys did not declare any interim dividend this time. You can compare Infosys vs TCS on various parameters here.
How Infosys has performed recently
Ahead of its results on Friday last week, Infosys share price closed the day 1.7% lower at Rs 1,506 on the BSE.
Today, shares of the company have opened on a negative note at Rs 1,478, down 1.5%.
At present, Infosys has erased some of its losses and is trading 0.4% lower.
Infosys has a 52-week high quote of Rs 1,954 touched earlier this year in January while it has a 52-week low of Rs 1,367 touched on 17 June 2022.
Even as the rupee is falling this year, IT stocks have been the worst performers and Infosys is no exception.
On a YTD basis, shares of Infosys have tumbled 20%.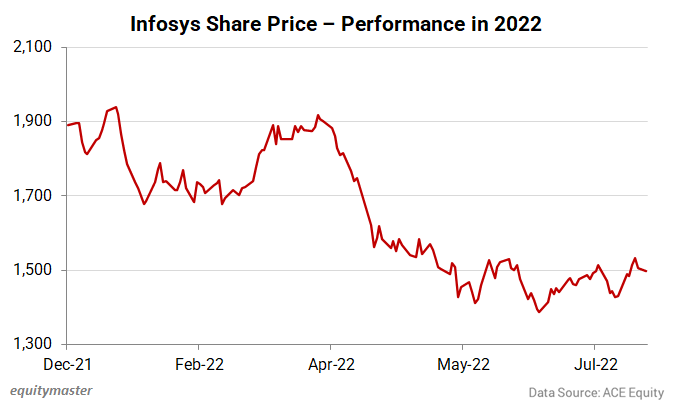 Fears of a global recession and attrition are the two main concerns why Infosys share price is falling.
For more details, check out Infosys 2021-22 annual report analysis.
Also check out Infosys news and analysis.
About Infosys
Infosys is a large Indian IT services company, offering a range of digital and traditional IT services.
From humble beginnings in 1981, the company now counts itself amongst the largest and most respected global software firms. It's known around the world for its visionary management, work ethics and corporate governance standards.
The company caters to industry verticals such as financial services, retail, communication, manufacturing, hi-tech, life sciences, energy, utilities, resources, and services.
Infosys has always had visionary management to guide the company through good times and bad.
Over time, Infosys' management has earned a reputation for being ahead of the curve in terms of human resource management policies and investor relations.
For more details about the company, you can have a look at Infosys company factsheet and quarterly results on our website.
You can also compare Infosys with its peers.
To know what's moving the Indian stock markets today, check out the most recent share market updates here.
Disclaimer: This article is for information purposes only. It is not a stock recommendation and should not be treated as such. Learn more about our recommendation services here...