ICICI Bank's Quarterly Results Sends Stock to 52-Week High
Jul 26, 2021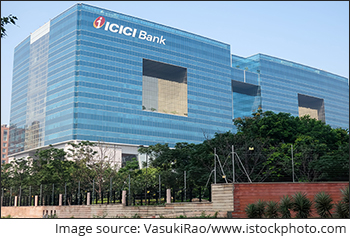 Shares of private lender ICICI Bank scaled fresh 52-week high in early trade today even after its asset quality worsened in the quarter ended June 2021.
Bottomline rises as provisions fall
ICICI Bank reported its June quarter earnings on Saturday. It reported a 78% year on year (YoY) rise in standalone net profit at Rs 46.2 bn. This compared with Rs 26 bn reported in the year ago period.
The rise in bottomline can be attributed to the sharp fall in provisions. Provisions fell 62.4% to Rs 28.5 bn in June quarter from Rs 75.9 bn in the year-ago quarter.
The bank has changed its policy on non-performing loans during the June quarter to make it more conservative.
This change in policy resulted in higher provision on non-performing advances amounting to Rs 11.3 bn for aligning provisions on outstanding loans to the revised policy.
As of June 2021, ICICI Bank held Covid-19 related provisions worth Rs 64.3 bn. ICICI Bank wrote back Covid-19 provisions amounting to Rs 10.5 bn made in earlier periods.
Net interest income (NII), the difference between interest earned and interest expended, rose 18% YoY to Rs 109.4 bn from Rs 92.8 bn.
Net interest margin (NIM) for the quarter stood at 3.89% against 3.84% in March 2021 and 3.69% in June 2020.
Total advances rose to Rs 7.4 lakh crore compared to Rs 7.33 lakh crore in the year ago quarter, a growth of 17%.
Total deposits fell to Rs 9.26 lakh crore compared to Rs 9.32 lakh in the year ago quarter, a growth of 16%.
Here's a table comparing ICICI Bank's results on key parameters.
Financial Snapshot
| (Rs bn) | 21-Jun | 20-Jun | 21-Mar | (YoY) | (QoQ) |
| --- | --- | --- | --- | --- | --- |
| Net interest income | 109.4 | 92.8 | 104.3 | 18% | 5% |
| Non-interest income | 37.1 | 23.8 | 41.4 | 56% | -10% |
| Treasury income | 2.9 | 37.6 | -0.3 | -92% | -1260% |
| Operating profit | 89 | 107.8 | 85.4 | -17% | 4% |
| Profit after tax | 46.2 | 26 | 44 | 78% | 5% |
Data Source: Investor Presentation
Asset quality concerns still persist
The bank's asset quality worsened. Gross non-performing assets (NPA) as a percentage of total loan book standing at 5.15% as of June 2021. This compared with 4.96% as of March 2021.
Net NPA ratio was flat at 1.16% at the end of the first quarter.
ICICI Bank witnessed higher slippages from its retail loan book with the absence of any moratorium from the RBI and the second wave severely denting people's incomes.
Fresh additions to bad loans during the quarter stood at Rs 72.3 bn. Within this, retail and business banking portfolios stood at Rs 67.7 bn and corporate and SME portfolio at Rs 4.6 bn.
Executive director Sandeep Batra said on a media conference call that ICICI Bank is not worried about the retail book.
The retail disbursements moderated in April and May due to the containment measures in place across various parts of the country. With the gradual easing of restrictions, disbursements picked up in June and July.
Batra observed that the second wave restrictions had a significant impact on collections and recoveries. Despite this, the bank had recoveries of Rs 36.3 bn during the quarter.
Performance of subsidiaries
ICICI Prudential Life's value of new business (VNB) grew by 78.1% YoY to Rs 3.6 bn in June quarter of 2021. VNB margins increased from 25.1% in March 2021 to 29.4% in June 2021.
New business premium grew by 70.6% YoY to Rs 25.6 bn.
There was a loss of Rs 1.9 bn in June 2021 and the company incurred Covid-19 related claims, net of reinsurance, of Rs 5 bn.
Meanwhile, ICICI Lombard's gross direct premium income (GDPI) grew by 13% YoY to Rs 37.3 bn.
Combined ratio was 121.3% in June 2021 (March 2021: 99.7%) primarily on account of the Covid-19 pandemic.
PAT of Subsidiaries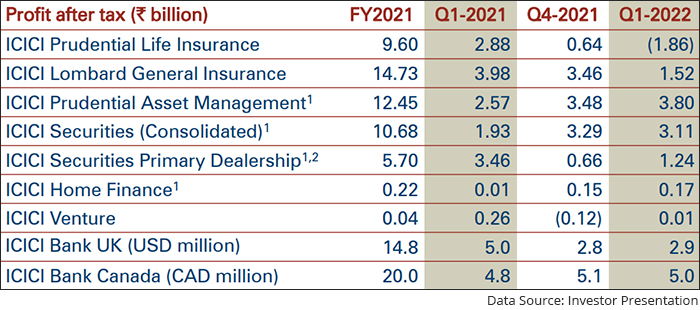 Credit card business
ICICI Bank launched a co-branded credit card with Hindustan Petroleum Corporation (HPCL) called 'ICICI Bank HPCL Super Saver Credit Card'.
Earlier this month, ICICI Bank had said it issued over 2 m Amazon Pay-ICICI Bank credit cards, since its launch in October 2018. This makes it the fastest co-branded credit card to have crossed this milestone in the country.
Note that ICICI Bank has been among the leading issuers of credit cards in recent months, especially after the RBI barred HDFC Bank from issuing new credit cards in December 2020. ICICI Bank held a 70% share in new credit cards issued in December 2020.
According to a report, ICICI Bank gained the highest incremental market share of 32.4% in fiscal 2021, followed by SBI Cards at 30.6%.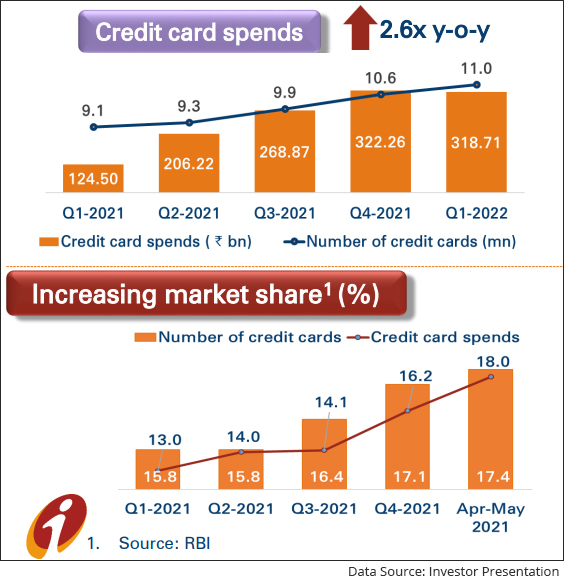 Equitymaster on ICICI Bank's June quarter performance
We reached out to Tanushree Banerjee, Co-head of Research at Equitymaster, and editor of the premium recommendation service Forever Stocks, for her view on ICICI Bank's earnings.
Here's what she has to say.
With its key competitor, HDFC Bank, seeing technology related challenges, especially in the credit card business, ICICI Bank made the most of the Covid-recovery phase demand for loans in April to June quarter of financial year 2021-22.

The writeback of excess NPA provisions has also boosted ICICI Bank's profits during the quarter.

While the bank is currently very well capitalised (capital adequacy of 19.3%), investors will have to remain watchful of the slippage in asset quality over next couple of quarters.
How the stock markets reacted to ICICI Bank's June quarter earnings
ICICI Bank share price opened the day at Rs 681, up 0.8% on the BSE.
As the session progressed, the stock erased gains and is presently down 0.2%.
It extended marginal gains to touch a new 52-week high of Rs 687.80.
Over the past one year, shares of the bank have gained 72% as compared to 39% gains in BSE Sensex.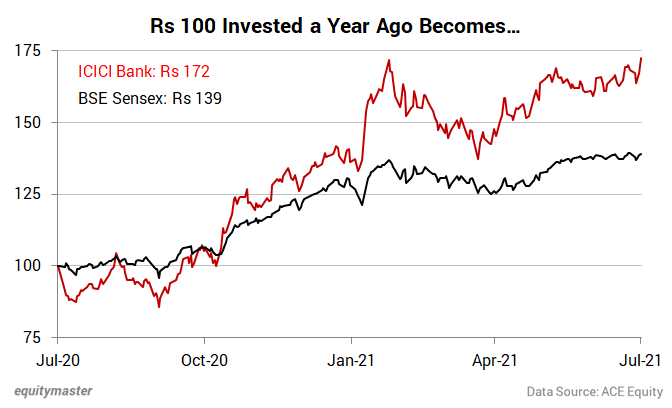 At its current price, ICICI Bank commands a marketcap of Rs 4,729 bn.
About ICICI Bank
ICICI Bank is a systemically important private sector bank in India with a 7.04% market share in banking sector advances as of December 2020.
With a presence in banking, insurance, asset management, investment banking, and private equity, the ICICI group is a large player in the Indian financial system.
As of March 2021, the bank had 5,266 branches and 14,136 ATMs.
The bank was originally promoted in 1994 by ICICI Limited, an Indian financial institution, and was its wholly-owned subsidiary. In 1998, ICICI Limited's shareholding in IBL reduced to 46% following a public offering of shares.
Further, ICICI Limited and IBL were merged in 2002, following which the ICICI group's financing and banking operations, both wholesale and retail, were integrated into a single entity.
To know more about the company, check out ICICI Bank company fact sheet and ICICI Bank quarterly results.
For a sector overview, read our banking sector report.
You can also compare ICICI Bank with its peers.
ICICI Bank vs Kotak Mahindra Bank
To know what's moving the Indian stock markets today, check out the most recent share market updates here.
Disclaimer: This article is for information purposes only. It is not a stock recommendation and should not be treated as such. Learn more about our recommendation services here...