ITC's Quarterly Result Draws Muted Response from Investors
Jul 26, 2021
Shares of ITC rose marginally in early trade and then fell later during the day after the company declared its results for the June 2021 quarter over the weekend.
The company reported a 28.6% year on year (YoY) growth in standalone profit at Rs 30.1 bn for the quarter, partly driven by a low base.
ITC had reported a profit of Rs 23.4 bn in the same period last year.
The company's revenue from operations increased 36.4% YoY to Rs 129.6 bn, while revenue (excluding excise duty) jumped 37.1% YoY to Rs 122.7 bn during the quarter.
The increase in topline was led by the cigarettes, FMCG-other and paper segments.
ITC Segment-wise Revenue Break-Up (June 2021 vs June 2020)
The company's revenue from the FMCG-Cigarettes segment was up 33% YoY at Rs 51.2 bn as the company sustained product accessibility by leveraging its multi-channel distribution network.
However, the company said that certain markets in South India were impacted while those in Kerala, Odisha, and North East remained partially impacted.
The revenue from the FMCG-Others segment grew by 10.4% YoY to Rs 37.3 bn driven mainly by hygiene products, fragrances, spices, snacks, dairy, and agarbattis.
Hotel segment narrows loss on cost cutting measures
The Hotels business reported a massive 463.5% YoY growth in revenue at Rs 1.3 bn as business in the year-ago quarter was impacted due to the lockdown.
With a reduction in new Covid-19 infections and the easing of travel restrictions in June 2021, the company's domestic leisure segment witnessed an uptick.
The company deployed focused and curated packages to garner business and aggressive cost reduction measures to mitigate the impact of negative operating leverage.
As a result, ITC narrowed the EBIT loss of its hotels business to Rs 1.5 bn from Rs 2.4 bn in the same period.
ITC to set up state-of-the-art facility to manufacture nicotine
The company's agribusiness segment revenue came in at Rs 40.9 bn, up by 9.2% YoY driven by wheat, rice and leaf tobacco exports.
The company remains focused on its strategy to rapidly scale up its value-added product portfolio to accelerate growth and enhance value capture. Export of high-quality spices to food-safe markets continued to gain strong traction.
ITC's wholly-owned subsidiary, ITC Indivision, will also set up a state-of-the-art facility to manufacture and export nicotine and nicotine derivative products.
The facility is being geared to manufacture the purest nicotine conforming to US and EU pharma standards. The project is progressing as per schedule.
Paper segment revenues rise on surging global pulp prices
The paperboards, paper and packaging segment revenue was up 54% YoY driven by value-added paperboards, decor paper and carton packaging.
The segment saw a significant improvement in profitability driven by a richer product mix, higher realisations on the back of a surge in global pulp prices and structural cost-saving interventions.
ITC said there was a strong rebound across operating segments despite operational constraints in the wake of the second wave.
The impact of input cost inflation was starkly prevalent with raw material cost growing faster than the increase in revenues and rising steeply at 48% of the revenue, compared with 45% a year ago.
However, EBITDA (earnings before interest, taxes, depreciation and amortisation) still came in higher by 50.8% YoY Rs 39.9 bn compared to the year-ago quarter.
How the markets reacted to ITC's June quarter results today
Shares of the company opened the day higher at Rs 215.8 on the BSE and Rs 214 on the NSE today after the company declared its results over the weekend.
The scrip then rose marginally on the exchanges and fell later during the day.
The share touched its 52-week high of Rs 239.2 and a 52-week low of Rs 163.4 on 9 February 2021 and 29 October 2020.
Over the last 30 days, the share price of ITC is up by 3.8%. However, in the last year, the share price has moved up by only 7.7%. compared to a 39.4% rise in the Sensex.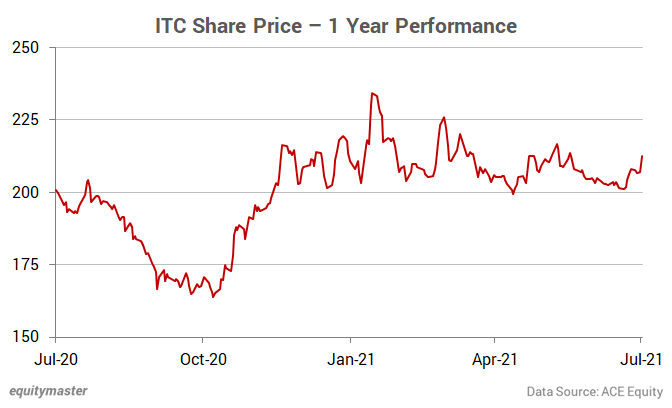 About ITC
ITC is an Indian company headquartered in Kolkata, West Bengal. The company has a diversified presence across industries such as cigarettes, FMCG, hotels, packaging, paperboards and speciality papers, and agribusiness.
Established in 1910 as the Imperial Tobacco Company of India, the company was renamed the India Tobacco Company in 1970 and later to ITC in 1974. The company now stands renamed to ITC Limited, where "ITC" today is no longer an acronym or an initialised form.
The company completed 100 years in 2010 and as of 2020, had an annual turnover of US$10.7 bn and a market capitalisation of US$35 bn.
It employs over 36,500 people at more than 60 locations across India and is part of the Forbes 2000 list.
For more details about the company, you can have a look at ITC's factsheet and ITC's quarterly results on our website.
You can also compare ITC with its peers.
To know what's moving the Indian stock markets today, check out the most recent share market updates here.
Disclaimer: This article is for information purposes only. It is not a stock recommendation and should not be treated as such. Learn more about our recommendation services here...
Ayesha Shetty is a financial writer with the StockSelect team at Equitymaster. An engineer by qualification, she uses her analytical skills to decode the latest developments in financial markets. This reflects in her well-researched and insightful articles. When she is not busy separating financial fact from fiction, she can be found reading about new trends in technology and international politics.