Tata Steel Stock Split and Q1 Results. 5 Key Takeaways
Jul 26, 2022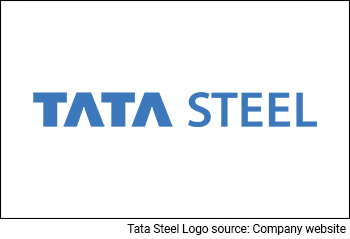 Investors in Tata Steel are sighing some relief these days as shares of the company have started to show an uptrend.
Back in May 2022, we wrote why Tata Steel share price was falling and what its future looks like.
In the past one week, share price of Tata Steel has shown a gradual rise, from Rs 884 to Rs 965.
Yesterday, Tata Steel share price rallied 3% to end at Rs 961 against its previous close of Rs 936.
Now, there are two reasons why Tata Steel has seen an upward trend for the past few days.
One is its quarterly earnings. Ahead of their results, companies usually tend to be more volatile.
Tata Steel's performance during the quarter under review was impacted by decline in volumes due to the imposition of export duty as well as increase in coking coal costs which inflated the operating costs.
Here are five key takeaways from the Tata Steel's Q1 results.
Tata Steel posted a 12.8% decline in consolidated net profit to Rs 77.6 bn for the quarter ended 30 June 2022.

The steelmaker had posted a net profit of Rs 89.1 bn in the corresponding quarter last year.
Consolidated revenue came in at Rs 634.3 bn, a growth of 18.8% YoY.
Consolidated EBITDA came at Rs 150.5 bn. On a sequential basis, EBITDA margin improved to 24% while EBITDA per ton increased by Rs 3,780 to Rs 227.2 bn.
In an exchange filing, the company's CEO and MD TV Narendran said this has been a challenging quarter for the global and Indian economy with rising interest rates, supply chain constraints and slowdown in China due to Covid.

Despite these multiple headwinds, Tata Steel delivered a strong performance with an improvement in margins.
The company's European business delivered a sharp improvement in performance as long term contracts and product mix helped drive a strong increase in realizations.
Tata Steel Stock Split Date Approaching Soon
The second reason why shares of Tata Steel are going up is due to the stock split.
A stock split affects the existing shares of a company. When a company announces to split its shares, the number of outstanding shares increases while the price of each share decreases.
The intention behind the stock split is to increase liquidity in the capital market and also widen the shareholder base.
Shares of Tata Steel will trade ex-split this week on Thursday.
While announcing its results for the quarter ended March 2022, Tata Steel had announced to split shares in the ratio of 1:10.
It means that every shareholder will get 10 shares for every single holding. The record date for the stock split is fixed as 29 July.
When the company announced its stock split plan, we did an editorial explaining the rationale and also highlighted the results.
You can check out the article here: Tata Steel announces dividend and stock split.
How Tata Steel has performed recently
Metal stocks are falling, and Tata Steel is no exception.
In fact, Tata Steel is among the top losers from the whole lot. In the past one year, shares of the company have tumbled 26%.
The key reasons dragging metal stocks down are the slowdown in China, strengthening of the Dollar index and supply exceeding demand.
Take a look at the chart below which shows Tata Steel's performance in 2022.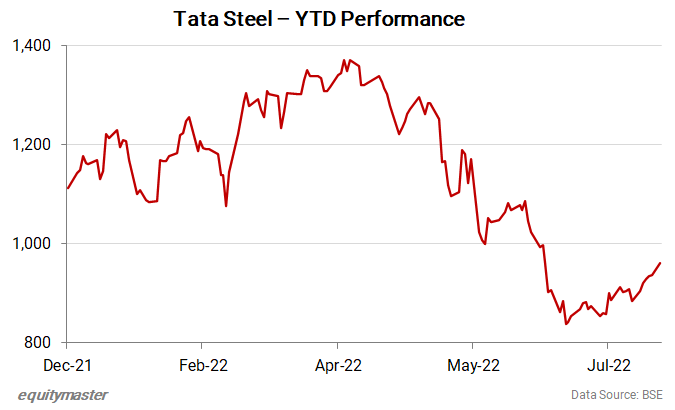 Tata Steel has a 52-week high quote of Rs 1,535 touched last year in August and it has a 52-week low quote of Rs 827 touched on 23 June 2022.
At the current price of Rs 960, the company trades at a PE multiple of 2.9 and a price to book value multiple of 1.
Tata Steel is among the top undervalued stocks in India. We did an editorial back in December 2021 listing out the top 6 undervalued stocks to add to your watchlist.
To know more, check out Tata Steel's news and analysis.
Also take a look at Tata Steel's 2021-22 annual report analysis.
About Tata Steel
Tata Steel is Asia's first integrated private steel company.
The company is primarily engaged in the business of manufacturing and selling finished steel goods.
It's present across the value chain, from the mining of iron ore and coking coal to the distribution of steel, and value-added products.
The company caters to several industries through its broad product portfolio, including automobiles, construction, agriculture, industrial and general engineering. It also has a global presence and caters to the steel needs of over 50 countries across five continents.
To know more about the company, check out Tata Steel's financial factsheet and its latest quarterly results.
You can also compare Tata Steel with its peers.
Tata Steel vs Jindal Stainless
We also did a deep dive and compared Tata Steel vs JSW Steel to arrive at a conclusion on which steel stock is better.
Disclaimer: This article is for information purposes only. It is not a stock recommendation and should not be treated as such. Learn more about our recommendation services here...