Jul 26, 2022 - Consistent Compounding Stock to Consider Bonus Issue and Stock Split this Week
Consistent Compounding Stock to Consider Bonus Issue and Stock Split this Week
Jul 26, 2022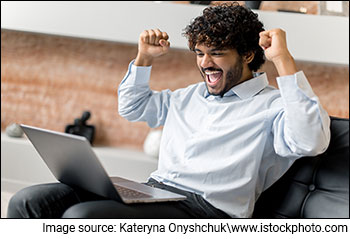 Bajaj Finserv share price was the top buzzing stock today.
How often do you see a Sensex company going up by 7% in an otherwise weak market?
Unless a company reported exceptional results (case in point IndusInd Bank) or it forayed into the evergreen electric vehicle or exploding drone market, it's highly unlikely for a large-cap stock to move up by 7-8%.
Today, Bajaj Finserv share price rallied 7% and touched a high of Rs 13,483.
This is after the company's board in an exchange filing notified that they would consider bonus issue and a stock split later this week on Thursday.
Bajaj Finserv Stock Split and Bonus Issue
Yesterday, the company informed that the board of directors would consider the proposal for a split of the company's equity shares on 28 July.
In a regulatory filing, Bajaj Finserv said the proposal will be taken for approval by the board of directors for sub-division of equity shares of the company of face value of Rs 5 each.
A stock split affects the existing shares of a company. When a company announces to split its shares, the number of outstanding shares increases while the price of each share decreases.
The intention behind the stock split is to increase liquidity in the capital market and also widen the shareholder base.
Apart from stock split, Bajaj Finserv will also consider the proposal of issue of fully-paid bonus shares to the shareholders.
Corporate action events like bonus issues and stock splits often bring changes to a company through the capital structure.
In case of a bonus, they might seem to be good thing, but they actually give investors nothing they didn't already have.
In substance, it's just a way of breaking up the same company into a higher number of shares and distributing these additional shares pro-rata to shareholders.
In addition to bonus and split, Bajaj Finserv will announce its Q1 results on the same day.
According to data available on the BSE, Bajaj Finserv has never declared bonus shares or a stock split.
Thursday will be action packed for Bajaj Finserv as it has three big announcements to make.
Since you're interested in stock splits, check out these 7 companies that have never split their shares.
How Bajaj Finserv has performed recently
Bajaj Finserv share price opened the day at Rs 13,051, up 3% as compared to its previous close.
Bajaj Finserv has a 52-week high quote of Rs 19,320 touched on 19 October last year while it has a 52-week low quote of Rs 10,777 touched earlier this month on 1 July.
Over the past one year, Bajaj Finserv has a muted performance to show.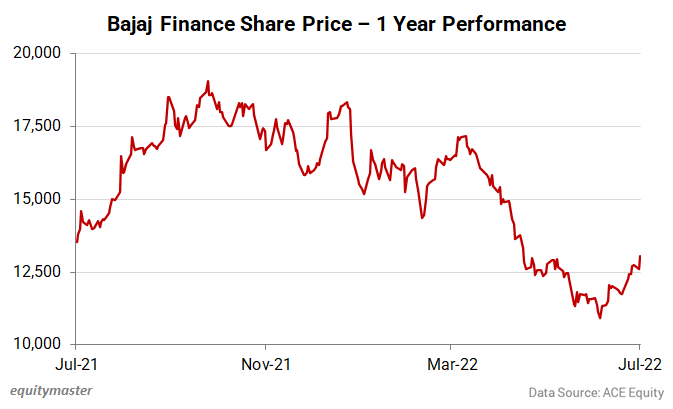 Bajaj Finserv is one of the consistent compounding stocks that has fallen quite a lot due to the market volatility.
In the last five years, the company's sales have grown at a CAGR of 24.2% while net profit has grown at a CAGR of 21.6%.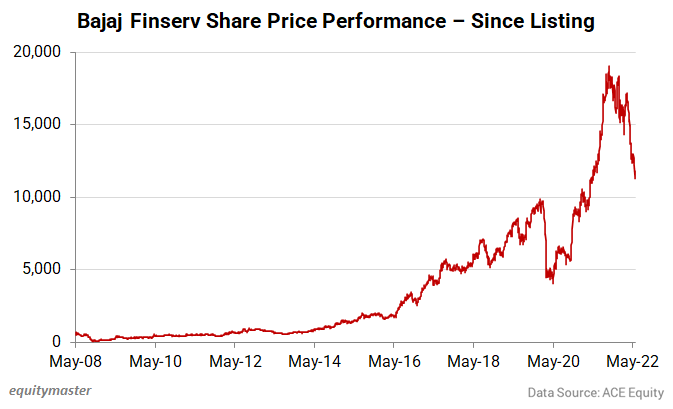 To know more, check out Bajaj Finserv's latest news and analysis.
About Bajaj Finserv
Bajaj Finserv is the holding company for the various financial services businesses under the Bajaj group.
It serves millions of customers in the financial services space by providing solutions for asset acquisition through financing asset protection through general insurance family protection, and income protection in the form of life & health insurance as well as retirement & savings solutions.
Bajaj Finserv was formed in 2007 as a result of its de-merger from Bajaj Auto and is the holding company for the businesses dealing with financial services of the Bajaj group.
For more details about the company, you can have a look at Bajaj Finserv factsheet and quarterly results on our website.
You can also compare Bajaj Finserv with its peers.
Bajaj Finserv vs Cholamandalam Financial Holdings
To know what's moving the Indian stock markets today, check out the most recent share market updates here.
Disclaimer: This article is for information purposes only. It is not a stock recommendation and should not be treated as such. Learn more about our recommendation services here...
Yash Vora is a financial writer with the Microcap Millionaires team at Equitymaster. He has followed the stock markets right from his early college days. So, Yash has a keen eye for the big market movers. His clear and crisp writeups offer sharp insights on market moving stocks, fund flows, economic data and IPOs. When not looking at stocks, Yash loves a game of table tennis or chess.