Why Tanla Share Price is Falling
Jul 26, 2022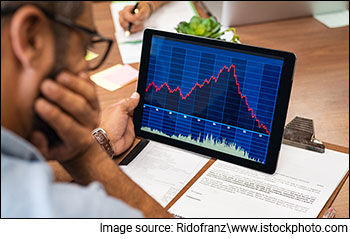 The income tax return (ITR) season filing is on. Yesterday, I was filing my ITR, and I needed an Aadhar OTP (one time password) to e-verify my return.
I was making a payment from net banking, and I needed an OTP there as well.
I wanted to reset my e-banking password, and what do you know...the OTP was needed there too.
There's more...
If I file a GST return, I need an OTP to submit the return.
If I want to open a Demat account, I need an OTP.
OTP. OTP. OTP. We are bombarded with OTPs. From the government platforms to private banks, we all need OTPs.
Today we will talk about a company that virtually has a monopoly in the OTP business.
The company in question is Tanla Platforms (previously known as Tanla Solutions).
Tanla Platforms' performance has proved that it was one of the best midcap stocks to buy. The stock gave a return of 178% (CAGR) in the last 3 years.
In fact, Tanla Platforms is one of those stocks that turned Rs 1 lakh to Rs 1 crore in 10 years.
From a price of mere Rs 5 in December 2011, the stock of Tanla Platform rose to Rs 1,880 in December 2021.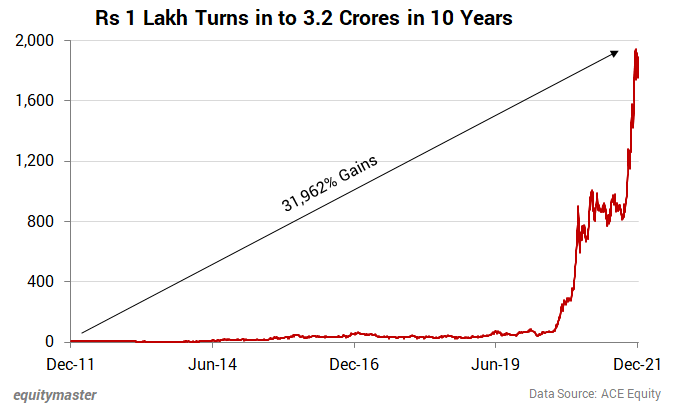 It was expected that Tanla Platforms would be one of the fastest-growing companies in 2022.
However, with the beginning of 2022, all tech stocks have been under pressure and Tanla Platforms was no exception to that.
Tanla Platforms has fallen around 60% so far this year.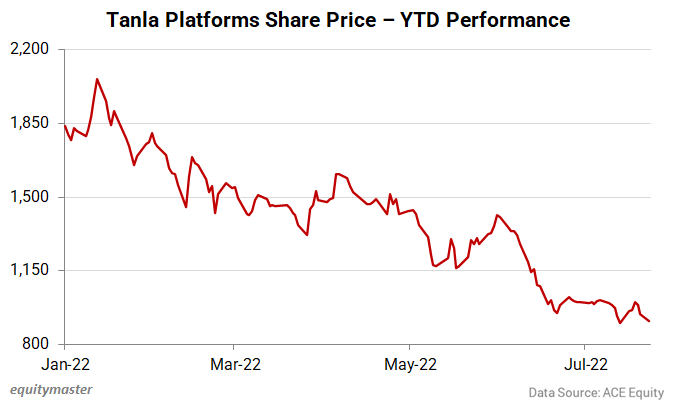 All IT stocks have fallen on a YTD basis.
Today, in a major blow, Tanla Platforms crashed 20%.
Read on to find out why the share price is falling dramatically today and for quite some time now...
Why Tanla Share Price is Falling
#1 Poor Financial Performance:
Tanla Platforms has posted its quarterly results for the quarter ended June 2022.
The standalone total income of Tanla Platform for the quarter ended June 2022 was Rs 3,272.9 m. On a QoQ basis, the standalone income has fallen about 11%. However, on a YoY basis, the standalone income has increased 43%.
The standalone net profit for the quarter ended June 2022 came in at Rs 174 m. The same figure last year was Rs 289.6 m.
Thus the standalone net profits have decreased 39% QoQ. On a YoY basis, the standalone profits have decreased 38%.
The EBITDA margin also corrected sharply. It was impacted by headwinds such as market disruption, modernisation of the company's legacy systems and foreign currency impact of Euro depreciation, the company said in an exchange filing.
As can be seen, Tanla Platforms has shown a very weak financial performance. Tanla Platforms has shown similar kinds of results for the past three quarters.
This weak performance has left the investors disappointed...
Shares of the company were already trading at exorbitant valuations. All it needed to come down was one bad quarter.
#2 The Nasdaq effect
Since the start of this year, the global IT sector has taken a hit. The tech-heavy Nasdaq has seen a sharp fall.
The Nasdaq Composite index is the American stock index that has big tech stocks like Alphabet, Amazon, SNAP, and the like.
Indian IT stocks mirror the Nasdaq index. Often, you'll see that whenever there's a fall in Nasdaq overnight, Indian IT stocks will also fall.
Take today's case for instance. The Nasdaq ended around 2% lower yesterday. The BSE IT index is down around 2.3% today.
Hence, you see the comparison. Indian IT stocks have been seeing red as global tech majors have seen a major correction.
For understanding this more, tune in to the below video where India's #1 trader Vijay Bhambwani explains how the Nasdaq is dragging Indian IT stocks.
We know that new-age tech stocks like Zomato, Paytm, Nykaa, etc. have fallen to a large extent due to valuation concerns and due to the global tech stocks selloff.
Tanla Platforms is no exception to this.
Tanla Platforms' share price has outperformed the expectation in the past 3 years. It has proved to be a multibagger stock.
The share price could be falling right now but remember that Tanla Platforms still has a virtual monopoly, sound financials, and a good management team.
It's one of the world's largest communications platform-as-a-service (CPaaS) players. It processes more than 800 bn interactions annually. CPaaS players enable enterprises to send OTPs, transaction alerts, and flight status info to end-users.
The company had the grit to survive major recessions of US (2008) and Europe (2013). In August 2013, the stock tumbled to as low as Rs 2. Ever since, it has never looked back.
Tanla Platforms was also one of the early adopters of blockchain and cloud technology.
Thus Tanla Platforms may bring negative results in the short term but the long-term future for Tanla Platforms looks promising.
In fact, chartist Brijesh Bhatia, believes it's a good time to buy the dip in IT stocks.
However, an investor must carefully analyse his risk-reward needs before he decides to invest in any stock.
To know more about Tanla, check out Tanla Platforms' financial factsheet and Tanla Platforms news and analysis.
You can also compare Tanla with its peers:
Tanla Platforms vs Route Mobile
Tanla Platforms vs L&T Infotech
Also check out the detailed comparison article on Tanla Platforms vs Route Mobile where we arrive at a conclusion about which stock is better.
Happy Investing.
Disclaimer: This article is for information purposes only. It is not a stock recommendation and should not be treated as such. Learn more about our recommendation services here...