Why Jyothy Labs Share Price is Rising
Jul 26, 2023
India is a country that no fast-moving consumer goods (FMCG) player can afford to ignore due to its middle-class population, which is larger than the total population of USA.
The Indian FMCG market continues to thrive as more people start to move up the economic ladder and the benefits of economic progress become accessible to the general public.
The FMCG industry or consumer packaged goods (CPG) industry is mainly responsible for producing, distributing and marketing fast-moving consumer goods.
The industry is the fourth largest sector in the Indian economy. Household and personal care products accounts for 50% of the sales in the industry, healthcare accounts for 31-32% while food and beverage account for the remaining 18-19%.
The sector provides employment to around 3 million people accounting for approximately 5% of the total factory employment in India.
Among the prominent names in the FMCG sector, Jyothy Labs is a home grown FMCG company that was established in the year 1984.
The company is a dominant player of FMCG goods having various FMCG products under its various brand portfolios.
In recent weeks, shares of the company have been on an uptrend. Yesterday, shares of the company spiked 20% to touch a new high.
Let's find out what is driving this stock's rally.
#1 Strong results
Yesterday, Jyothy Labs declared its performance for the first quarter ended on 30 June 2023. The company reported a double-digit growth of 15.1% in revenue and the profit after tax (PAT) margin increased to 14%.
The company reported a revenue of Rs 6.9 billion (bn) and a net profit of Rs 963 million (m). The net profit rose by 101.7% as compared to the same period last year.
In its investor presentation, the FMCG company said its focus is on top-line growth ahead of category growth to gain market share.
The cost of raw materials has reduced with ease in inflation. The improvements in net profit margins is due to reduced costs of production.
The demand continues to pick up pace in rural and urban areas. The rise in revenue can be attributed to rise in spending on consumer goods.
Improvement in margins while doubling of profit are key reasons behind yesterday's rally.
But shares of the company have been on an uptrend for months. Let's find out what other factors are aiding the stock.
#2 Advertising & Promotion expenditure
Jyothy Labs continues to strengthen its brands to become the consumer preferred brand and gain market share. The company has increased its advertising and promotion (A&P) spending by 11.9%.
It has been using brand image of various established superstars to build brand image and gain market share for its products.
#3 Favourable factors
Rural consumption has increased, led by a combination of increasing income and higher aspiration levels. There is an increased demand for branded products in rural India.
On the other hand, with the share of unorganised market in the FMCG sector falling, the organised sector growth is expected to rise with increased level of brand consciousness, augmented by the growth in modern retail.
Another major factor propelling the demand for food services is the growing youth population, primarily in urban regions.
Online portals are expected to play a key role for companies trying to enter the hinterlands. Internet has contributed in a big way, facilitating a cheaper and more convenient mode to increase a company's reach. The number of internet users in India is likely to reach 1 billion by 2025.
It is estimated that 40% of all FMCG consumption in India will be made online by 2025. E-commerce's share of total FMCG sales is expected to increase by 11% by 2030.
Technology and internet will help the big brand names like Jyothy Labs to reach the rural households of India.
Rural consumption is expected to be the driving force for growth of FMCG companies. Hence, growth of information and technology will drive the growth of Jyothy labs as well.
#4 Government support
A number of government initiatives, is boosting demand for FMCG products.
These are the minimum support price (MSP), rural infrastructure spending, and rising credit to agriculture. These measuresare expected to boost employment and income levels in rural areas,
How Jyothy Labs shares have performed recently
Shares of Jyothy Labs spiked up to 19% after declaring its results. The shares have gained over 30% in the last one week. The shares have gained 83.5% in last one year.
The shares hit a 52-week high of Rs 321.80 on 26 July 2023 and a 52-week low on of Rs 164 25 July 2022.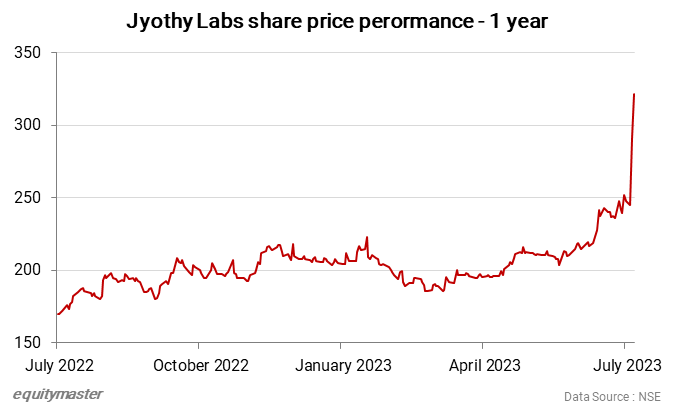 About Jyothy Labs
Jyothy Labs is fast moving consumer goods (FMCG) company. The company is involved in the manufacturing and marketing of products in fabric care, dishwash, mosquito repellent, and personal care.
The brands of Jyothy Labs are Ujala, Henko, Exo, Pril, Margo, and Maxo.
For more details, take a look at Jyothy Labs' financial factsheet.
Investment in securities market are subject to market risks. Read all the related documents carefully before investing
Want to Grow Your Wealth With Safe Stocks?
If you want a simple, safe, and hassle-free approach to long term wealth building...
Without having to worry about negative news or every little downswing in the market...
And without having to worry whether your investments will actually "deliver"...
You must read our note on Blue Chip Stocks now.
Details of our SEBI Research Analyst registration are mentioned on our website - www.equitymaster.com
Disclaimer: This article is for information purposes only. It is not a stock recommendation and should not be treated as such. Learn more about our recommendation services here...