Tata Motors Fails to Take Advantage of Rising Demand as Chip Shortages Hurt
Jul 27, 2021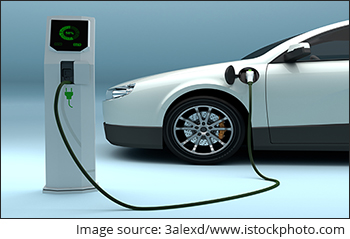 Even though the demand for passenger vehicles rises, India's leading automaker Tata Motors reported a second straight quarterly loss.
This is because the global semiconductor shortage has taken a toll on operations of its subsidiary Jaguar Land Rover (JLR).
Over the past few years, JLR has accounted for 70-80% of the company's top line and segmental profits.
Key financials
Tata Motors' net loss for the quarter ended June 2021 narrowed to Rs 44.5 bn as compared to net loss of Rs 84.4 bn in the year ago period.
The street had estimated the company to report a consolidated net loss of Rs 13.1 bn.
However, the reported topline was sharply higher than estimates. Topline came in at Rs 664.1 bn during the June quarter, up 107.6% year on year (YoY).
The strong performance in the company revenue was largely aided by the benefit of a low base in the year-ago quarter.
--- Advertisement ---
Govt's 257 Bn Rupees Boost for EVs- Your Chance for Potentially Wild Profits

A few days back, the government announced that it will be pumping a whopping 257 billion rupees into electric vehicle initiatives by 2025.

We urge you to become a part of the EV gold rush that's happening now and gain the early mover advantage.

We have closed in on 3 EV stocks which could potentially hand you over insane profits in the long run.

We will be revealing all the details in one of our upcoming special online event.

Sign Me Up For the FREE Event
------------------------------
On a sequential basis, revenue fell from Rs 886.3 bn as JLR was unable to meet its wholesale target, and the Indian business was affected by the second Covid wave.
The electric vehicle (EV) business continues to grow rapidly and has delivered five time revenue growth and highest quarterly sales at 1,715 units.
Note that Tata Motors has an ambitious launch plan for EVs and is looking to launch 10 EVs by 2025.
India operations
The Tata group company's India operations showed significant improvement if compared on a YoY basis.
But the second wave along with the supply issues slowed down the growth momentum if compared sequentially.
The demand remained strong for JLR and India passenger vehicles (PV) while commercial vehicles (CV) demand showed gradual improvement.
The company is expecting the performance to improve progressively from the second half of the year as the supply chain and the pandemic situation improves.
In an exchange filing, the company said,
The business has demonstrated strong resilience in the face of adversity and its fundamentals are strong.

We will remain agile to address these challenges and drive consistent, competitive and cash accretive growth over the medium to long term whilst deleveraging the business to near-zero automotive debt by FY24.
The company has reiterated that global chip shortages, uncertainty due to the spread of coronavirus variants and commodity inflation would impact business in the short term.
JLR performance
The company's subsidiary JLR reported a 73.7% YoY rise in revenue to 5 bn pound sterling as re-opening of most global markets boosted sales.
However, the performance was much lower than what the company expected as operations were affected by shortage of semiconductors.
Learn: How to Potentially Accumulate Rs 7 Crore in Wealth Over the Long-term
JLR incurred a cash outflow of close to 1 bn pound sterling in the reported quarter. This was already guided by the management earlier due to supply chain issues caused by the semiconductor shortage.
Its wholesale volumes plunged up to 50% to just 84,400 units. It lost production volumes of around 30,000 units due to the chip shortage.
The operating margin of JLR slipped into the negative territory at 0.9% in April-June compared with 7.5% the previous quarter, as wholesale volume dropped.
Commenting on the performance, JLR CEO Thierry Bollore said,
Though the current environment continues to remain challenging, we will continue to adapt and manage elements that are within our control and ensure that Jaguar Land Rover is well-placed to respond to any further market developments.
The semiconductor shortage has affected JLR on a large scale and the company is expecting things to get worse in the coming quarter.
Retail sales of JLR, which contributes 80% to Tata Motors' revenue, rose 0.9% sequentially to 1.24 lakh units in the quarter ended June. On a YoY basis, JLR retail sales rose 68.1%.
This was because demand for the luxury brand improved in key markets such as China, Europe, and the US.
Tata Motors is also taking several efforts to control costs.
It has been curbing variable marketing expenses and implementing a 10% reduction per car in vehicle cost at JLR.
Tata Motors in talks to supply vehicle scrappage tech
The company is in talks with various players in vehicle scrappage eco-system for supplying its technology to set up new centers across the country. The ecosystem generally includes fitness centers, scrapping centers, OEMs, and ancillary players.
P B Balaji, CFO of Tata Motors, said the company is looking to set up 2-4 units before expanding it to around 10 units in coming years.
The technology will be provided by Tata Motors and the dealerships will run these centers. Moreover, it will be used for vehicles belonging to all OEMs.
--- Advertisement ---
Meet Rajeev Thakkar: The Man Who Introduced Us Indians to Global Stocks...


Rajeev Thakkar is A Successful Stock Market Investor and CIO of a Top-Ranked Mutual Fund...

He is also among a few rare Indian mutual fund managers who invest not just in Indian stocks...BUT STOCKS ACROSS THE WORLD.

And his keen eye for hunting out undervalued companies by employing a disciplined approach has been instrumental in his fund's stellar performance.

... Thanks to a new approach he developed: Value Investing 3.0

Find out how can you apply the principles of Value Investing 3.0 to protect or grow your wealth when you Register for The Equitymaster Conference Right Now
------------------------------
Equitymaster on Tata Motors
Given that Tata Motors has an ambitious product launch plan in the coming years, should one invest in the company now?
Co-head of Research at Equitymaster, Rahul Shah, did a detailed analysis on this topic, in his Microcap Millionaires Special Report.
Here's what he said...
As far as I am concerned, I don't think one should plunge headlong into a company's stock just because it has great plans for the future.

One should be able to do at least a broad calculation on what this implies for the company's revenues as well as bottomline before arriving at any conclusion.
You can read the entire report here: Tata Motors Goes Big on EVs. Time to Buy the Stock? (requires subscription).
How the stock markets reacted to Tata Motors' earnings
Ahead of its earnings, Tata Motors share price had settled 0.9% lower yesterday.
Today, the stock opened down by 0.1% at Rs 293.
As the session progressed, it reversed course and gained 1% to Rs 296.
Automobile stocks have opened on a positive note today with Force Motors and Maruti Suzuki leading the gains.
In the last three months, Tata Motors' share has underperformed the BSE Auto index with headwinds emerging from the supply side.
However, the stock has zoomed over 185% in the past twelve months.
Investors saw the benefit of a macro recovery and a sharp improvement in both JLR as well as the company's India business.
The scrip touched its 52-week high of Rs 360.7 on 15 June 2021.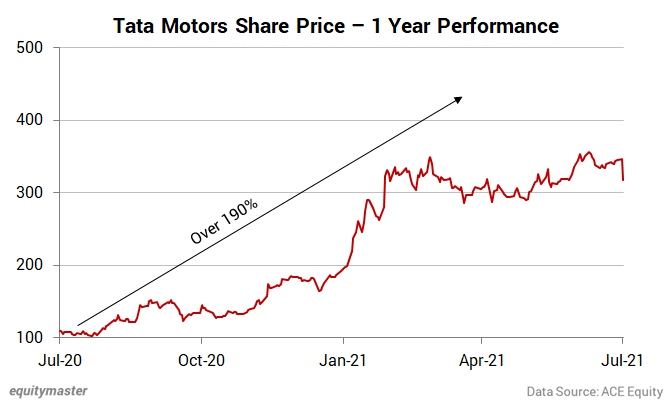 At its current price, Tata Motors commands a marketcap of Rs 979.3 bn.
About Tata Motors
Incorporated in 1945, Tata Motors is one of the leading automotive manufacturers in India.
Essentially a CV manufacturer, Tata Motors forayed into manufacturing of passenger vehicles across all product segments viz compact, mid-size and utility in 1998-99, broadening the business horizon of the company.
It forayed into the premium luxury car segment through acquisition of JLR in June 2008, which has a presence across various geographies such as Europe, US, China, Russia, and Brazil.
Through its subsidiaries and associates, Tata Motors also has a presence in Thailand, South Africa, South Korea, and Indonesia.
Its manufacturing base in India is spread across Jamshedpur (Jharkhand), Pune (Maharashtra), Lucknow (Uttar Pradesh), Pantnagar (Uttarakhand), Sanand (Gujarat), and Dharwad (Karnataka).
In addition, JLR has four manufacturing units and two product development centers in the UK, manufacturing unit in Slovakia and China and a contract manufacturing facility in Austria.
To know more about the company, check out Tata Motors company fact sheet and quarterly results on our website.
For a sector overview, read our automobiles sector report.
You can also compare Tata Motors with its peers.
To know what's moving the Indian stock markets today, check out the most recent share market updates here.
Disclaimer: This article is for information purposes only. It is not a stock recommendation and should not be treated as such. Learn more about our recommendation services here...