Maruti Suzuki Share Price at Rs 15,000: Realistic or Farfetched?
Jul 27, 2023
Maruti Suzuki is one of the largest automobile manufacturers in India.
The company has a significant market share and is well-known for its wide range of reliable and affordable cars.
In this article, we take a look at the possibility of its stock price reaching Rs 15,000. This is based on the bullish trend observed in the charts and historical price patterns after previous breakouts.
We'll also discuss the impact of new model launches on the company's stock price.
New Model Launches
The introduction of new car models can have a substantial impact on an auto stock like Maruti Suzuki.
New models often generate excitement among consumers, leading to increased sales prospects. When successful, these launches can positively affect the company's financial performance which, in turn, can influence investor sentiment.
Maruti Suzuki's launches in 2022-23 included the facelift versions of Ertiga, XL6, Breeza, and Baleno, along with new models such as Jimny, Fronx, Grand Vitara, and Invicto.
Going forward, the company's robust lineup of upcoming launches includes the Wagon R Flex Fuel expected to be launched by the end of 2023, followed by Baleno Hybrid, Wagon R Electric, XL5, and Jimny Electric over the next 2-3 years.
Factors Influencing the Stock Price
Several factors come into play when in the stock price of an automobile company:
#1 Sales: The primary driver of Maruti's stock price will be its sales performance.
Strong sales figures, particularly boosted by successful new model launches, can attract investors' attention and contribute to upward price movement.
#2 Market Share: Maruti's dominant market share in the Indian automobile industry can be a significant advantage.
If the company manages to maintain or increase its market share through successful model launches, it can positively impact investor confidence.
#3 Economic Conditions: Economic factors, such as GDP growth, consumer sentiment, and disposable income, influence automobile sales.
#4 Competition: Maruti operates in a highly competitive market. The actions and market performance of its competitors can also impact the company's stock price.
Some competitors of Maruti in India include Hyundai, Tata Motors, Mahindra & Mahindra, Honda, and Toyota.
#5 Industry Trends: Technological advancements, shifts in consumer preferences, and changes in government regulations affect the entire industry, including Maruti.
Technical View of Maruti Suzuki's Share Price
Shares of Maruti are currently exhibiting a bullish trend on the price charts. This indicates positive market sentiment and a potential upward movement.
The technical analysis reveals the stock is on the verge of a bullish breakout. This would be similar to historical patterns observed between 2010 and 2014 when the stock was consolidating.
Maruti Suzuki, Weekly Chart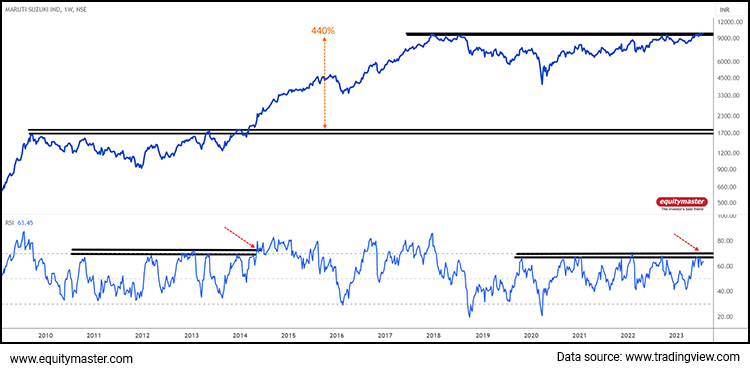 In March 2014, the stock experienced a significant breakout after a period of consolidation. This resulted in a remarkable rally of over 400% in the following 45 months. This precedent suggests that similar breakout patterns can lead to substantial gains in the stock.
The stock's previous consolidation period of 54 months resulted in a remarkable rally. Patience is a key virtue for investors.
Price breakouts following long-term consolidations often have higher chances of success and Maruti has once again proven this trend.
Currently, Maruti is undergoing another consolidation phase which has extended to 67 months. This suggests that a breakout from the current consolidation could potentially lead to another significant rally in the stock price.
Investors who understand the importance of staying patient during consolidation periods may find themselves well-positioned to capitalise on the potential gains when the breakout occurs.
The stock is currently hovering around its all-time high (ATH) of Rs 10,036 on the National Stock Exchange (NSE). This further reinforces the bullish sentiment in the market.
The Strength Indicator - RSI
The Relative Strength Index (RSI) is a technical indicator used to assess the overbought or oversold conditions of a stock.
In the case of Maruti, the RSI panel is showing a similar structure to the one observed during the previous breakout in 2014. The price breakout was visible when the RSI was trending in the overbought zone, indicating strong buying momentum in the market.
The stock's current price is near Rs 10,000, a critical level. It's reasonable to anticipate a 50% up move. This is after considering the current marketcap of the stock and the overall market sentiment.
Conclusion
History repeats itself in the world of technical analysis. Based on the bullish trend, there is a possibility that Maruti's stock price could head towards Rs 15,000 in the event of a successful breakout above its ATH of Rs 10,036.
The RSI analysis further supports the potential for a price breakout as observed in the past.
However, it's crucial to note that stock movements are influenced by various factors. There are no guarantees of specific price levels.
Investors should conduct thorough research, consider the company's fundamentals, monitor market trends, and assess the impact of new model launches before making any investment decisions.
As with all investments, there are inherent risks. Investors should exercise caution and seek professional advice if needed. The stock market is volatile and past performance is not indicative of future results.
Investment in securities market are subject to market risks. Read all the related documents carefully before investing
Safe Stocks to Ride India's Lithium Megatrend
Lithium is the new oil. It is the key component of electric batteries.
There is a huge demand for electric batteries coming from the EV industry, large data centres, telecom companies, railways, power grid companies, and many other places.
So, in the coming years and decades, we could possibly see a sharp rally in the stocks of electric battery making companies.
If you're an investor, then you simply cannot ignore this opportunity.
Details of our SEBI Research Analyst registration are mentioned on our website - www.equitymaster.com
Disclaimer: This article is for information purposes only. It is not a stock recommendation and should not be treated as such. Learn more about our recommendation services here...
Brijesh Bhatia Research Analyst and expert chartist, is the editor of Alpha Wave Profits. Fully committed to his craft, Brijesh has mastered the art of making money by trading using technical analysis. Brijesh has an MBA from ICFAI and 16 years of experience in India's financial markets. He began his career on Dalal Street as commodities dealer and it wasn't long before he developed his own unique trading system. Brijesh worked on his trading system until it could be expected to deliver 5 units of return for every unit of risk.