Why Did Shares of Tech Mahindra Rally Today?
Jul 30, 2021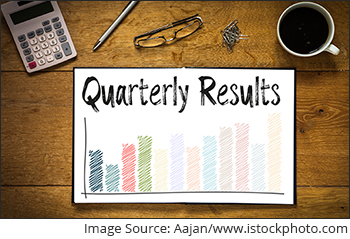 Tech Mahindra shares surged 10% to Rs 1,237, also its new high, on the BSE today after reporting strong earnings for the quarter ended June 2021.
Information technology (IT) major Tech Mahindra reported a 39.2% year on year (YoY) jump in its consolidated net profit at Rs 13.5 bn for the April-June quarter, against Rs 9.7 bn in the same quarter last year.
On quarter on quarter (QoQ) basis, the profit rose 25.1%.
Consolidated revenue from operations in June 2021 quarter grew 12% YoY to Rs 102 bn. The company had posted revenue of Rs 91.1 bn in the same period a year ago.
Sequentially, the figure rose by 4.8% from Rs 97.3 bn in the preceding quarter.
Its earnings before interest, tax, depreciation, and amortisation (EBITDA) during the quarter came in at Rs 18.8 bn compared to Rs 13 bn in the June 2020 quarter and Rs 19.5 bn in the March 2021 quarter.
The EBIT margin during the June quarter was at 15.2% versus 10.1% in the same period a year ago and 16.5% in the preceding quarter.
IT services provider Tech Mahindra has exceeded the street's earnings expectations in a seasonally weak quarter.
Its constant currency revenue growth of 3.9% on a sequential basis was ahead of consensus estimates of 2.3% growth.
The company's peers Infosys, Wipro, and HCL Technologies, too, saw their net profit rise in the quarter ended June except for Tata Consultancy Services (TCS) whose profit dropped 2.5%. Revenues of all companies, however, rose.
Profit rises across segments and verticals
Broad-based growth across segments and verticals drove Tech Mahindra's quarter one numbers.
Growth was driven across segments like IT and business process outsourcing (BPO) along with a healthy pipeline coming from 5G deployment. The total contract value (TCV) for the quarter was US$803 m.
Revenues got a boost from broad-based growth across verticals with a healthy recovery in manufacturing and technology.
Geographically, growth was strong in the Americas and Europe, while revenue from the rest of the world contracted sequentially on a high base of the previous quarter.
CP Gurnani, Managing Director & Chief Executive Officer, Tech Mahindra, said,
We have witnessed an all-rounded performance this quarter with growth across our key markets and industry sectors.

We continue to see strong traction in large deal wins as we are helping our customers in integrated digital transformation.

Our focus on key technology pillars wrapped around experience-led approach with TechM Nxt. Now will help us to capitalize on the strong demand momentum.
The management also called out June quarter performance as one of the highest quarterly growth run rates.
Future looks bright as Tech Mahindra wins large deals
Tech Mahindra won net new deals worth US$815 m versus US$1,043 m in the previous quarter.
Net new deal wins declined sequentially, but were well split between enterprise and communications, the management said in a post-earnings conference call.
Deal wins were aided by a large deal in the healthcare vertical and a large deal in the business process outsourcing space in the communications vertical, the management said.
The number of active clients also grew by 51 in the first quarter of the year 2022 compared to the previous quarter.
Tech Mahindra is seeing good traction in digital transformation among clients and its 5G deal pipeline continues to be strong, the company said.
The management refrained from sharing revenue growth guidance, but said that a strong deal pipeline gives it the confidence to maintain the current trajectory of revenue growth.
Attrition rate likely to be higher in coming quarters
Attrition remains an industry-wide issue and is seen as a potential threat to margins.
Tech Mahindra's attrition has jumped by 400 basis points (bps) on a sequential basis to 17% in quarter one.
The management said it expects attrition levels to be a bit higher given the demand environment. Thus, talent acquisition would be among the focus areas in the fiscal 2022.
The firm aims to hire globally across its offices for verticals such as artificial intelligence and internet of things (IoT).
In India, hiring is likely to be higher in tier-2 cities. The management said that headcount increased by 5,209 in the June quarter and it aims to hire three times more freshers in the financial year 2022 than it has in the past.
Equitymaster's view on investing in the IT sector right now
We reached out to Richa Agarwal, senior research analyst and editor of the smallcap stock recommendation service, Hidden Treasure, for her view on the IT sector.
Here's what she has to say about investing in companies in the IT sector right now.
Post pandemic, amid liquidity in the global markets and broad-based growth momentum, the IT sector and the stocks listed in it have had a dream run.

While picking stocks in the industry, one should be mindful of relative growth and valuation of companies in the sector.
How the stock markets reacted to Tech Mahindra
Shares of Tech Mahindra opened the day at Rs 1,190 on the BSE and Rs 1,185 on the NSE.
Its share price closed at Rs 1,207.9 (up 7.1%) on the BSE and Rs 1,209.6 (up 7.3%) on the NSE.
At its current price, it is trading at a P/E of 25.1.
The share touched its 52-week high of Rs 1,237 and 52-week low of Rs 642.8 on 30 July 2021 and 5 August 2020, respectively.
Over the last 30 days, the Tech Mahindra share price is up 11.7%. Over the last one year, the company's share price is up 80.6%.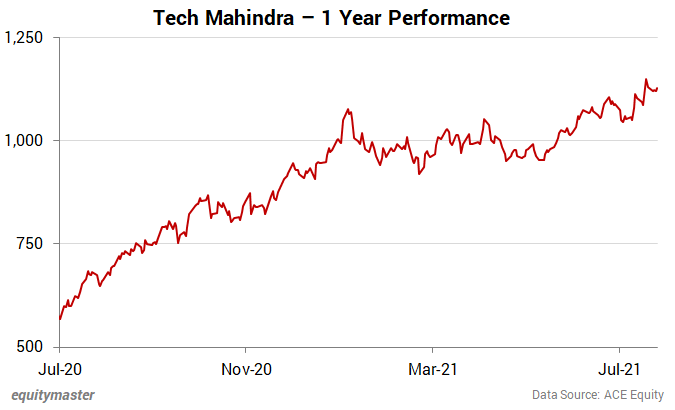 About Tech Mahindra
Tech Mahindra is a mid-size Indian IT services company providing software solutions to the global telecommunication industry.
The company was formed as a joint venture between Mahindra & Mahindra, India's leading tractor and utility vehicle manufacturer, and British Telecommunications Plc. (BT), a leading global telecom services company.
Tech Mahindra provides services like application development and maintenance, solution integration, product engineering and lifecycle management, testing, consulting, and managed services to global telecom companies.
The company's major focus areas are telecom service providers and telecom equipment manufacturers. BT is one of TM's largest clients and has a long-standing relationship of over 20 years with the company.
The company is a part of the Mahindra Group. It enjoys a leadership position in utility vehicles, information technology, financial services, and vacation ownership in India.
It also enjoys a strong presence in renewable energy, agribusiness, logistics, and real estate development. Headquartered in India, Mahindra employs over 2,56,000 people across 100 countries.
For more details about the company, you can have a look at Tech Mahindra's fact sheet and Tech Mahindra's quarterly results on our website.
For a sector overview, you can read our IT sector report.
You can also compare Tech Mahindra with its peers on our website:
To know what's moving the Indian stock markets today, check out the most recent share market updates here.
Disclaimer: This article is for information purposes only. It is not a stock recommendation and should not be treated as such. Learn more about our recommendation services here...