Sun Pharma Zooms 10% as June Quarter Earnings Beat Estimates
Jul 30, 2021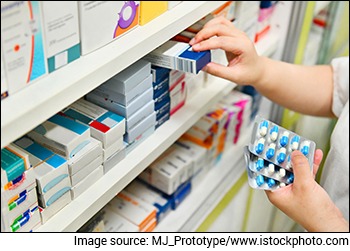 Sun Pharma share price rose over 10% today to a 52-week high of Rs 780 on the BSE, after the company reported strong results for the June quarter.
Its bottomline surged 73% year on year (YoY) to Rs 19.8 bn. The reported net profit in the same quarter stood at Rs 14.4 bn.
Strong operational performance
Sun Pharma was able to post good set of numbers mainly due to its robust operational performance.
The company reported consolidated sales of Rs 96.7 bn, a growth of 29% over last year. If compared sequentially, sales were up 14%.
Topline figures beat estimates as the street was expecting Sun Pharma to post a 19.5% revenue growth for the quarter.
The growth in revenues was due to 39% YoY jump in domestic formulations to Rs 33.1 bn. It can also be attributed to the 35% YoY rise in US formations business to Rs 28 bn.
The topline base for the year-ago quarter was also low, which was affected by the national lockdown in India and reduced sales in major export markets.
EBITDA jumped 59% YoY to Rs 27.7 bn.
Sun Pharma spent more towards its R&D amounting to Rs 5.9 bn, a jump of 41% from the year-ago quarter.
In a press release, Sun Pharma's MD Dilip Shanghvi said,
We witnessed a strong Q1, driven by a combination of robust core business growth, low base and some sales of Covid products. We are enthused by the all-round growth across all our businesses compared to Q4 last year.
During the quarter, Sun Pharma repaid debt of about US$185 m. Over the last five quarters, the company has repaid debt of about US$765 m.
Business segments
Sun Pharma is ranked as the top company and holds above 8% market share in the Indian pharma market as per AIOCD AWACS MAT June-2021 report.
For the June quarter under review, the company launched 13 new products in the Indian market.
Sale of branded formulations in India were reported at Rs 33,084 m, up 39% YoY. US sales accounted for 29% of the total consolidated sales and rose 35% YoY.
Its emerging market sales were at US$218 m, a growth of 25% YoY. Meanwhile, Sun Pharma's external sales of API were down 7% YoY.
Relieved by the lawsuit
During the quarter, the company reported a one-time exceptional loss of Rs 6.3 bn in relation to payments made for settlement of antitrust litigations.
For this, the drugmaker has already made provisions of Rs 4.4 bn.
Further, the company took charge of Rs 1.5 bn during the quarter for impairment of acquired intangible assets under development and Rs 0.4 bn write down of assets.
Note that this settlement is a major relief for the company and its subsidiary as it remained an overhang on earnings given that it could have led to criminal and civil action against the company if found guilty in the US courts.
Equitymaster on the pharma sector
We reached out to Tanushree Banerjee, Co-Head of Research at Equitymaster, and editor of the premium stock recommendation service StockSelect, for her view on the pharma sector.
Here's what she has to say...
The second Covid wave has given a new lease of life to pharma stocks. As the sector continues to invest in capacities for new drugs, the profitability will depend on the companies' ability to seek USFDA approval for the plants.

Or their ability to tie up with MNC pharma for producing variants of their vaccine.
How the markets reacted to Sun Pharma's earnings
Sun Pharma share price opened the day on a flat note at Rs 704 compared to its previous close of Rs 703.25.
Just after the company announced its results during market hours, its shares saw a spike and rose over 10% to a new 52-week high.
Over the past year, Sun Pharma shares have gained 38%.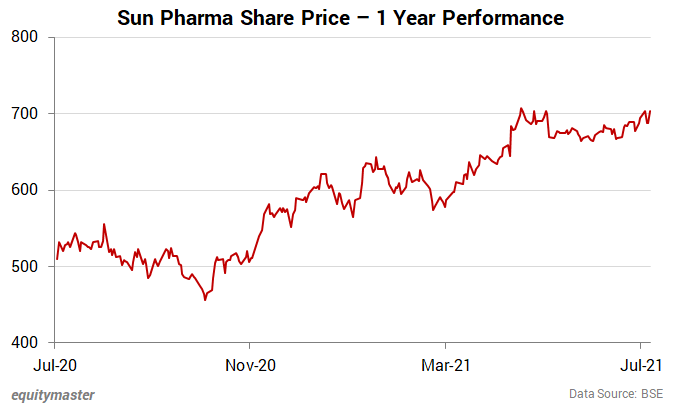 At the current price of Rs 774, the company commands a marketcap of Rs 1,857 bn.
About Sun Pharma
Sun Pharma including its subsidiaries and associates is the fourth largest global specialty generic company that is ranked 1st in India and 8th in the US.
It's the largest Indian pharmaceutical company in the US and among the leading Indian pharmaceutical companies in emerging markets.
The company manufactures and markets a large basket of pharmaceutical formulations covering a broad spectrum of chronic and acute therapies.
It includes generics branded generics complex or difficult to make technology intensive products over-the-counter (OTC) products anti-retrovirals (ARVs) Active Pharmaceutical Ingredients (APIs) and intermediates.
To know more about the company, check out Sun Pharma company fact sheet and quarterly results.
For a sector overview, read our pharmaceuticals sector report.
You can also compare Sun Pharma with its peers.
To know what's moving the Indian stock markets today, check out the most recent share market updates here.
Disclaimer: This article is for information purposes only. It is not a stock recommendation and should not be treated as such. Learn more about our recommendation services here...